This chocolate avocado ice cream is a no-churn ice cream recipe that is vegan and so delicious that you won't realize it's so healthy for you! You get that rich chocolate flavor and a creamy texture that will genuinely satisfy your sweet tooth. Just grab your blender and the few ingredients needed and you'll be making this vegan avocado ice cream in no time!
---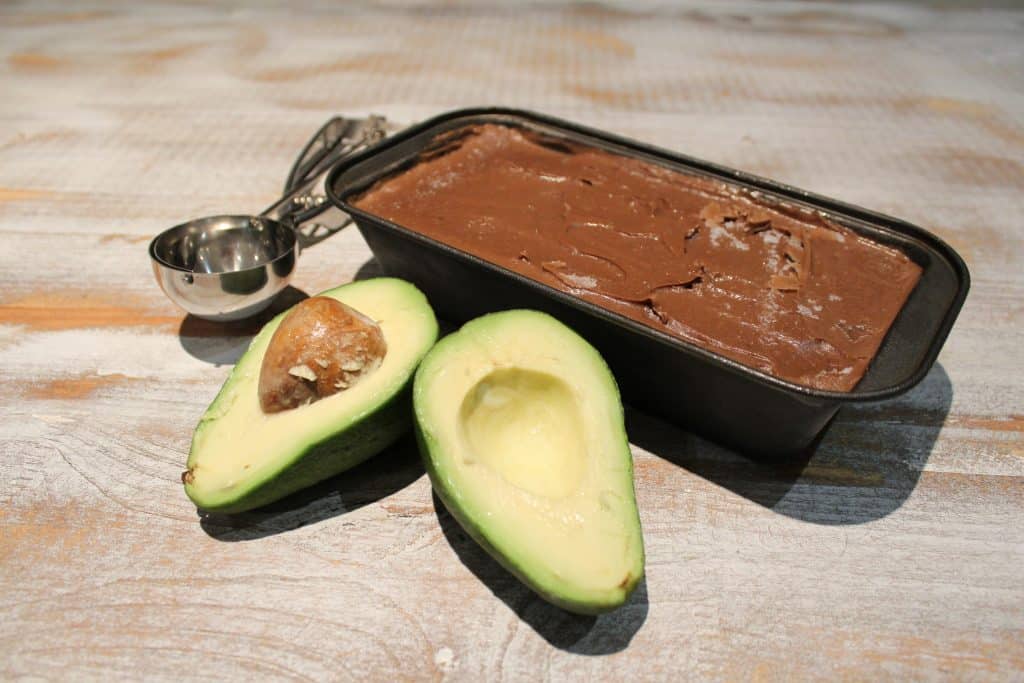 It feels like we went from winter straight into summer – skipping spring altogether. The weather is nice and hot out, and I am in full swing of making my own vegan ice cream to serve up after dinner for a cool treat. We like to sit out on the deck, listen to the bird's chirp, and watch the sun going down. Having a sweet treat like this no churn chocolate avocado ice cream helps me unwind and cool down after dinner.
When I first tried this recipe, I won't lie, I was a bit nervous. I love the creamy texture of avocados, but had no idea how they'd behave – or taste – when used to make ice cream!
So when I made this, I was anxiously awaiting the results. But weirdly enough, you don't taste the avocado in this vegan chocolate ice cream recipe! The avocado gives the ice cream so many health benefits and offers that light and creamy texture you crave.
Now that I took a chance and tried making avocado ice cream, I won't be turning back to make vegan ice cream any other way!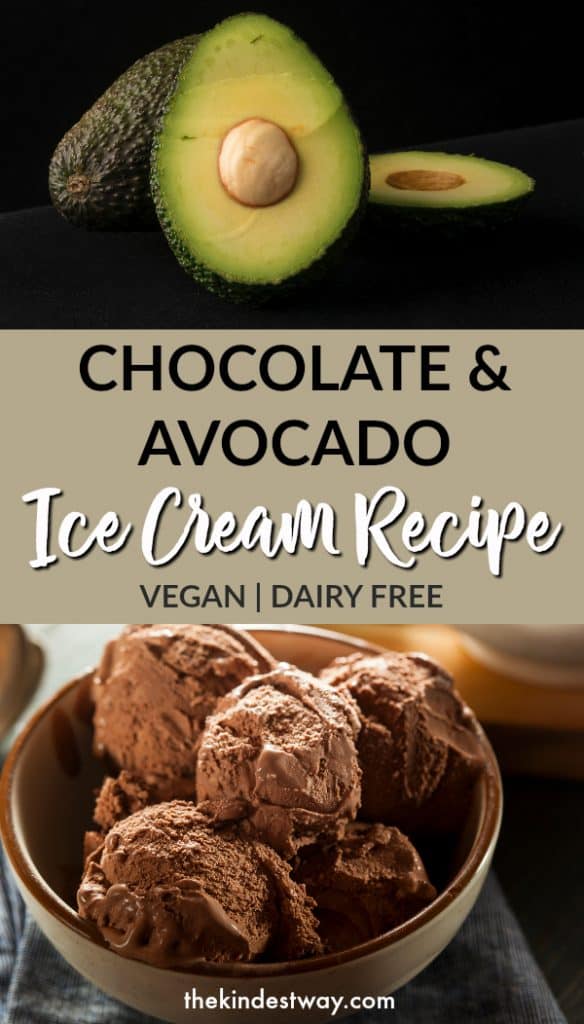 ---
Health Benefits Of Avocados
Avocado toast, chocolate avocado mousse, guacamole, you name it, avocados are taking the world by storm. Why? Because these fleshy greens are packed full of nutrients and vitamins that are so beneficial to us.
I wanted to share why you might consider adding avocado to all your meals from morning to night and of course tasty desserts like this chocolate avocado ice cream.
High In Potassium
Avocados contain a lot of potassium, even more than bananas! They have around 100 grams per serving which are about 14%, where bananas are just 10%. Having potassium in your diet is excellent for lowering high blood pressure, reducing strokes, kidney failure and more.
Healthy Fats
Avocados have healthy fats which are great to incorporate into your diet. The healthy fats found in avocados are great for reducing inflammation, and more. They have monounsaturated fatty acids which show they are high in fat, but because it is a healthy fat, it is good for you. Great for those on a high fat, low carb diet!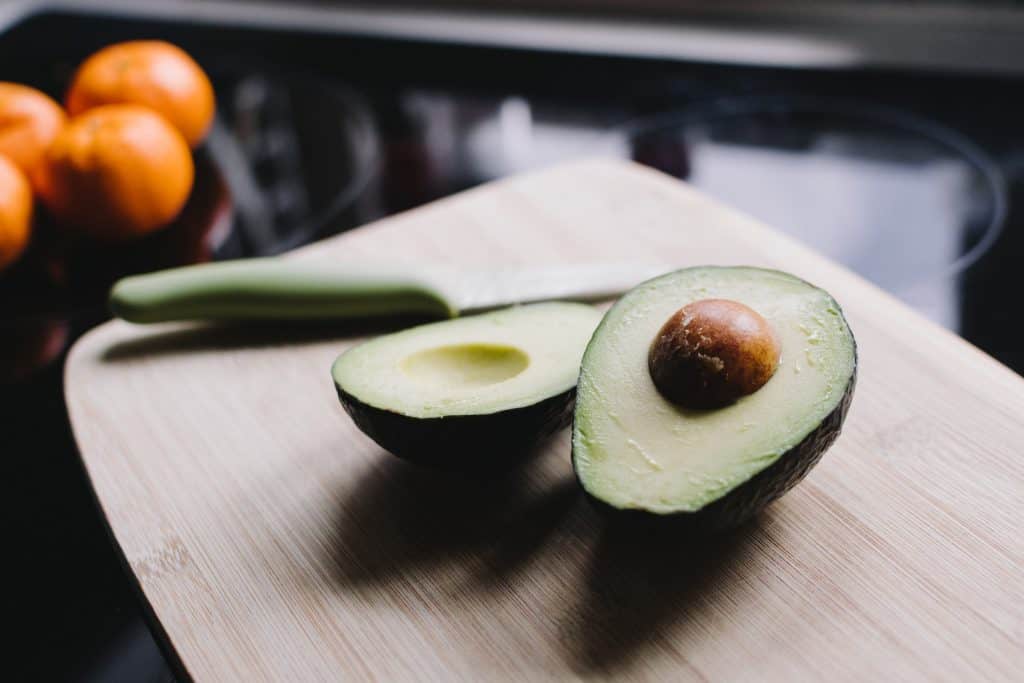 Nutrients Galore
Avocado has tons of nutrients hiding away in its delicious green flesh. Magnesium, Copper, Vitamin A, Vitamin K, Vitamin C, Potassium, Vitamin B6, Vitamin B5, Phosphorous, Iron, Vitamin E, and the list goes on. Avocados are a superfood you want to use whenever and wherever you can.
Fiber
The beautiful thing about avocados is they have soluble and insoluble fiber. Soluble fiber is great for your gut in keeping things working good, and insoluble will help keep your body regulated. Around 75% of the avocado is insoluble, and 25% is soluble fiber!
Having a vegan chocolate ice cream that incorporates a superfood like this is a great way to fuel your body without feeling guilty. I love this vegan avocado ice cream, and I highly recommend giving it a try!

---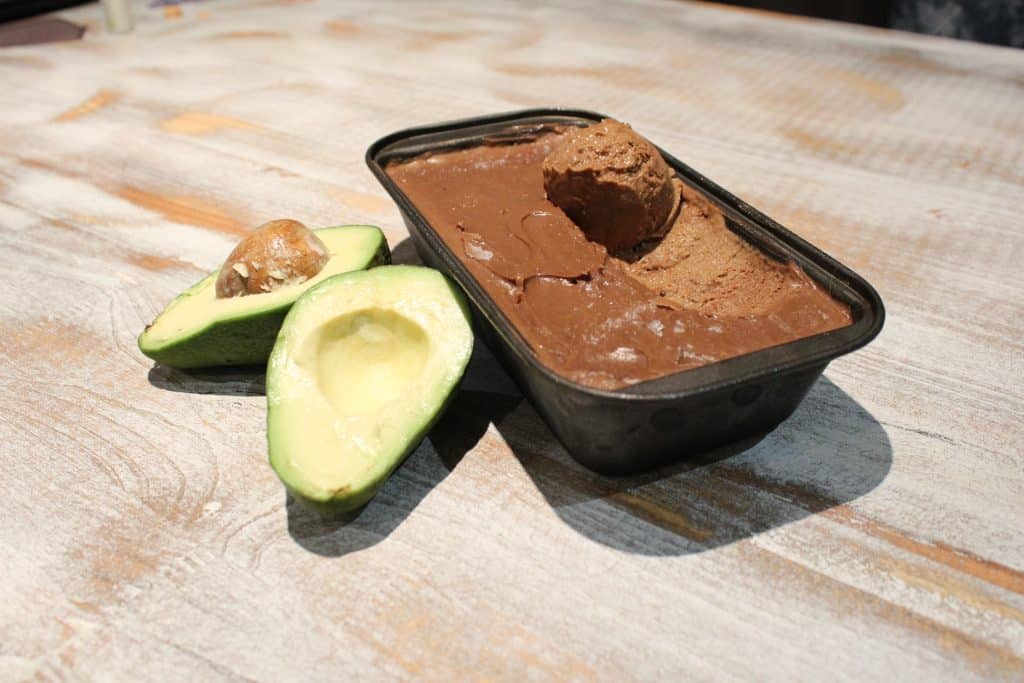 The Ultimate Vegan Chocolate Avocado Ice Cream!
A deliciously creamy and chocolaty vegan avocado ice cream recipe that's super quick and easy to make. 

Prep Time 5 minutes

Additional Time 8 hours

Total Time 8 hours 5 minutes
Ingredients
3 Large Bananas
2 Large Ripe Avocados - cleaned and pitted
1 tbsp Lime or Lemon Juice
90 ml Almond Milk (or favorite plant-based milk)
40 grams Cocoa Powder
100 grams Maple Syrup
Notes
Blend all ingredients together

Add more maple syrup to taste if you like it sweeter.

Pour the mixture into a freezer-proof container. Seal it with a lid or plastic wrap and freeze for approx. 8 hours, or overnight.

Remove from the freezer 30 minutes before serving.

Serve and enjoy!
Recommended Products
As an Amazon Associate and member of other affiliate programs, I earn from qualifying purchases.

Enjoy!