Cinnamon Coffee Salt Body Scrub
Did you know that your skin can absorb caffeine? This cinnamon coffee scrub is great to use in the shower in the morning to give you that spark of energy to wake up and tackle the day! With four simple ingredients, you can whip up this cinnamon coffee scrub within minutes. This salt body scrub will help give you that energy boost and leave your skin moisturized and feeling soft and smooth. Not to mention the scent of this scrub will make your mouth water. 
In the mornings I like to pour a big cup of coffee and sprinkle cinnamon on top. If you have not tried this, you are totally missing out. The flavor of ground cinnamon and coffee is like magic! So one morning as I was sipping on my coffee enjoying the quiet before my day got started, I began thinking about creating an Epsom salt body scrub. I was thinking what ingredients would offer an invigorating scent but also be beneficial, and that is when it hit. A cinnamon coffee scrub was the perfect combination. I am so thankful I had that epiphany because this is now one of my favorite body scrubs!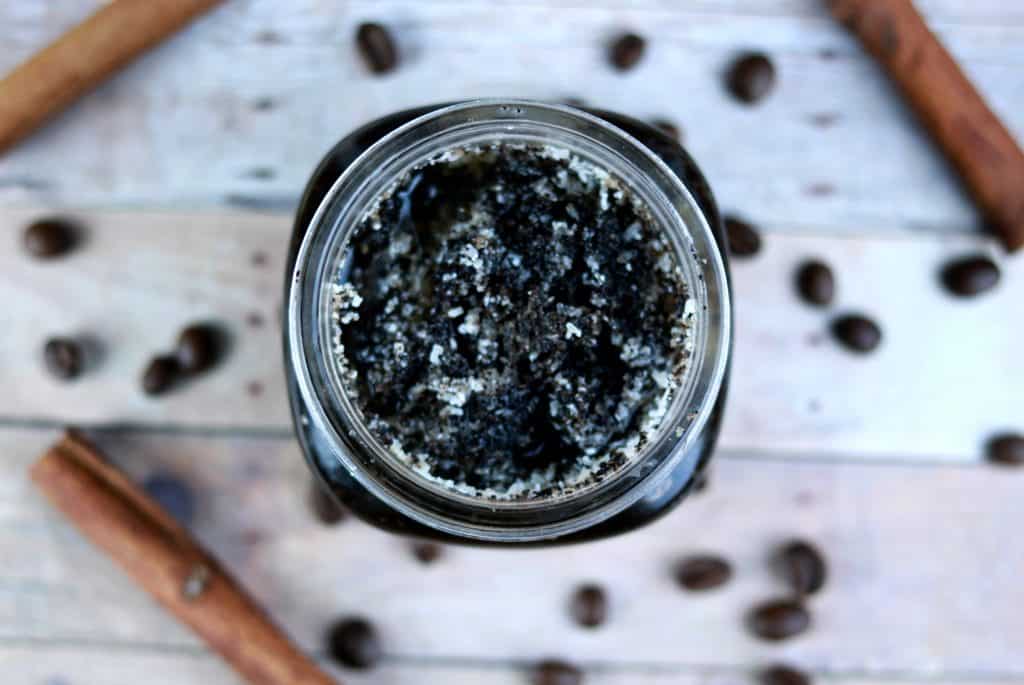 Best Salt Body Scrub
Epsom salt, coconut oil, cinnamon, and coffee are all you need to make the best salt body scrub. Each ingredient offers amazing benefits for your skin, it was a no-brainer. You can use this on your body, just don't use on your face as it can be too harsh for delicate skin. If you're looking for an amazing treatment for your face, try these Clay Mask Recipes instead!
Back in the late 90's there was a huge fad of people using ground coffee and rubbing it on their thighs and wrapping in plastic wrap to help reduce cellulite and tighten the skin. Now don't quote me on reducing cellulite but I have been using this scrub for a while and feel my skin is getting a bit firmer in my *ahem* problem areas. 
Our skin absorbs around 60-80% of what it comes in contact with, which is why I love making my own products. I know exactly what I am using and it is my choice to allow those ingredients to be absorbed through my skin and into my bloodstream. The coffee and cinnamon will both help awaken your senses and give you a little bit of an energy boost. The coconut oil is great for locking in moisture and keeping your skin hydrated and protected. The Epsom salt is great for flushing out toxins in the body, and reducing any inflammation you may have. When I decided to create this cinnamon coffee scrub, I wanted to make sure each ingredient offered something to me and my skin. I hope you enjoy this salt scrub as much as I do!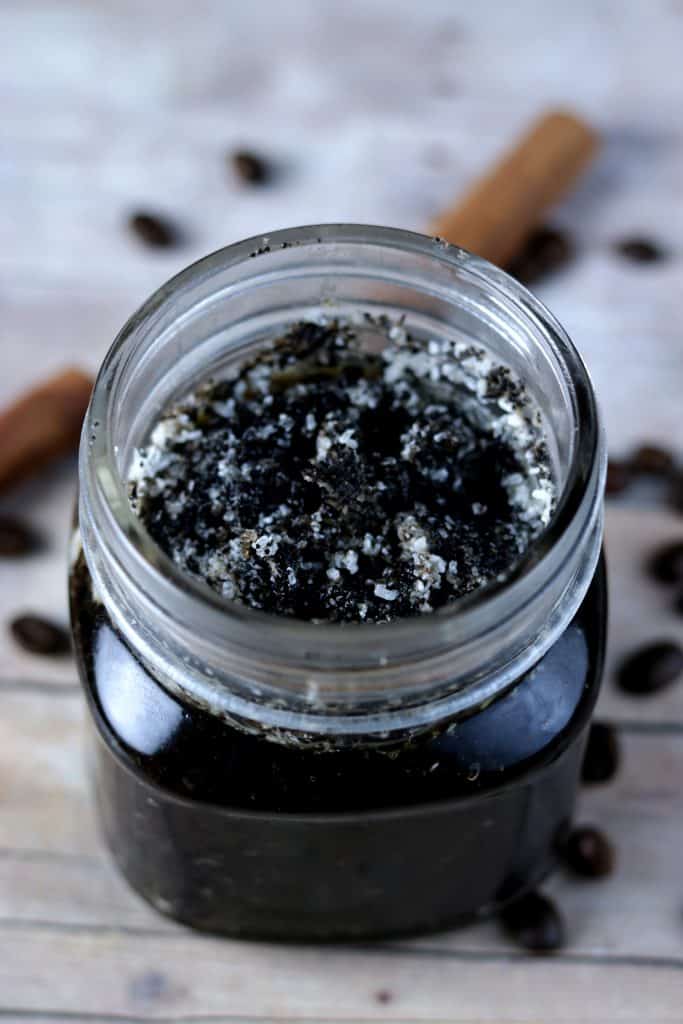 Cinnamon Coffee Scrub
Ingredients
1

cup

Epsom Salts

1

cup

Ground Coffee

1

tbsp

Cinnamon

1/2

cup

Coconut Oil
Instructions
If your coconut oil is hard, soften it in the microwave for 10-20 seconds. You want it to be soft but not melted. If it melts, let it harden a little bit before making the scrub.

Combine Epsom salts, coffee grounds, cinnamon, and coconut oil. Stir well.
Recipe Notes
This scrub should last up to three months.
 It's a great scrub for your hands and feet, and you can also use it on your body.  Do not use on your face because the salts and coffee are too abrasive.
---
Pin this for later!