There are many uses for plastic flower pots apart from simply holding plants. Recycling plant pots will help to save on plastic pollution and reduce your own clutter around the house.
Keen gardeners or anyone who frequently buys new plants for their garden will inevitably end up with a big heap of plastic flower pots cluttering up their garden shed! Rather than throwing these pots away, or letting them gather dust in a corner, think about useful and fun ways to recycle them.
To get you started, here are some creative ideas for where to recycle plastic flower pots.
---
5 Creative Ways of Recycling Plastic Flower Pots

Using Recycled Plastic Pots for Plant Protection
For a start, recycled plastic pots can be used to protect your baby plants from snails. When plants are small they are very prone to snails and it doesn't take long for even one snail to demolish a little plant with only three or four leaves. But since snails usually do not come out until the dark hours, it is easy to protect plants by upending a plastic flower pot over the top. Push it down into the soil a little way just so any wind cannot blow it over.
The plastic pots will have to be removed every morning so that the plants can get the correct amount of sunlight, but it's an easy job to take them off and then put them back in the evening. Recycling plastic flower pots in this way will also help to protect your baby plants from cold winds and that late-season frost.
Plastic Flower Pots for Storage
Recycled plastic garden pots make ideal storage containers for items such as flower bulbs, or even garden produce such as potatoes that need to be stored in the garden shed.
Use them as a way to store and transport carrots or other vegetables and they're ready to be washed before going into the house! The holes in the bottom let the dirty water drain away easily making them the perfect little colander.
Garden hand tools are best stored all together for convenience. What better place to store them than in your recycled plastic pots? It makes your tools highly visible sitting on a shelf or on the floor, and all the tools can be taken out to the garden in the pot and kept together easily. Rather than sitting a hand tool down in the garden and losing it, place it back into the plastic flower pot for next time.
Seed packets and fertilizer packets can also be stored in garden plastic pots to prevent them from falling over and spilling their contents all over your shed floor!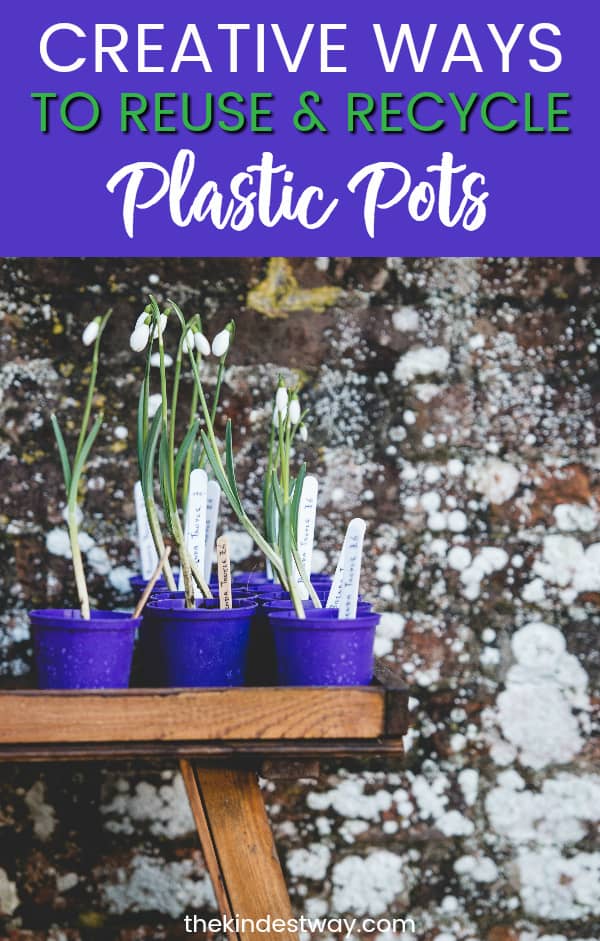 Recycle Plant Pots for Added Height
Plastic flower pots can be used to give height to a group of potted plants on the patio. Simply up-end a few sturdy ones and sit those rear plants onto the base of them to give a little more height. They can also be used up-ended like this as seats for little kids to sit on out in the garden.
How to Recycle Plastic Plant Pots for Plants
Plastic flower pots make excellent containers to start cuttings in. Add a cut-off clear plastic bottle over the top to stop the potting mix from drying out and to create humidity. This is like a mini-greenhouse for your seedlings!
Larger plastic flower pots can be painted using an outdoor paint for plastic pots and decorated in a variety of ways to use as patio pots.
Recycling Plastic Flower Pots in the Home
Smaller plastic flower pots can be cleaned up and used for storage in the home. Use them to store toys such as balls, metal cars, and other larger items that will not fall through the holes. Crafty people could line them with material inside and out to make bins for dry rubbish or to hold craft materials.
A row of decorative plastic pots on a bathroom shelf would look quite attractive holding cosmetics, washers, and soaps. Recycled plastic pots can also be used to hold potatoes or onions in the kitchen, or thongs at the back door.
---
Once you start to think about recycling plastic plant pots, you'll see there really is no limit to your creativity! All it takes is a little planning, and you'll find that recycled plastic garden pots can have a heap of new uses around the home. Which idea will you try first?