If you want to have the most delectable cup of french press brewed coffee every time, then as any experienced barista will tell you, the best coffee grinder for french Press is a must-have item. Poorly ground beans will definitely affect the taste of your coffee, so having a grinder designed specially to produce the best grind for french press coffee is essential.
If you are not sure what makes a good coffee grinder for french press coffee, then you are in luck because in this guide I am going to share with you everything you need to know to purchase the best grinder for french press coffee.
In this best coffee grinder review I will first explain why you should be grinding your own coffee in the first place, then take you through the various features that make a good grinder for french press coffee and lastly, I will take a closer look at some of the best coffee grinders for french press coffee currently available from the very best coffee grinder brands.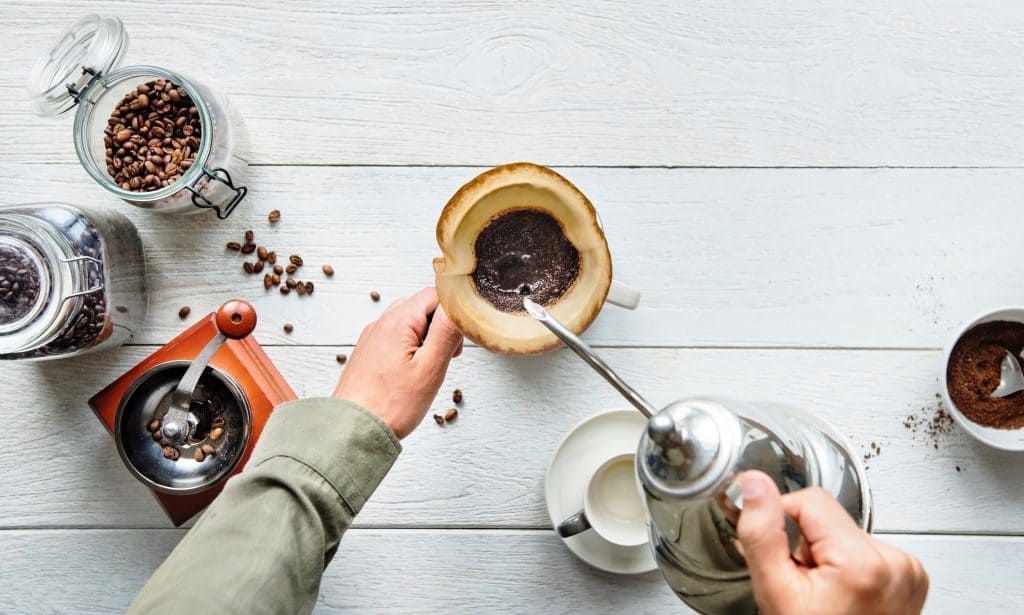 Why should you Grind your own Coffee?
If you want to know the best way to make coffee in a french press, the answer is to grind your own beans just before you brew the coffee. Coffee beans go stale the longer they sit there and grinding your beans and letting them sit only hastens this process. There are various factors that contribute to this process however the main ones are oxidation and moisture.
Through oxidation, the process of air molecules interacting with your beans, various flavors and aromas are released from your beans. Grinding your beans kickstarts this process, which is great if you are going to brew your coffee straight away, but not so good if you aren't. Oxidation is what gives your coffee its unique flavors and aromas, and this process will continue until your coffee is brewed, so by grinding your beans yourself and immediately brewing the coffee, you make the most of your delicious coffee beans.
Moisture around your home dissolves the precious oils within your ground coffee, for the best coffee it is best to have these oils intact until your coffee is brewed. Moisture negatively affects your coffee beans and having ground coffee beans again only hastens these negative effects.
Grinding your own coffee will of course also save you money in the long run. If you were to buy a store-bought coffee or two every day for a year or so, you would have been much better off investing in a good coffee grinder and french press and making your own from day one. This also gives you the benefit of enjoying your nicely brewed french press while in the comfort of your own home, and maybe even while you are still in your pajamas!
Top Choice! Best Coffee Grinder for French Press:
The Breville Smart Grinder Pro is our pick for the best coffee grinder for French press coffee as it has the most grind settings and the largest hopper of all the coffee grinders we reviewed.
The Breville smart grinder French press grinder also has the highest watts rating, making the motor perform better than the others we've reviewed.
But most importantly, it makes a killer cup of French press coffee!
BUY YOUR BREVILLE SMART GRINDER PRO HERE
Comparison Chart of the Best Coffee Grinders for French Press Coffee
Don't have time to read all my best coffee grinder reviews? Check out the table below which gives you a quick comparison of the main features of the various options I discuss below for the best coffee grinder for home use.
Keep reading below for my more in-depth best coffee maker grinder reviews.
Things to consider when purchasing the best coffee grinder for french press coffee
There are several things you need to consider when looking to buy the best grinder for coffee in a french press to suit your needs and make sure you don't waste time and money (or most importantly coffee beans).
Consider the following factors:
1. Difference between a Burr Grinder and a Blade Grinder
Blade grinders use propellers to slice up the coffee beans into a fine grind while burr grinders grind coffee into a chamber that is made from cones or discs with serrated edges. The best burr coffee grinders for french press are much more capable of producing a finer grind than blade grinders but can be pricier and bigger in size, whereas blade grinders are usually cheaper and smaller.
If you decide to go with the best burr grinder for french press, you will have to decide between a flat burr grinder or a conical burr grinder. A conical burr grinder has two cone-shaped burrs with ridges that grind and crush the coffee, whereas a flat burr grinder has two sets of serrated rings of burrs. You will find flat plate burrs on all sorts of grinders from cheap to top quality, whereas the conical burr grinders are usually found on the low-speed grinders.
Many coffee experts say conical is the best burr grinder for coffee in a french press, but that the differences are so small that it doesn't make that much difference.
2. Manual v Electric
Manual grinders are more likely to be portable and would be easy to pack up and take with you if you are going away. They are also much cheaper and the best hand coffee grinder is easier to clean. Electric grinders are quite obviously a lot less effort and do the whole job for you with the flick of a switch or click of a button.
3. Consistency
The key to a great coffee is consistency. If your ground coffee contains a mixture of large and small grinds, some grinds will be over-extracted, and others will be under-extracted. The best coffee grinder maker in terms of consistently is a burr grinder. The best burr grinder for French press coffee will provide much more consistently shaped grinds than a blade grinder, resulting in far better tasting coffee.
4. Heat and Static
When looking for the best coffee bean grinder, something else to be considered is how much heat or static the grinder will make. The higher the motor revolves, the higher the speed and then more heat and static will be produced which can be very problematic to coffee grinders.
One way to avoid this happening is to buy a coffee grinder that has a motor with a lower revolving speed to reduce as much heat and static as possible.
5. Number of Grind Settings
The number of grind settings is also another important factor to consider as you will then be able to perfect how you grind your coffee to exactly the way you like it – every single time. Good coffee is consistent coffee and this can be achieved through a good coffee grinder and a coarse grind that will work better with the filter of your coffee maker ensuring no residue will slip through and into your cup.
6. Size of Appliance
Are you going to keep your coffee grinder sitting on the bench? Or are you wanting something that is easy to tuck away into a drawer or cupboard? The size of the coffee grinder you pick is important because if you have a kitchen that lacks space, you will want one that you can easily tuck away. If you have a bigger kitchen and are a regular coffee drinker, it might be easier to buy one that can sit out on the bench, so you don't have to keep getting it out and setting it up each time.
7. Bean Hopper Size
Will you be making a quick coffee for yourself before work or will you be making one for the whole family to wake up to?
Bean hopper size is important because it defines how much coffee you can grind in one go. The larger the bean hopper compartment, the more beans you can put in to grinded, saving you from having to repeat the procedure many times to make multiple coffees.
8. Sound
Consider the sound the coffee grinder will make as you don't want to be limited on when you can and can't use your grinder. If you know you'll be making coffee early in the morning before work while the kids are still asleep, then perhaps the best hand grinder for coffee in the mornings might be a better option as the electric ones can make a lot more noise.
9. Stepped v Stepless
If you want to get your coffee tasting exactly how you like it, then you will need some flexibility in your grind size. Stepped grinders give you a limited choice in grind size, while Stepless gives you unlimited options and loads of flexibility. Both options will produce a coarse coffee grind for French press.
10. Other Features
Coffee grinders come with a range of different features, such as a tint to protect coffee beans, timers to make sure if you walk away your grinder will stop grinding beans after a certain amount of time, removable fork to hold portafilters, ability to be programmable and a range of safety features. The options are endless and are usually only limited by your budget.
11. Cleanliness
How hard is your coffee grinder going to be to clean? You don't want a coffee grinder that is going to be a hassle to clean after every use. The differences between the doser and doserless grinders might help you decide.
Doser coffee grinders collect all the coffee grounds in the inbuilt compartment making for an easy and convenient, transfer to the french press, whereas the doserless dispenses them straight into the french press itself, sometimes making slightly more mess but reducing the chance of old grinds becoming stuck in the machine.
12. Price
You'll need to figure out how much money is worth spending on a decent coffee grinder for your french press but like in most cases, what you pay for is what you get.
If you are wanting a good quality coffee grinder that you know will last you a long time and get plenty of use, it is worth investing in one of the best grinders available on the market.
If you aren't really sure if grinding your own coffee is for you and just want to give it a try before you decide if you love it or not, a cheaper coffee grinder is a more sensible option.
Top 10 Coffee Grinders for French Press Reviews
If you are after the best coffee grinder on the market, then you will love the Breville Smart Grinder Pro, it is the perfect grinder for french press for everyone in the family, giving you a consistent cup of coffee every single time.
This conical burr grinder is made from brushed stainless steel and designed to efficiently minimize grinding heat which helps to protect the essential oils in the coffee beans, giving you the most delicious cup of coffee.
Everyone has their own style of coffee and with this grinder, you have the luxury of choosing from 60 different grind settings to be able to get the perfect cup of coffee depending on your preferences. This also gives you the option to go from a very fine espresso to a coarse french press and you can also tune the adjustable upper burr to coarser or finer without having to use any tools.
Other great features of this coffee grinder are the Precision Digital Timer (adjustable in 0.2 second increments), 1-year limited product warranty, 18-ounce coffee bean capacity, gold-tone filter basket or paper filler, and it also comes with a grind container with a lid and sealing cap and conical burr cleaning brush. With so many great features it is easy to see why this is our choice for the best burr coffee grinder for french press.
Look at any of the best conical burr coffee grinder reviews and you will see many happy customers reporting what a great quality coffee grinder it is and that it makes a fantastic drip coffee as well as espresso. A perfect choice for the best coffee grinder machine.
BUY YOUR BREVILLE SMART GRINDER PRO HERE
The Capresso 565.5 Infinity is a commercial-grade conical burr coffee grinder that will ensure maximum coffee flavor with every cup and is another great choice for those after the best conical burr grinder for french press.
This coffee grinder has the slowest grinding speed in its class which helps to minimize the friction and heat buildup caused by grinding coffee beans, allowing to preserve maximum flavor and aroma with any of the 16 different grind settings.
It also makes for very easy cleaning as the upper conical burr is removable, so you can just take it out and give it a clean whenever necessary. Low maintenance coffee grinders are a great feature to look out for when deciding which one to buy.
The other great features of this coffee grinder are the built-in timer, strong steel burrs, 4-ounce ground container, and clear 8.5-ounce bean container so you can easily see when more beans need to be added.
If you are looking for a coffee grinder for french press that will give you a quiet, fast and even grind every time, then this is the one for you. This is a great choice for the best burr coffee grinder for home use or even a great choice if you are after a coffee grinder for a coffee shop.
BUY YOUR CAPRESSO 565.5 INFINITY COFFEE GRINDER HERE
Baratza grinders have a fantastic reputation and the Baratza Virtuoso+ conical burr coffee grinder is no exception. This is another excellent choice for the best conical burr coffee grinder for french press.
The Baratza Virtuoso coffee grinder has a powerful, yet quiet motor which effortlessly drives the burrs by turning slowly which results in a quiet and cool operation, allowing you to grind for extended amounts of time while keeping the coffee beans cool to preserve the flavor.
The 40mm burrs of this Baratza grinder are manufactured in Europe producing a very uniform grind for a consistently fine grind. You are also able to turn the hopper to 40 different settings making it easy to adjust the grinder from a fine grind, which would be ideal for espresso, to a coarse grind which would be better suited for french press.
Other features of this best coffee grinder burr maker are the unique gearbox with increased strength, durability and decreased noise, innovative burr calibration system, timer switch and unique speed control.
Reading various best coffee burr grinder reviews, you see several reports that this is the best coffee grinder for the money performing well above its price level and has a very solid build but can be somewhat messy.
BUY YOUR VIRTUOSO+ CONICAL BURR COFFEE GRINDER
The JavaPresse manual grinder for french press is the perfect lightweight portable manual coffee grinder.
One of the best things about this professional-grade ceramic conical burr grinder is that it is completely portable and requires no electricity or power cords and no batteries. This gives you the absolute flexibility to be able to grind your coffee beans wherever you are, whether it be away for the weekend camping, in the staff room at work, or even just in the kitchen in the morning before work.
The hand crank mechanism eliminates over 90% of the noise that comes with usual electric grinders so although it requires slightly more effort, it keeps noise to a minimum level – perfect if you are up early making a coffee and don't want to wake the rest of the household.
Other great features of this best hand grinder for french press are the conveniently small size, adjustable grind selector with 18 different grind options, and the quick start guides and grind charts that are included in your purchase.
If you are after the best manual burr grinder for french press than this may just be the perfect portable manual grinder for you.
BUY YOUR JAVAPRESSE MANUAL COFFEE GRINDER HERE
The second of the Baratza coffee grinders to feature in this guide, the Baratza Encore grinder is a fantastic entry-level home coffee grinder for anyone who is just starting to get into grinding their own beans for the perfect cup of coffee.
When you are new to coffee grinding you may not know how important it is to make sure that there are no rocks hiding within the coffee beans as this can destroy grinders, but this Baratza coffee grinder has a gearbox designed to shut off when an object that is too hard comes into contact with the burrs. One less thing you will need to worry about when learning how to grind the perfect coffee.
The Baratza Encore conical burr coffee grinder also has a timer that allows you to step away from the grinder and do other things while knowing that it will automatically shut off on its own after a certain amount of time. You won't have to worry about becoming distracted and leaving it running and grinding an unnecessary amount of coffee beans.
Other great features of the Baratza Encore coffee grinder are the 40 grind settings, efficient DC motor that helps to keep the beans cool, front-mounted pulse button and an innovative burr calibration system.
For beginners, the Encore coffee grinder by Baratza is not only a great choice for the best coffee grinder for home use but a great choice for the best burr coffee grinder for the money also.
BUY YOUR BARATZA ENCORE COFFEE GRINDER FOR FRENCH PRESS HERE
The SD Rocky Espresso Coffee Grinder is a quiet and easy to use grinder that is also perfect for french press.
If your kitchen gets lots of direct sunlight, you will love the tinted 10.5oz capacity bean hopper that protects your coffee beans from UV damage.
There are 40 grind settings on the dial but this burr coffee grinder can actually give you up to almost 55 settings! You will be able to select the perfect grind to suit your coffee.
Other great features of this stainless steel coffee grinder are the metal removable fork that will hold your portafilter in place, 166-watt direct-drive motor, and the option to change the settings with a simple unlock of the lever and spin of the bean hopper.
Reading various best burr coffee grinder reviews, it's clear that this grinder produces consistently good grinds and many customers were surprised by how quiet it was during grinding.
BUY YOUR RANCILIO ROCKY ESPRESSO COFFEE GRINDER HERE
The Khaw-Fee Manual Coffee Grinder is made to last, easy to use and a great choice if you are after the best manual grinder for french press.
Most other manual coffee grinders are made from nylon or plastic parts. This manual coffee grinder for french press is made from stainless steel and ceramic so you know it will last the distance. It also has a lifetime super simple guarantee so if for some reason it does break, you can have the peace of mind that it will be replaced or repaired.
The built-in adjustable grind selector gives you great control over how coarse you would like your grind and the rubber top keeps your beans from spilling out of the hopper while you grind. It also comes apart easily so that it is easy to clean.
Other great things about this best hand coffee grinder for French press are the removable silicone base for easy cleaning, no batteries or power cords required, the quiet operation of the grinding, and it can also be good for grinding pepper and your favorite spices.
This is a fantastic manual conical burr grinder that will go the distance, a great choice if you are after the best hand burr grinder for french press.
BUY YOUR KHAW-FEE MANUAL COFFEE GRINDER HERE
The Mueller Ultra Grind Manual Coffee Grinder is always ready to go, wherever and whenever you need it to!
Made from the same essence as traditional German cookware, this burr grinder is designed and tested through inspections and proven to last up to 5 times longer than stainless steel blade grinders. Not only is it built strong, but it is also built for convenience and can be taken apart to make for easy cleaning and easy traveling.
Like other manual grinders in this best hand coffee grinder review, this one also does not require any power, so you don't have to worry about replacing batteries or finding electricity when you want to use it. This makes it perfect for taking with you on holidays or camping trips.
Other great things about this grinder are how quiet it is to use, you won't wake anyone in the family if you are up early making a coffee before work. There are 18 click settings to ensure you can have your coffee just the way you like it, and the small size of the grinder makes it so easy to transport.
Various best small coffee grinder reviews state that this manual coffee grinder is easy to use, heavy-duty and produces an even grind every time.
BUY YOUR MUELLER ULTRA GRIND MANUAL COFFEE GRINDER HERE
The last Baratza burr grinder to feature in these reviews is the Baratza Sette 30, a conical burr grinder for the home espresso enthusiast.
The innovative grinding mechanism of this grinder works by only rotating the outer burr, while the inner burr remains in a fixed position. This, as well as the alignment of the 40mm conical burrs, is the best way to get a consistent grind with minimum fines. The design also leaves almost no grinds behind.
It is also so easy to clean as there is great access to the grind chamber when the burrs lift out easily by hand. This makes it so easy to maintain and you won't dread doing this when it comes time to brush out.
Other great features of this burr grinder include the LCD display digital timer for precise dose control, adjustable device arms to accommodate your portafilter or other common brewing devices, and the 1-year warranty you receive with your purchase.
Reading through reviews on this conical burr grinder makes it obvious that most people are super impressed with the design and consistency, but it is one of the louder grinders available on the market.
BUY YOUR BARATZA SETTE 30 BURR GRINDER HERE
The Secura Automatic is a great commercial-grade grinder that can make various amounts and types of coffee.
This would be an ideal coffee grinder to have in a large office where there many people with different coffee preferences. It has 18 different grind settings giving you the option to have ultra-fine grinds or coarser grinds and everything in between. It also has a rotary knob on the side allowing you to change the settings so you can grind enough beans to make up to 10 cups of coffee at one time.
The beans in the hopper are preserved by the tight lid and the hopper is made from a clear design so you can keep an eye on when it needs refilling without having to remove the lid each time. The lid doubles as a shield to keep the beans safely in the hopper instead of being forced out when the power is on.
Other great features of this 100-watt conical burr coffee grinder are the 8-ounce hopper, automatic shut off switch, removable burr blades to make for easy cleaning and 1 year manufactures warranty.
Various reviews state that this grinder does the job but needs to be cleaned well or it creates a build-up and can jam easily.
BUY YOUR SECURA AUTOMATIC COFFEE GRINDER HERE
---
Pin this for later!