Most people throw their used tin cans into the recycling bin without much thought, but did you know there's a whole host of amazing tin can craft ideas out there to discover? Next time you empty a tin can, give it a wash and put it aside… Then on a rainy day, you can try one of these creative and fun projects to upcycle tin cans into something else entirely!
---
Creative Uses for Upcycling Tin Cans
Pin these tin can craft ideas for later so you can come back and try another upcycling project next time!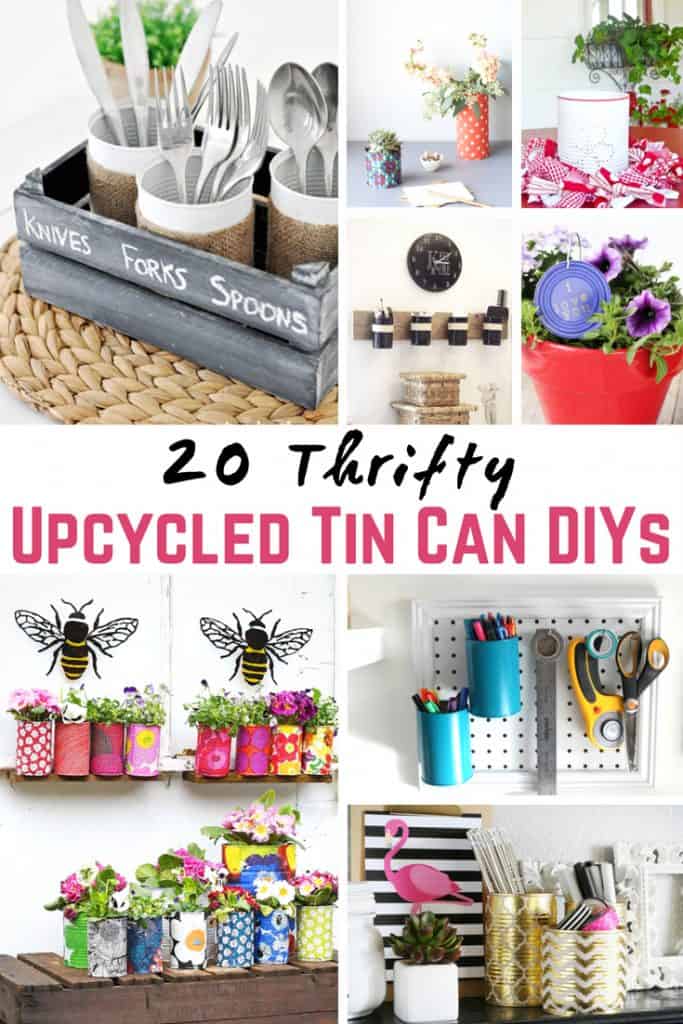 If you are looking to update and organize your craft room, these upcycled tin cans are perfect! They add some style and elegance to your space while being completely functional. Great to use for paint brushes, glue sticks, makeup brushes, pencils, pens, and anything else you can think of.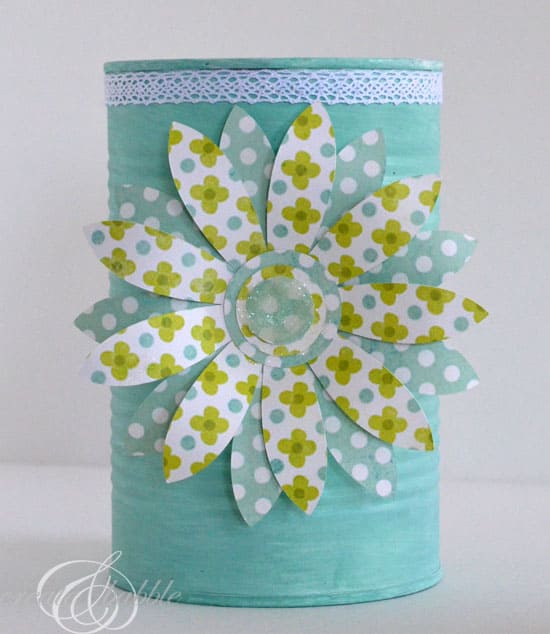 Oh, how I love the look of the vintage maps on these vases! These would be fantastic in any room, but especially in a travel-themed office or living room. Adds loads of charm when you pop in some fresh flowers. These would also be perfect for leaving on friends and neighbors doorsteps for May Day.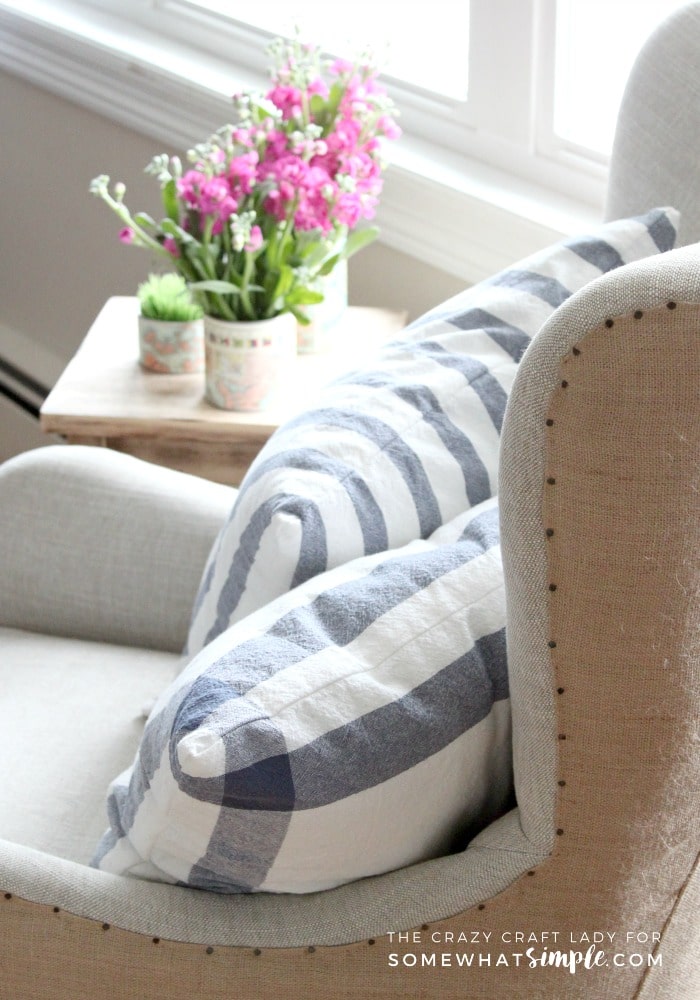 Vibrant, beautiful colors will add character to your curb appeal or patio. Modge Podge, colorful napkins, tin cans, and a few other materials are all you need to make your own. I love that you can really personalize the theme to match your likes. This is so easy too!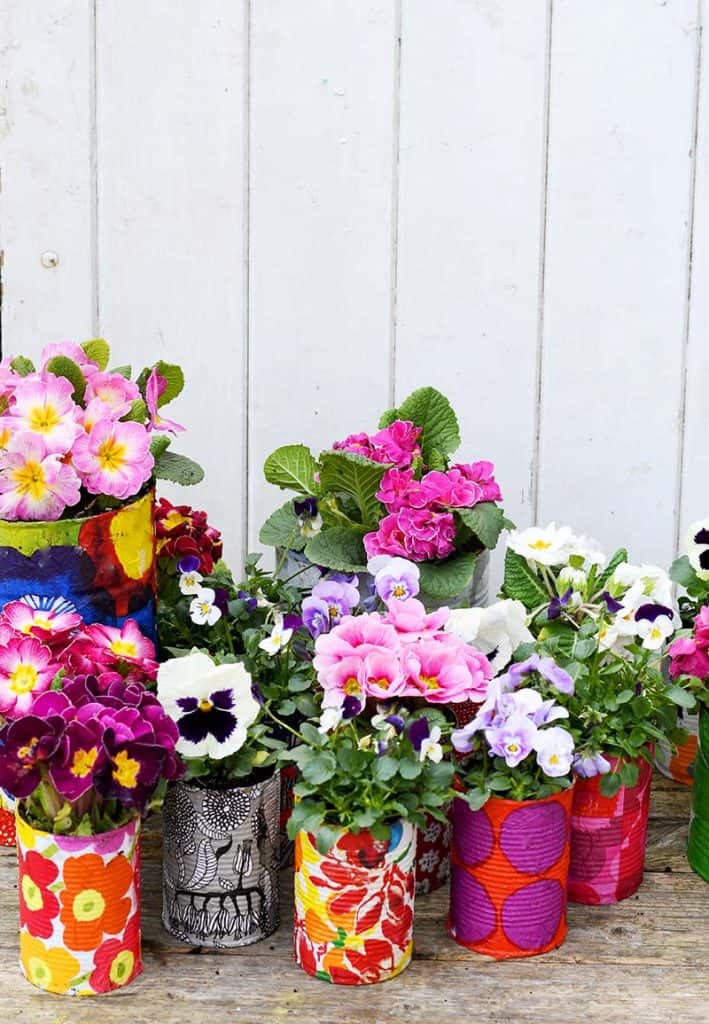 Add a rustic farmhouse style to your bathroom with this tin can wall organizer. This is an easy project that is perfect for a beginning DIY'er too. Plus, it is very versatile, and you can use whatever finish you want on the lumber and tin cans. It is always nice when you can personalize it too.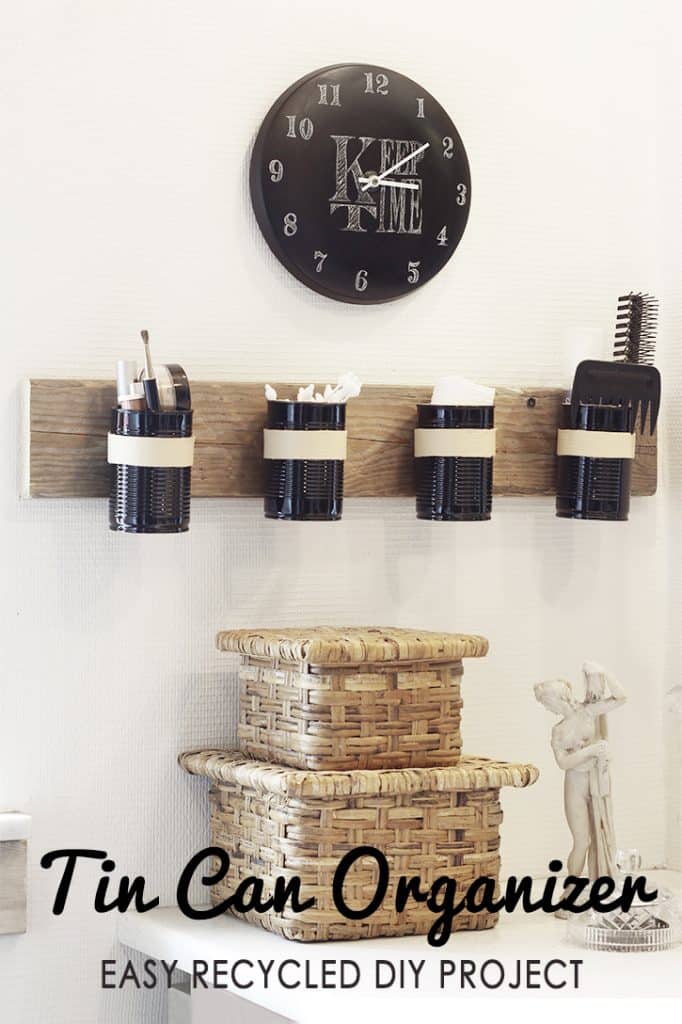 If tin cans have taken over your craft room and you are looking for a creative way to use them, this is a terrific idea. I love the sleek colors and overall style of the gold and white paint. Naturally, you can use whatever color you prefer, but these are so pretty! You can finally get your desk organized too!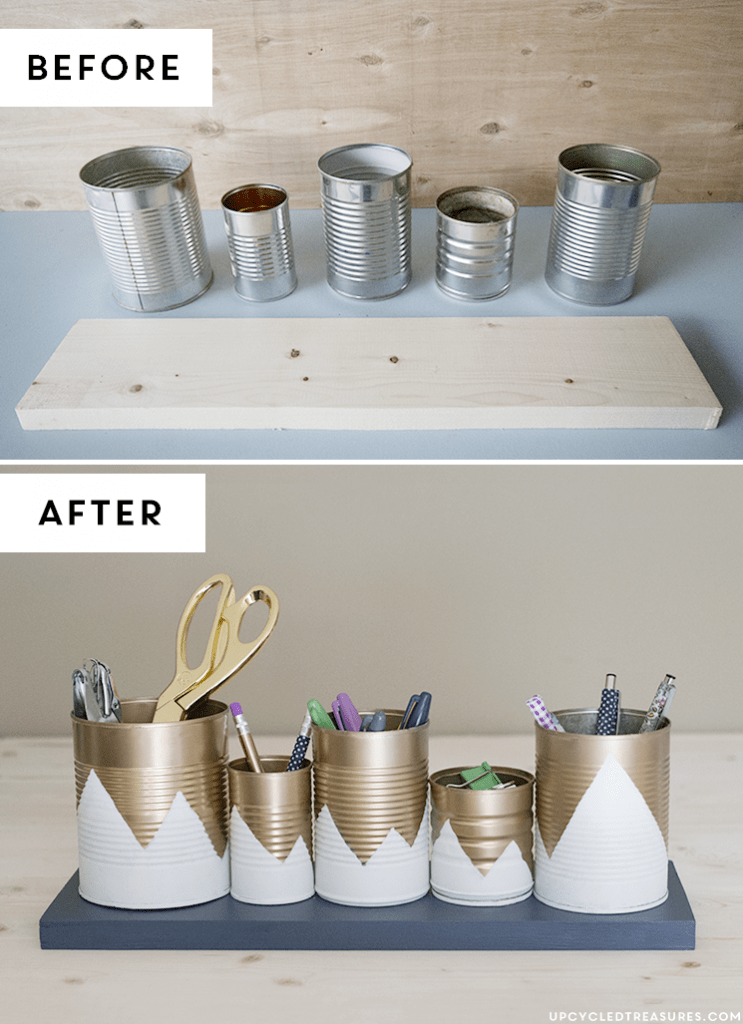 There are loads of ways to upcycle tin cans, but finding a purpose for the lids can be little trickier. Making garden markers is the perfect solution to reuse the lids! The best part is that you will know what each plant is that is growing in your garden. No more guessing or trying to remember.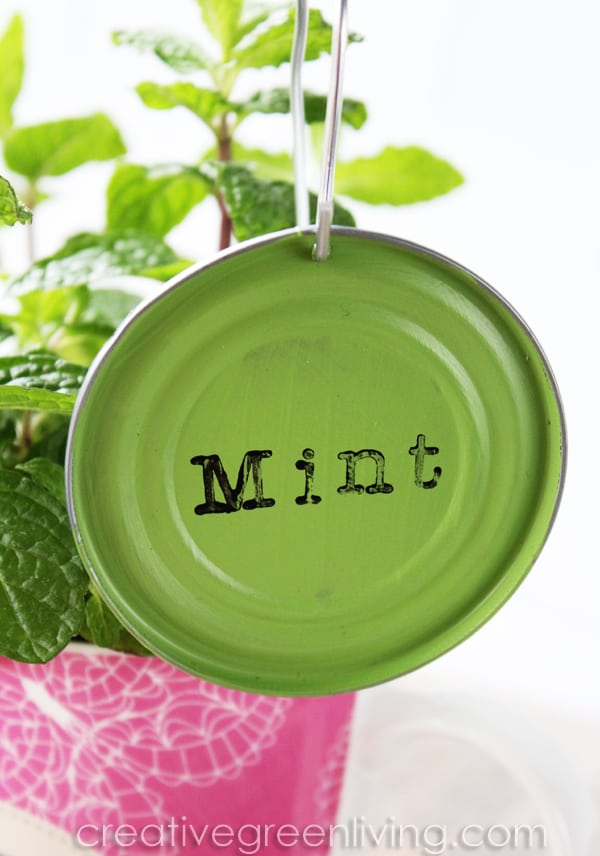 All you need for this project is some tin cans, a drill, saw, peg hooks, epoxy, and spray paint! That's it, and you will have a gorgeous tin can upgrade that would work in your hobby room or garage. Store screwdrivers, pens, markers, and lots more! Time to collect your cans and get to work making this awesome project.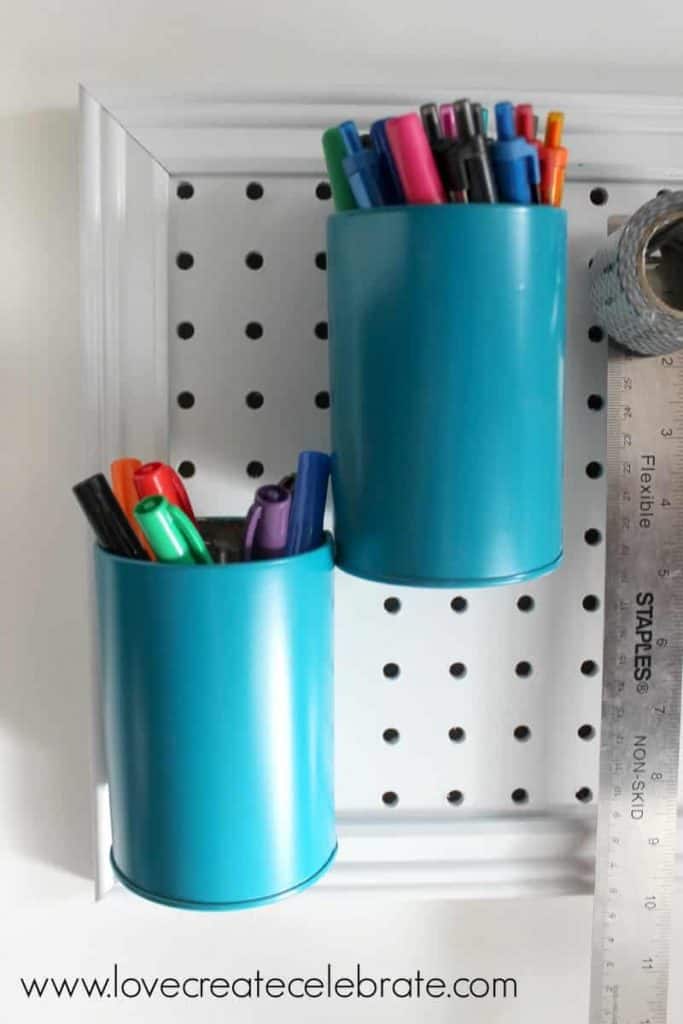 We all know how important bees are for our environment. Making a bee house is a terrific way to invite them to your outdoor space. They will help pollinate your flowers and so much more. Plus, you will be doing your part to help the planet. I would say this project is a win all in many ways!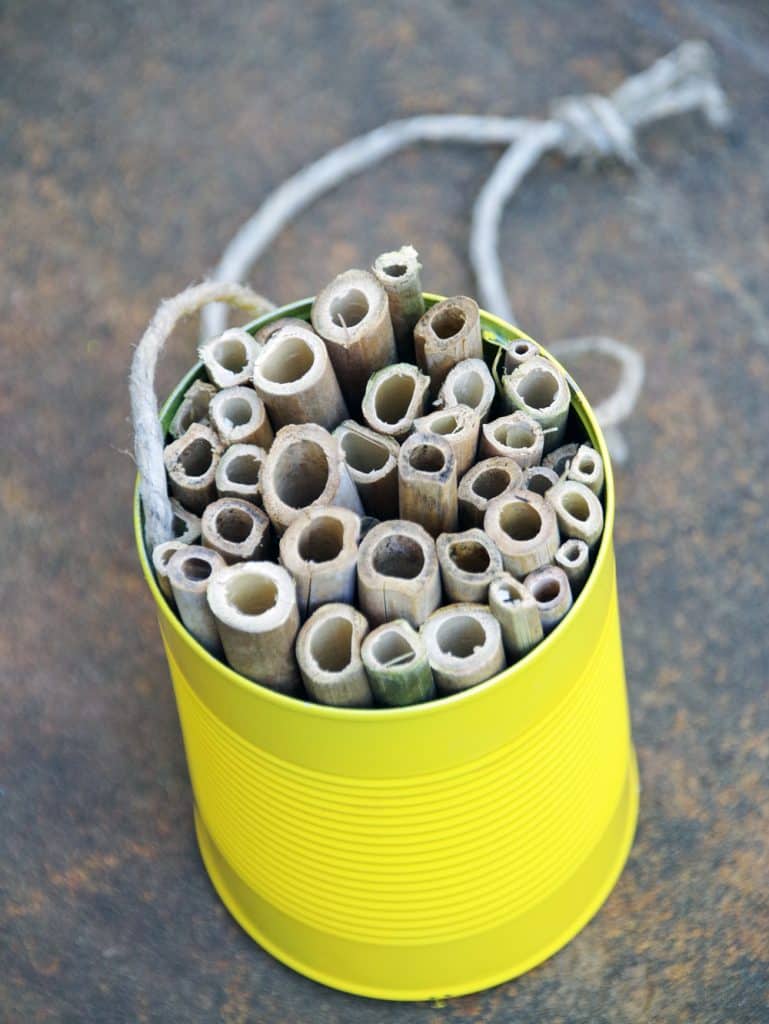 Whether you are looking to make some vases to keep your own flowers in or you are planning on decorating your home for an upcoming party, you are in luck! This idea is fantastic! Make gorgeous centerpieces for a wedding, baby shower, bridal shower, or just because you love the look. You can't go wrong!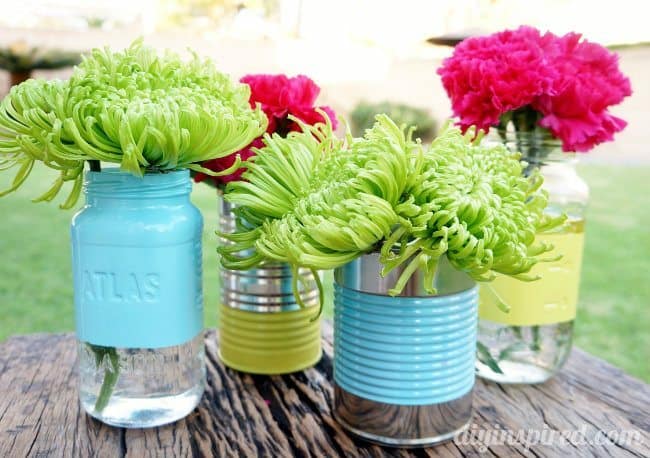 These tin can luminaries are just what you need for your outdoor living space. They are stunning, and you can use tea-light battery candles to add the right amount of light. Even your kids will enjoy them if they go exploring the backyard at night. All of your friends are going to want you to make some of these tin can crafts for their homes too!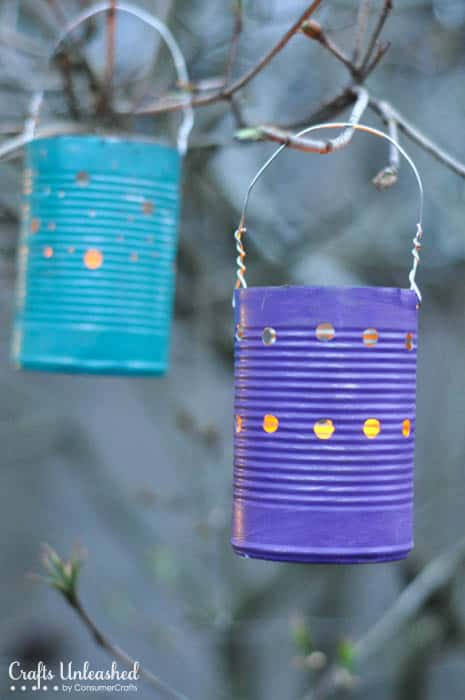 For your next backyard barbecue, party or event, make a tin can silverware caddy! It is so nice to have all the forks, spoons, and knives organized and looking stylish. Everyone is going to be asking you where you picked up this adorable caddy! The clever addition of burlap is sure to make this one a hit!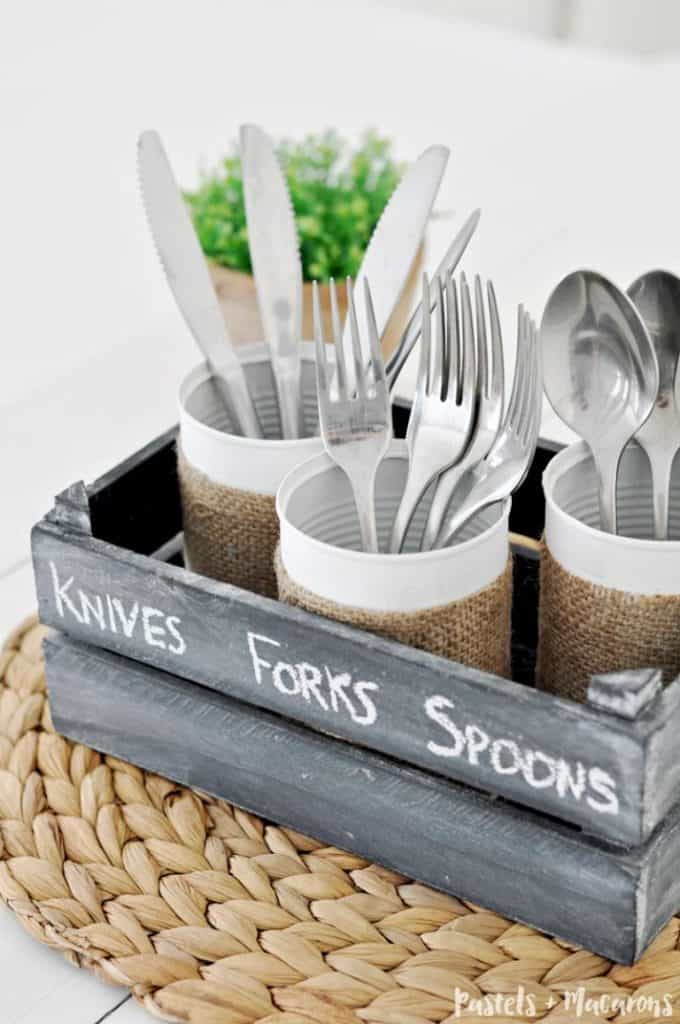 These lights are fantastic and they are so unique! Hang them from your patio, in the garage, or adorning the man cave for something creative and different. If you don't have tin cans like this laying around, you can find them pretty inexpensively at thrift stores, yard sales, or swap meets. Take your outdoor decorating to the next level!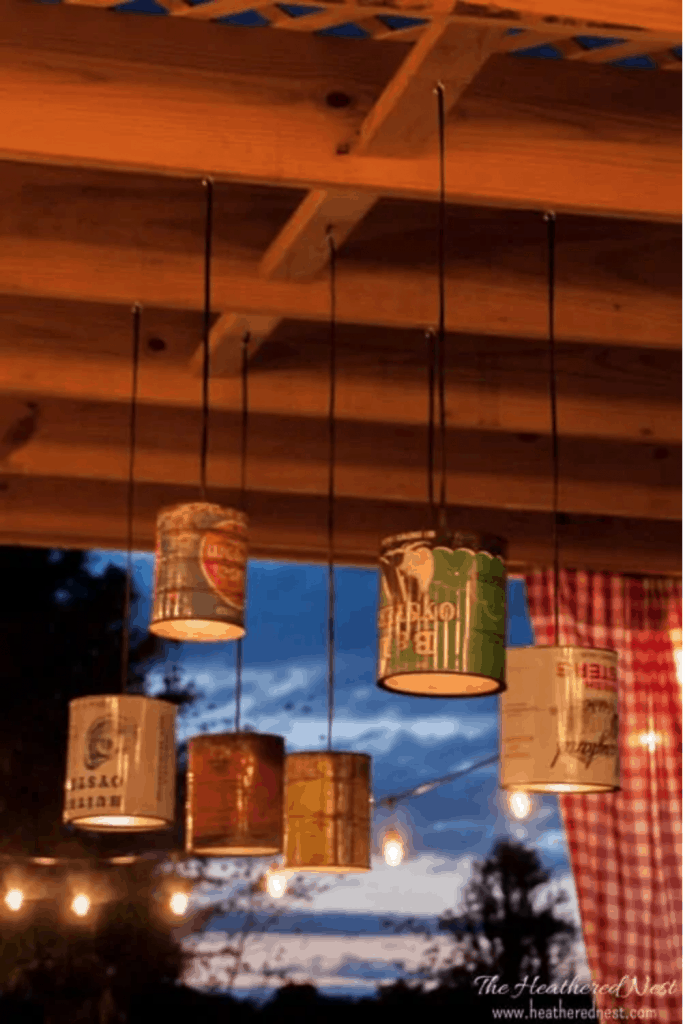 Celebrate Independence Day, Memorial Day, and Labor Day in style with these fantastic patriotic flower pots. Add your favorite summer flowers such as petunia, daisy, magnolia, or roses. Honestly, you can can't go wrong with anything you choose. Grab a cold drink and let the fun begin!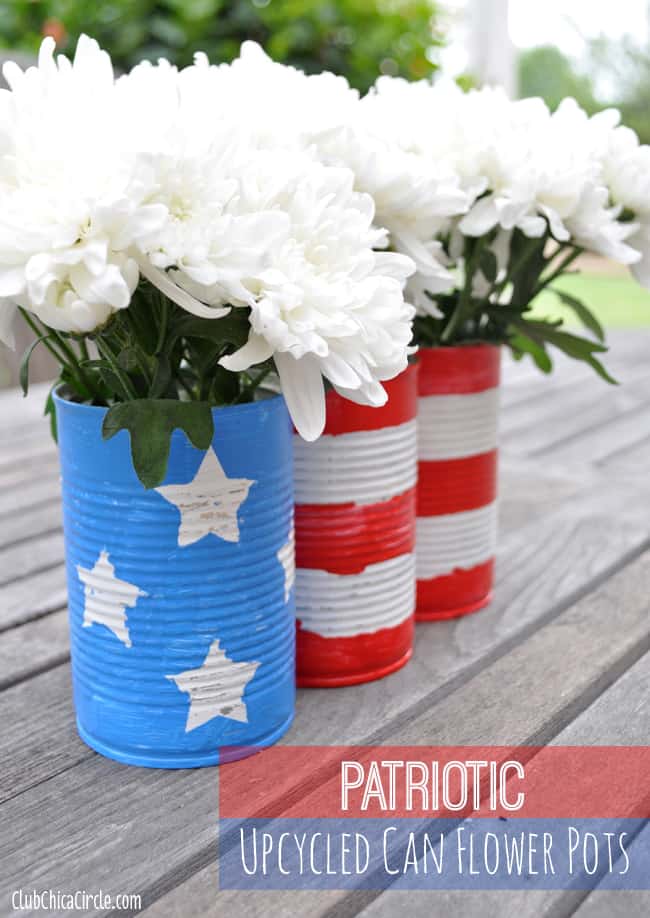 Wow, this upcycled vintage lamp is incredible! Go on the hunt for some vintage tins, and you can create your own too. With the straightforward design and lamp components readily available it is pretty easy to throw a lamp together in no time. I can assure you that everyone is going to be wondering where in the world you picked it up because they will want one too.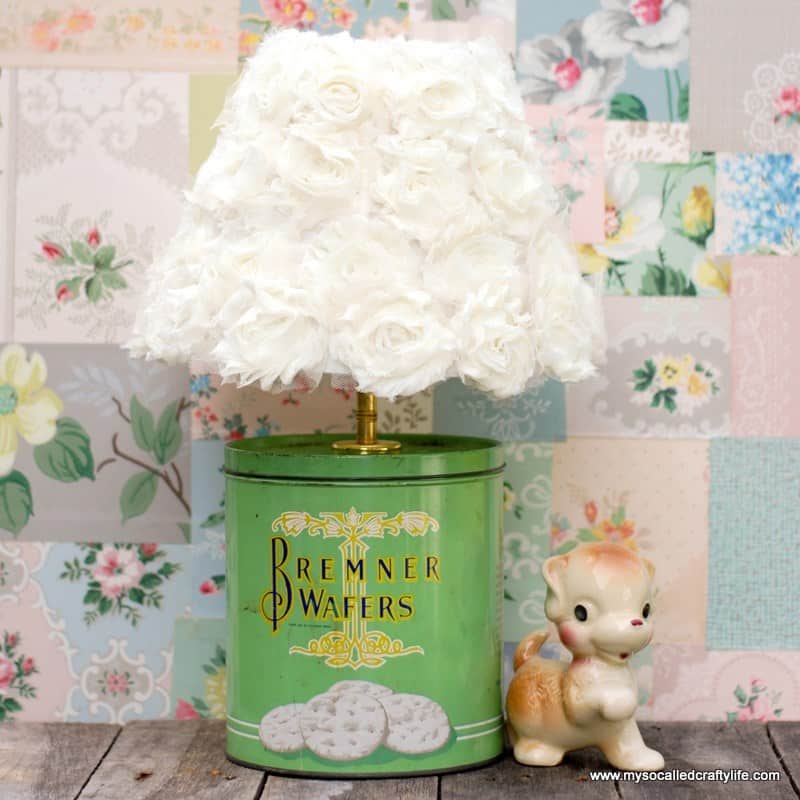 You will thank yourself later when you introduce your craft room to a lazy susan! You can keep things organized and easily access them when you need to. Store paint brushes, clothespins, cotton balls, and rulers conveniently in an orderly fashion, and you are going to love it.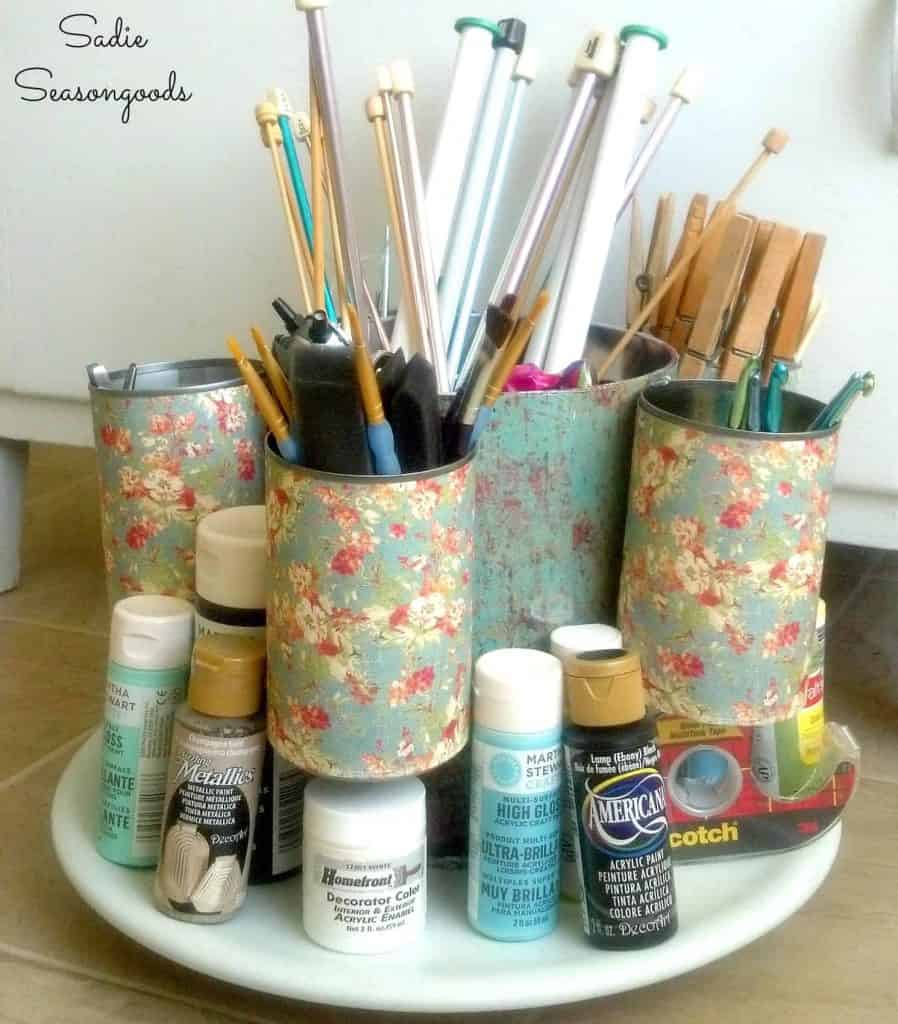 These beautiful vases have a tin can as the base and are covered with fabric. They are so pretty and chic! Add all your favorite materials, and the result is a vase that looks like it belongs in a magazine. Let your creativity shine because you are going to be so happy with how it looks in the end.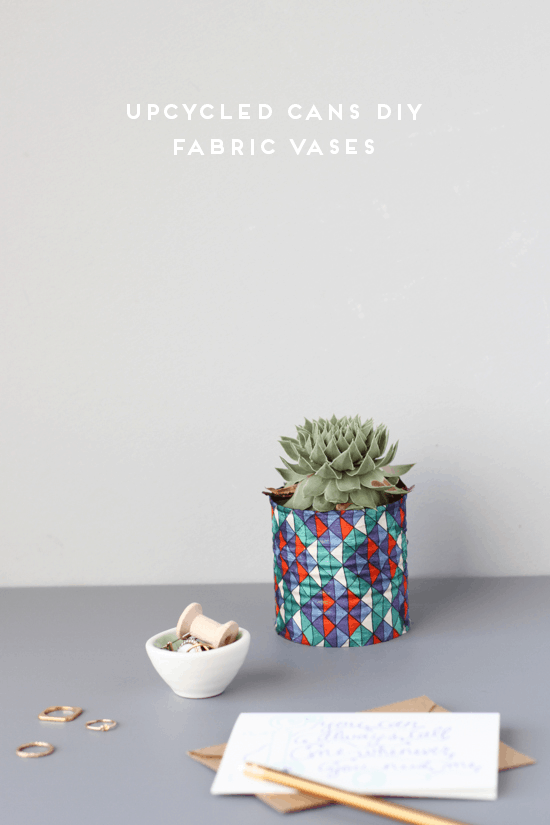 Why spend loads of money on high-end flower pots when you can make them yourself? You can plant cactus, succulents, or anything else you prefer. Add them to your mantle or shelves to provide a gorgeous ambiance to your home or office. Are you as excited as I am about this project? So fun!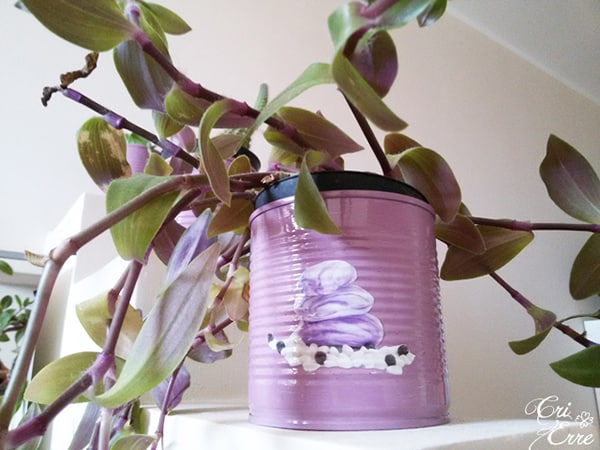 These DIY punched tin can lanterns are a cross between country chic and farmhouse style. You are going to be thrilled with the lights when they are finished too. The white and red colors are fantastic! Add your own flair and design, and you won't be disappointed.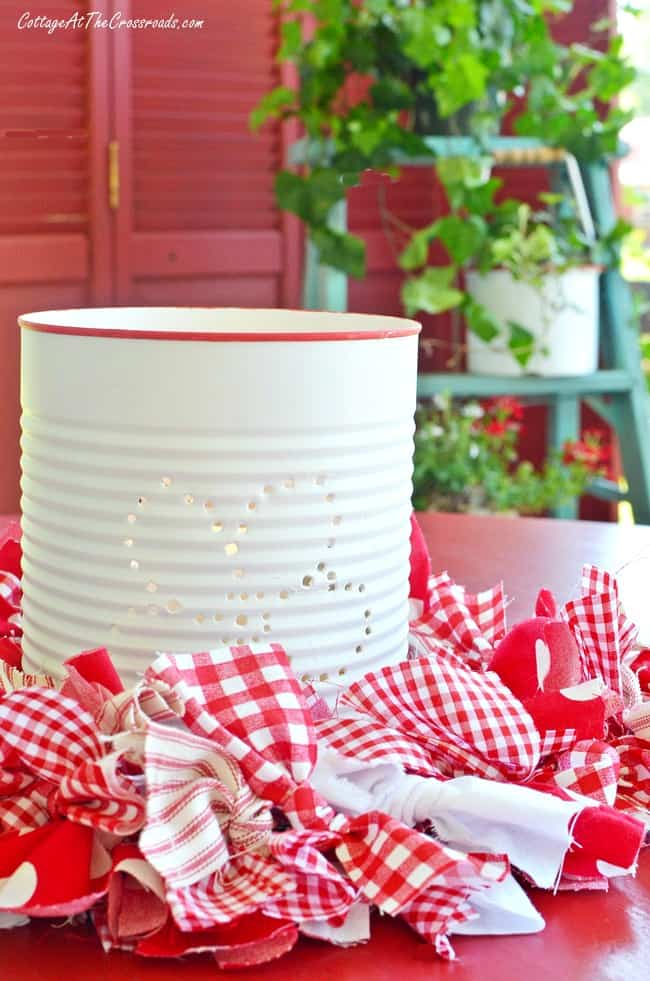 These organizers with gold foil are simply beautiful and will look great in your home. You don't need a ton of supplies, and they are reasonably simple to make, so that is a win! When you get done, you are going to be so proud of the finished product too.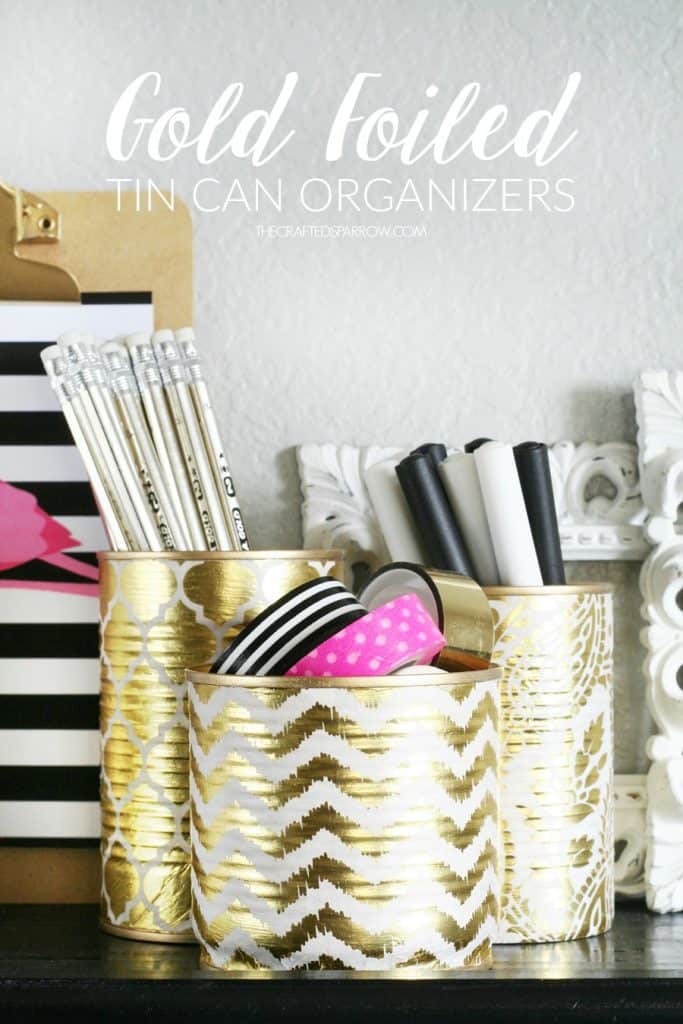 The most entertaining part of making these tin can flower pots is painting and smashing the cans. You can shape them down to match the desired look you want. You could plant herbs, flowers, or even succulents in the pot too. These will look terrific on your deck! And they're so unique…