I'm gonna call it – Nice Cream has got to be the best invention of the century! Not only is it a cruelty-free way to get your ice cream fix, but it's also delicious, refreshing, and nutritious to boot! What's not to love? We've rounded up our favorite nice cream recipes from around the web so you can get to whipping up a batch of dairy-free ice cream in no time!
---
Delicious Nice Cream Recipes
Pin this for later, so you always have the best nice cream recipes on hand to try out!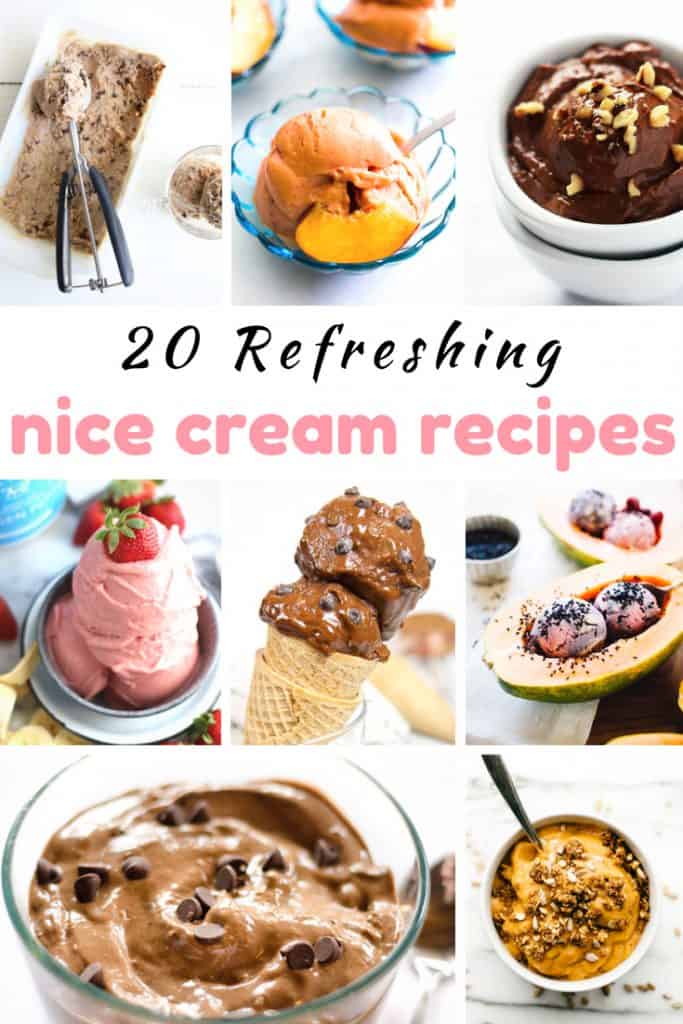 This mocha nice cream is out of this world amazing! You will be surprised to know it only has 3 ingredients that you probably already have around the house! Coffee, banana, and cocoa powder is all you need to make a creamy bowl of this heavenly goodness. Plus, there won't be any long hours of churning to make this tasty treat.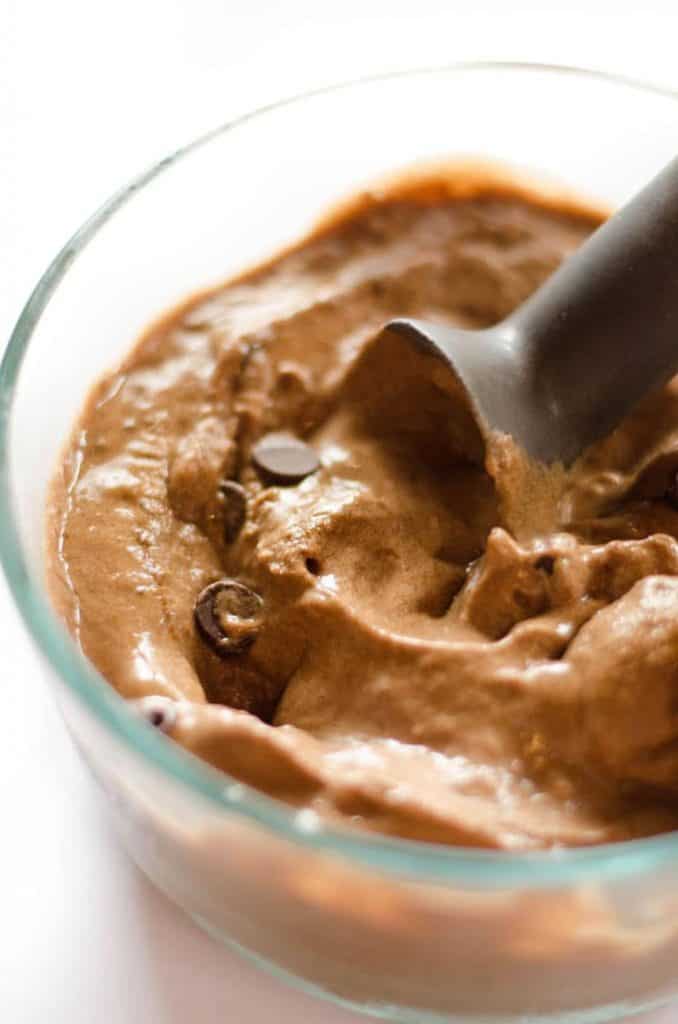 There isn't a more classic ice cream flavor than mint chocolate chip, so when you told me there was a nice cream recipe I was sold! The look, texture, and taste are so similar to the original that you wouldn't know the difference if you weren't the one that made it. All you need is 4 ingredients that you blend together and it is ready to devour! Freeze any leftovers and you will be thanking yourself later.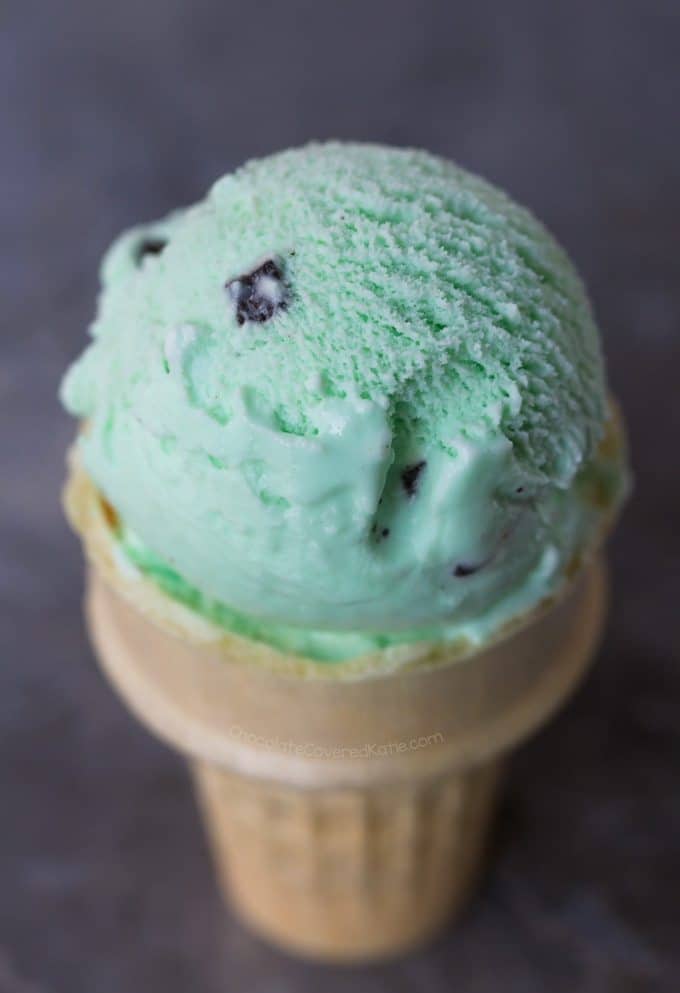 Once in a while, you find a treat that is so good that you think about it all the time because it is so sinfully delicious! That is exactly what is going to happen with cookie dough nice cream. It is so rich, decadent and you feel like you are enjoying something bad because it is so amazing. Sometimes things really can be too good to be true. Yum!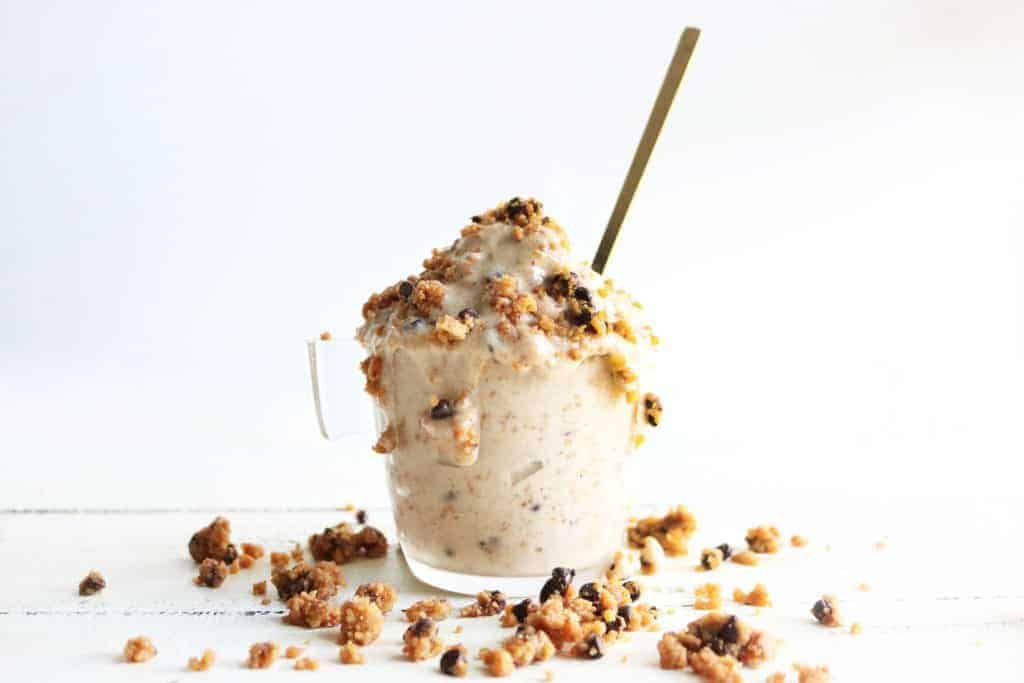 In the heat of the summer, there are days that get so hot you would do anything to cool off. My favorite way to chill is to enjoy a nice bowl of homemade peach nice cream. Peaches are a fruit that screams summer and they are naturally sweet so they make the perfect treat. I do have to warn you, that if you place this in front of your kiddos they are going to gobble up every last bite!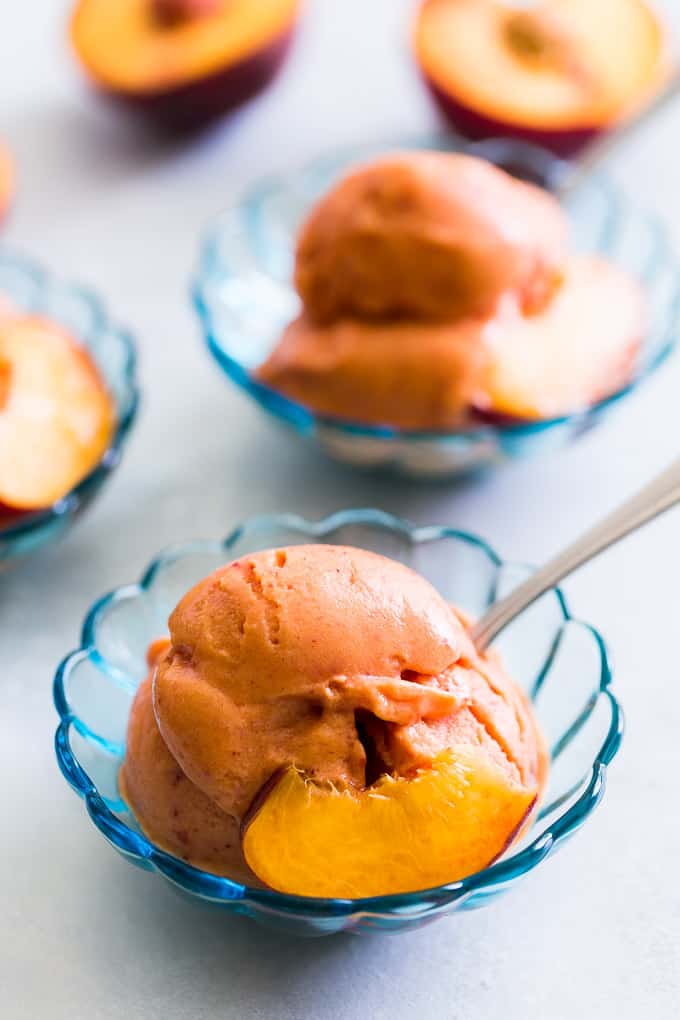 There is something amazing about the combination of cherry and chocolate! This nice cream is smooth, rich and full of flavor. It is hard to believe that it is vegan, paleo and gluten-free. One of my favorite features of this nice cream is how gorgeous it looks. It is perfect for serving at your next backyard barbecue too!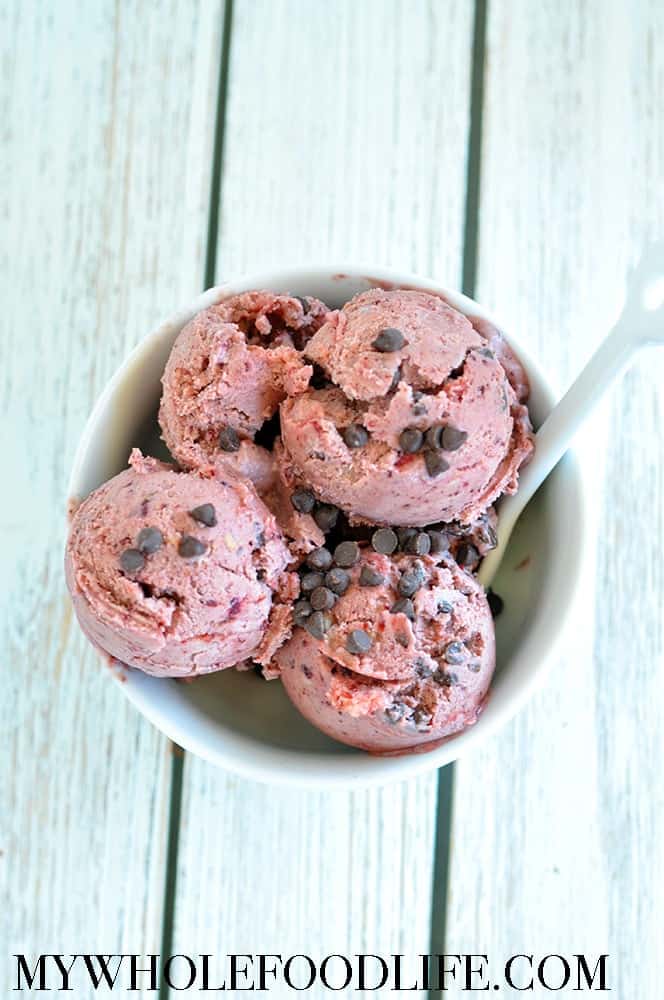 Guilt-free nice cream that is loaded with bananas, cocoa powder, almond milk, almond butter, and all the delicious toppings you could want. This sweet dessert looks as awesome as it tastes and probably won't last too long, so I recommend a double batch. Serve in a bowl or in a cone for an awesome snack!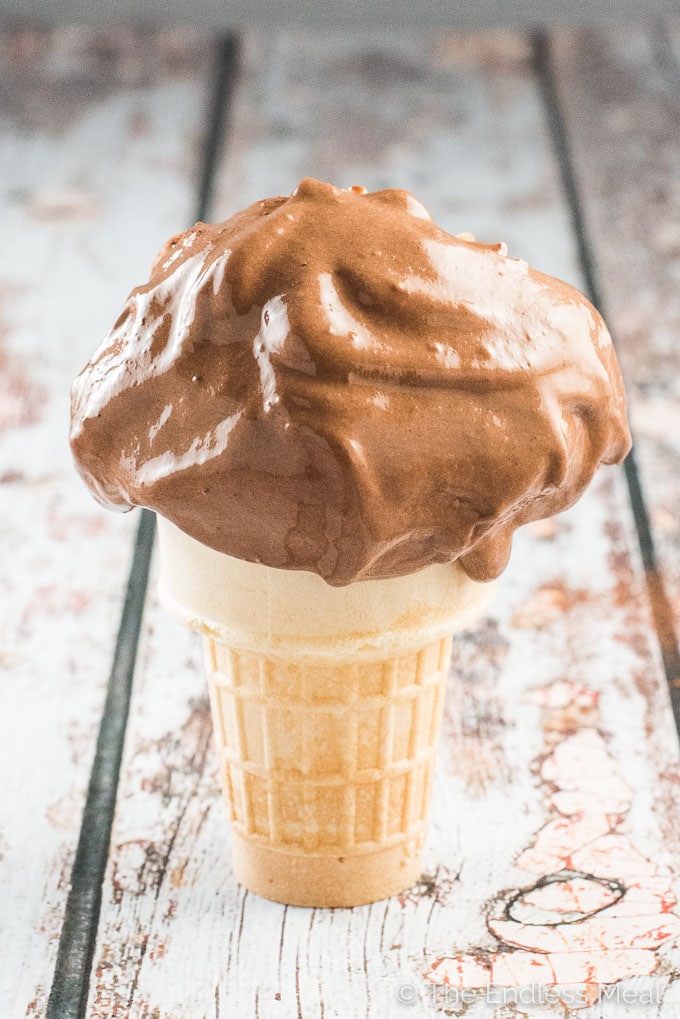 Move over fancy ice cream shops! This recipe looks like it has been churned and took hours to make, but in reality, it is so easy to throw together. The rich coffee flavor paired with the sweet banana and dates is out of this world! Every bite will leave you yearning for the next. Plus, it tastes like coffee so you already know it is going to be amazing.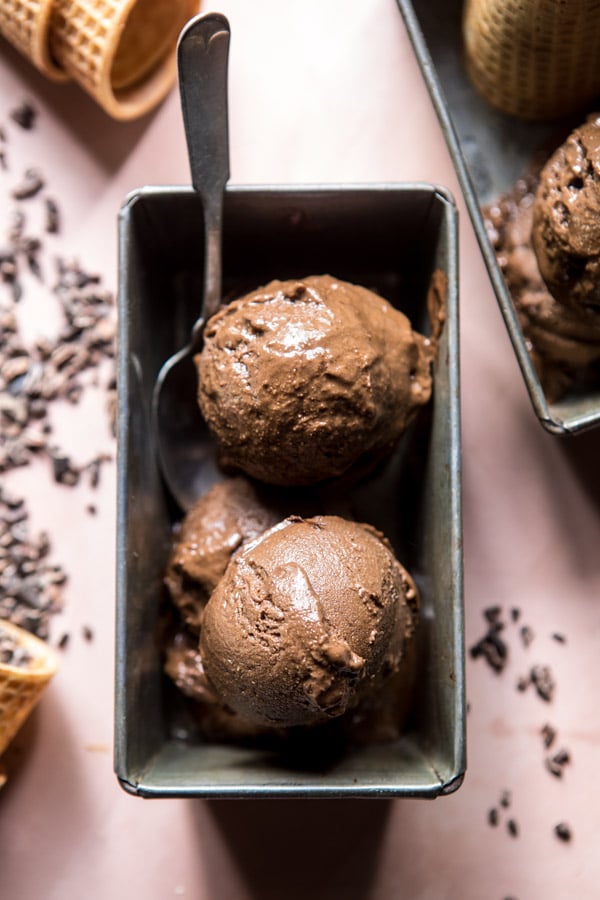 Enjoy this scrumptious nice cream any time of year, but it is particularly good during the holiday season. Made from natural ingredients, this sweet frozen nice cream is full of flavor and a perfect snack to end a busy day. If you love spice, then you are going to be thrilled to know that the cinnamon, nutmeg and ground cloves are the star of the show in this recipe.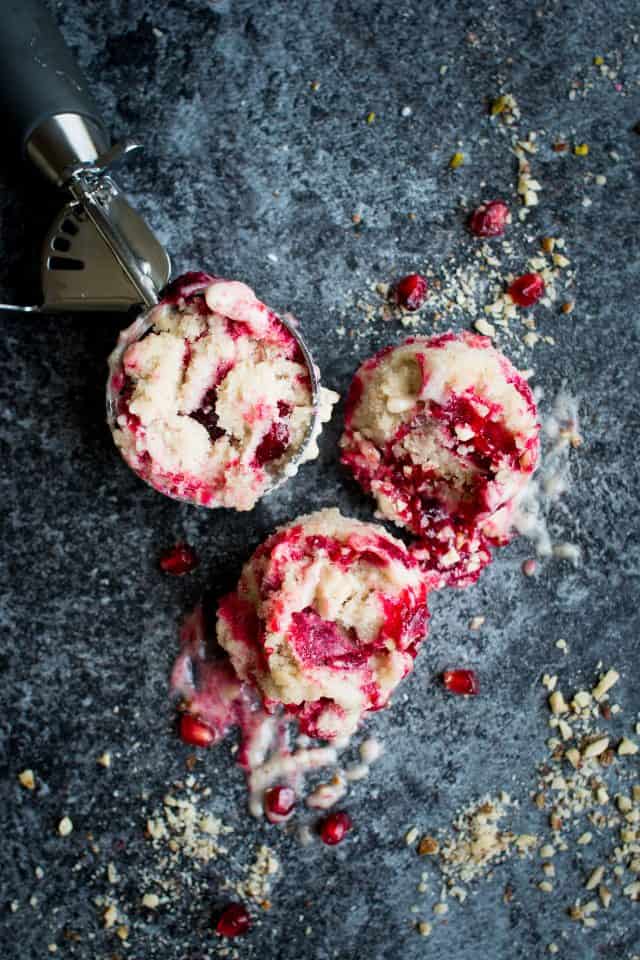 You aren't going to believe how scrumptious and easy this nice cream is to make. With every bite you will become even more hooked. Chocolate and peanut butter blend together to make this sinfully delicious dessert that everyone is going to be begging for. Make this for your next party and it is sure to be a huge hit!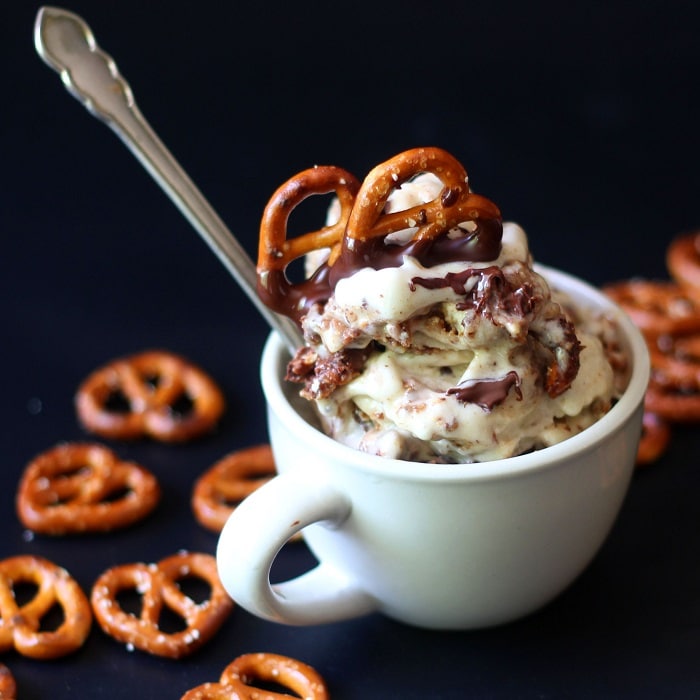 The honey, walnuts, and bananas create an explosion of flavors that you will keep coming back for more of. I love the sweetness of the honey (sub for maple syrup to make it vegan) and bananas combined with the earthy flavors of the walnuts. Plus, it has a fantastic little crunch in every bite. Did I mention how simple this is to make too? You seriously only need about 5 minutes and you are set.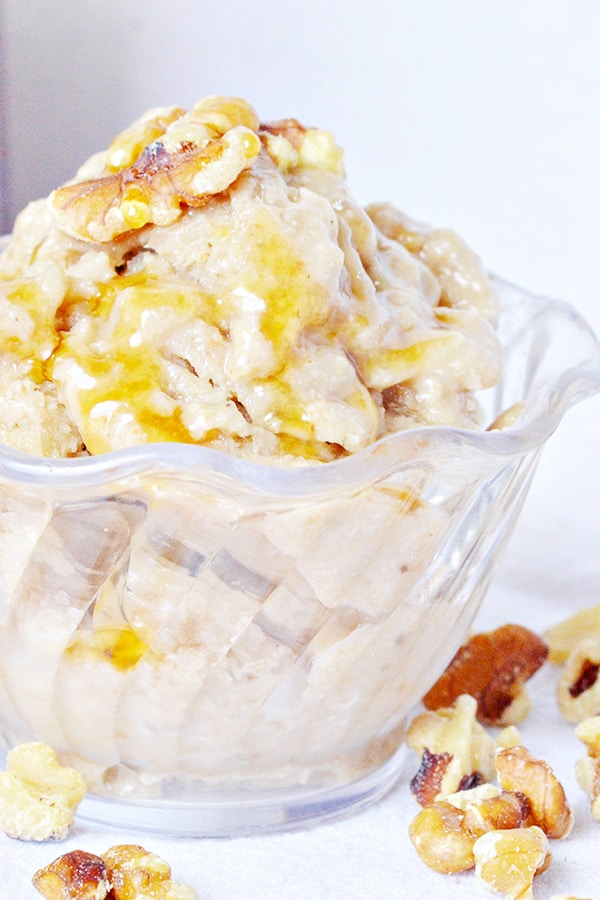 Adding Nakd peanut butter bars to frozen bananas, peanut butter, and cacao nibs is the best idea I have ever heard of! This nice cream is paleo, gluten-free and vegan and it tastes so good I can't even believe it. Once this nice cream is frozen, it is ready to serve! Holy yum this is good!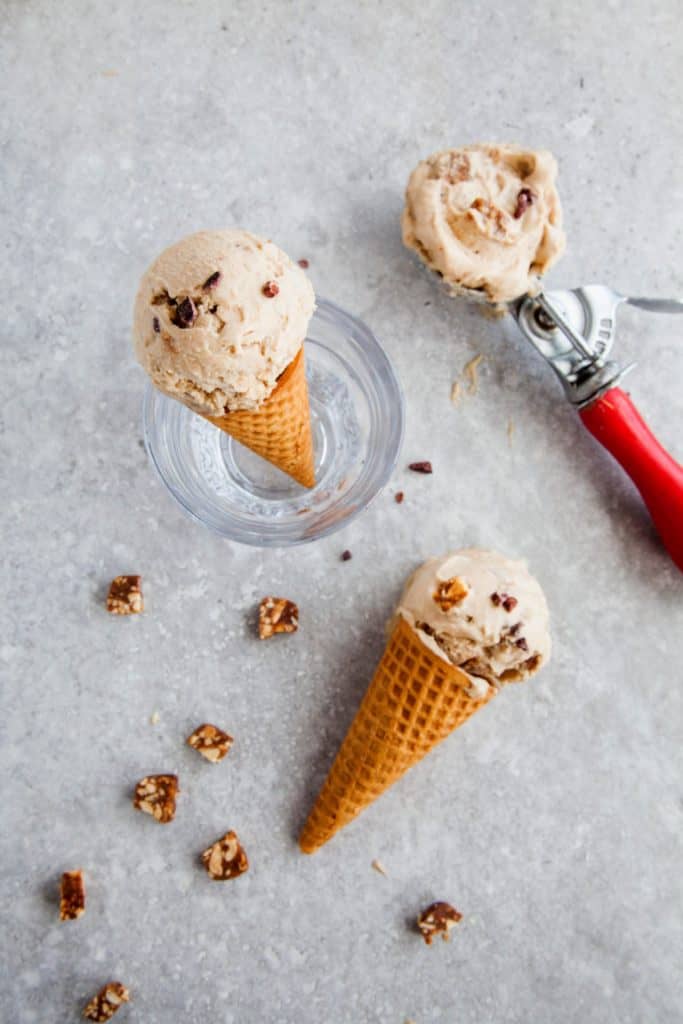 Quiet that sweet tooth with this homemade soft-serve nice cream. Your taste buds are going to thank you with every single bite. Plus, it ends up being a beautiful shade of pink that is almost too pretty to eat. Just kidding, you for sure will want to eat every single drop!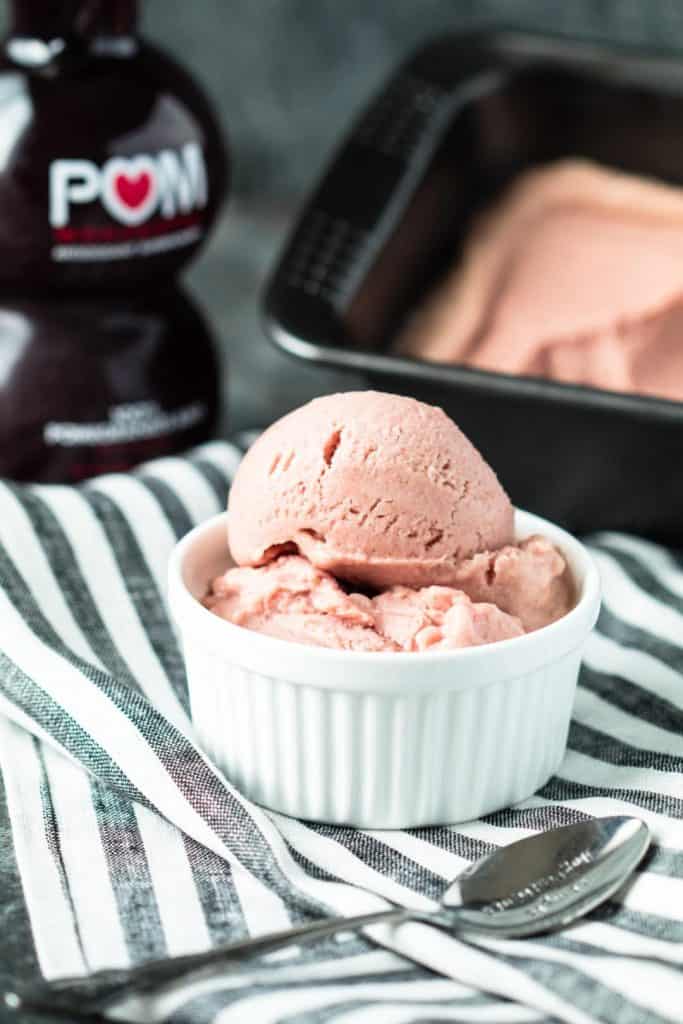 This double dark chocolate chip nice cream is rich, decadent and almost sinful to eat. Every bite of this scrumptious frozen soft serve is even better than the last. I love to serve this at family get-togethers and parties because I know it is always going to be a huge hit. Plus, I like to have it as a special snack for those hectic days when you want something scrumptious!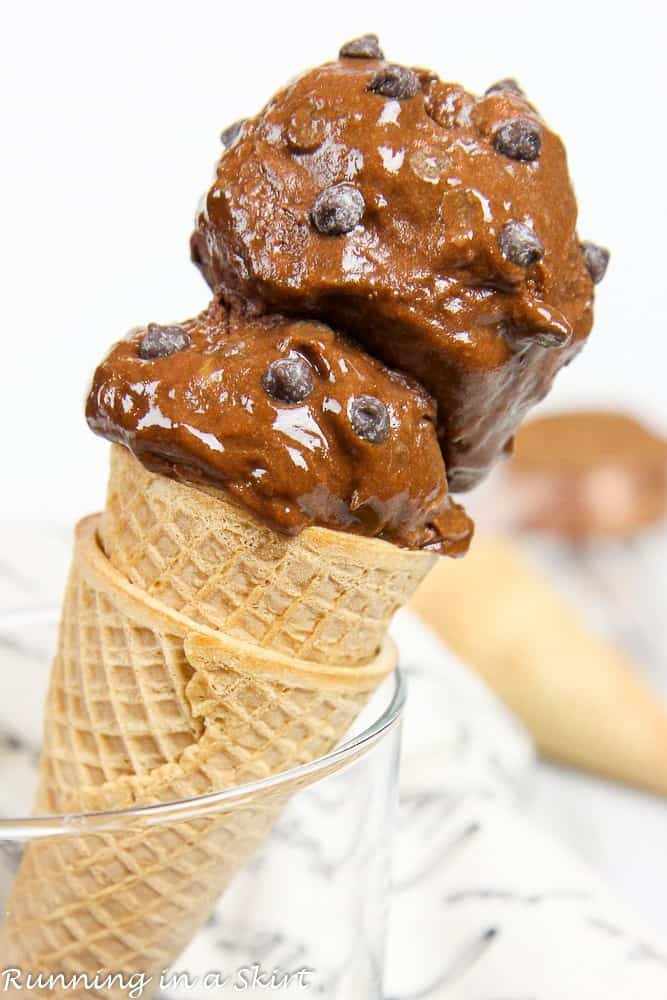 You know anything with caramelized pecans is bound to be amazing! The nice cream itself is made of bananas, peaches, vanilla, and coconut or almond milk and it is topped with pecans that have been caramelized with maple syrup. Everything about this dish is pure perfection, and I am certain you are going to want to lick the bowl clean.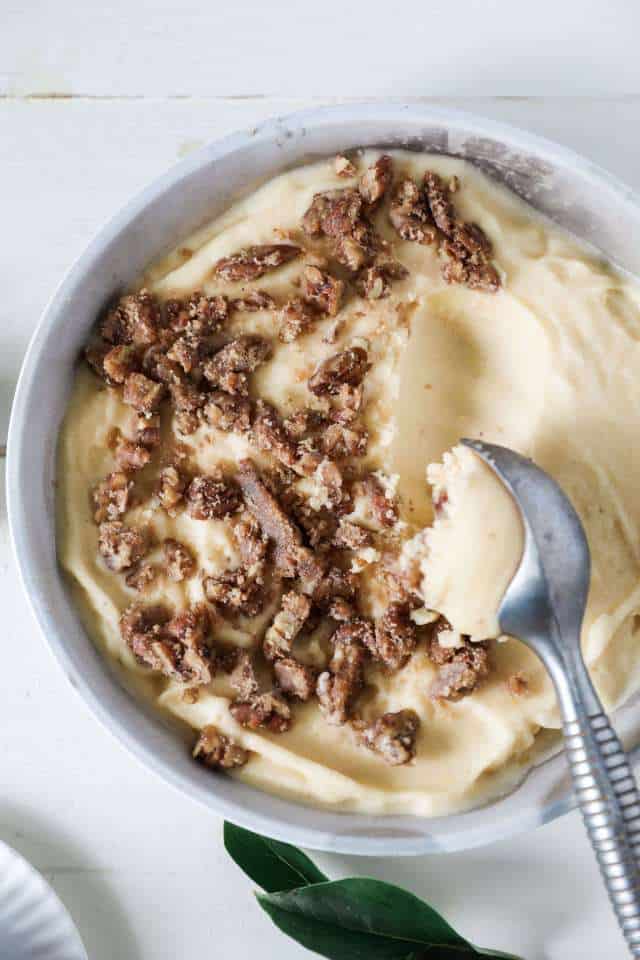 This blue nice cream is probably the prettiest I have ever seen. It almost looks like cotton candy with its bright blue coloring. Not only does this nice cream look phenomenal it tastes even better! Fill up a bowl and top with some strawberries or blackberries, sit back and enjoy!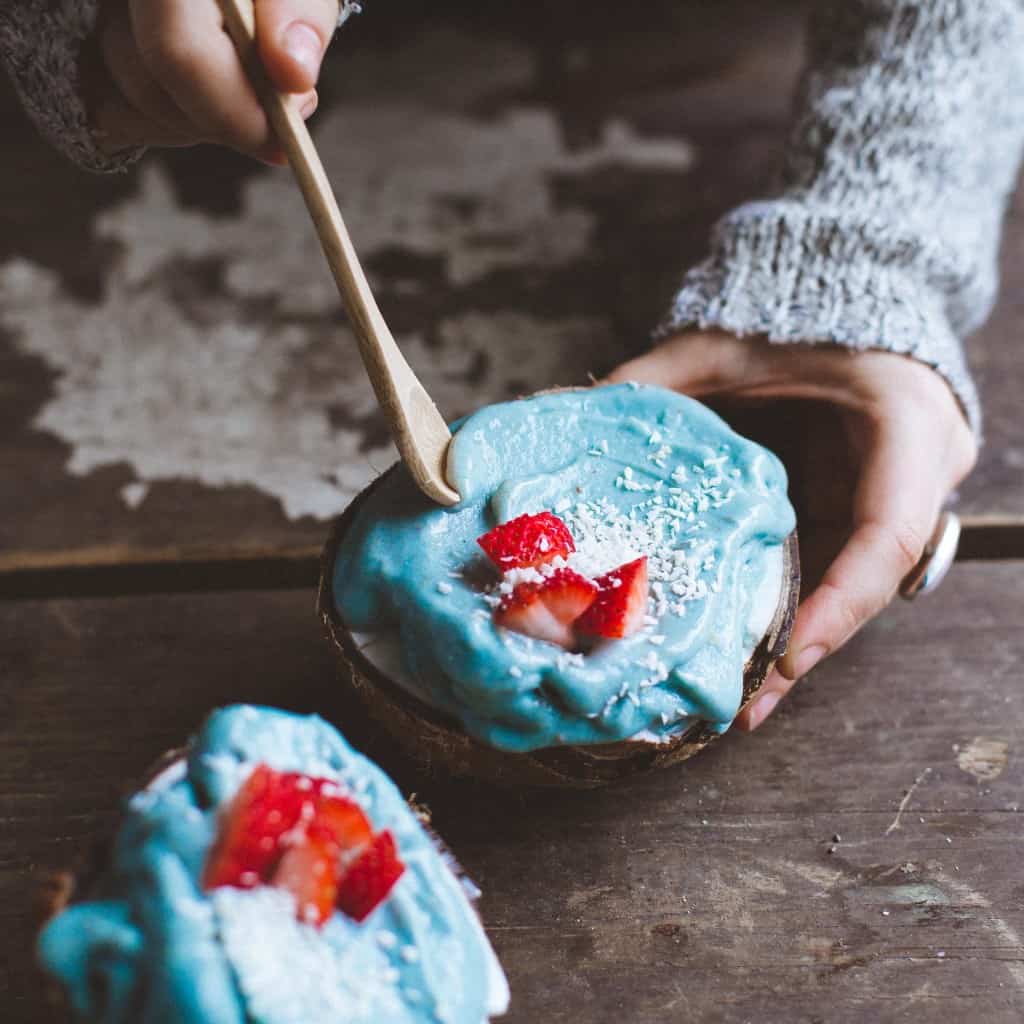 Yes, you read that right! You can devour this nice cream for breakfast, how cool is that? The sweet potato nice cream is impressive on its own, but when you add the cinnamon-sunflower crumble on time it takes it to the next level of awesome! Plus, you can whip up a batch in around 15 minutes, so that is a massive win in my book.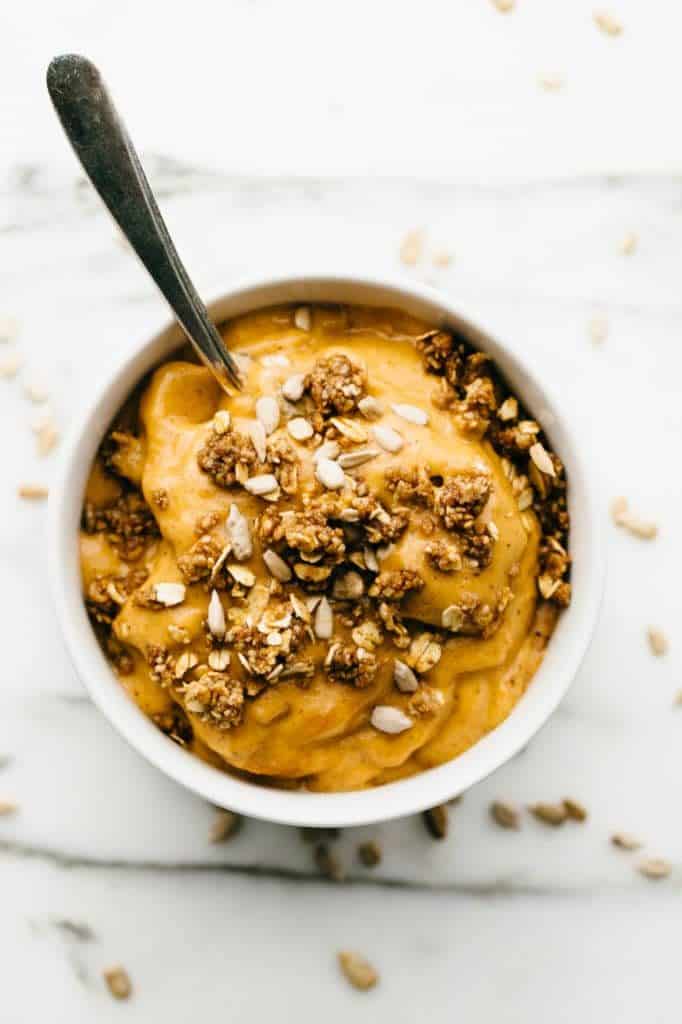 Who needs a bowl when you can eat nice cream right out of a halved papaya? Oh there are so many wonderful things to tell you about this yummy dessert. It has coconut cream which makes it so smooth, blueberries, bananas, raspberries, cashews, and maple syrup. I promise one bite and you are going to fall head over heels in love!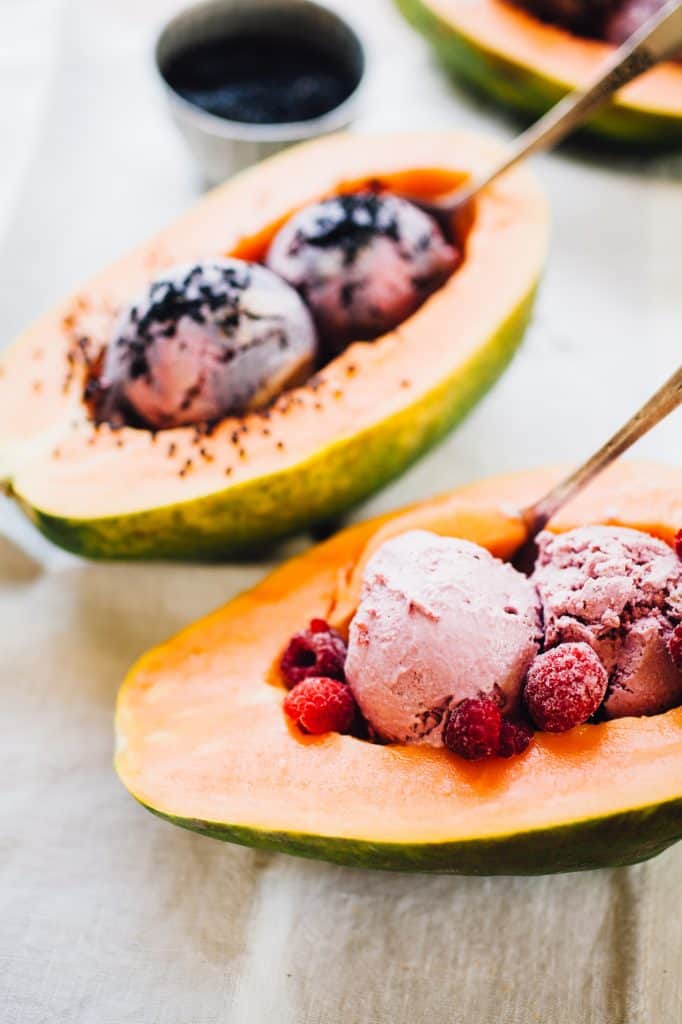 Peanut butter fanatics are going to be in food heaven over this recipe. It is loaded with chopped peanut butter cups and bananas. This dessert is a triple threat with the winning combination of chocolate, peanut butter and bananas. You can never go wrong with this one. Make this for your friends and they will rave about it forever.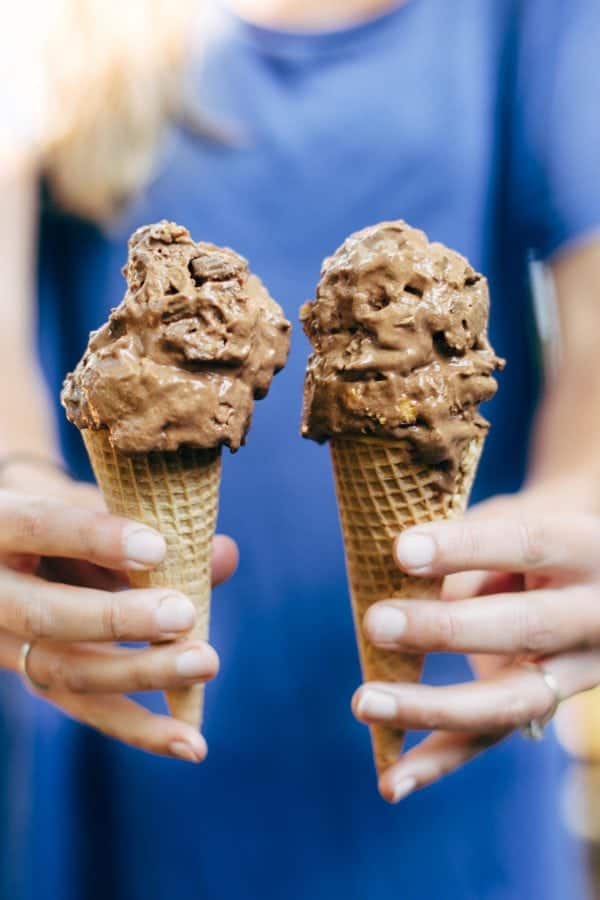 The thing I love most about this is all of it! The creaminess, rich flavor, crunchy pecans on top, and that it's paleo-friendly. It is hard to believe something that tastes so scrumptious isn't bad for you at all. Cool off on a hot day, and your taste buds will thank you!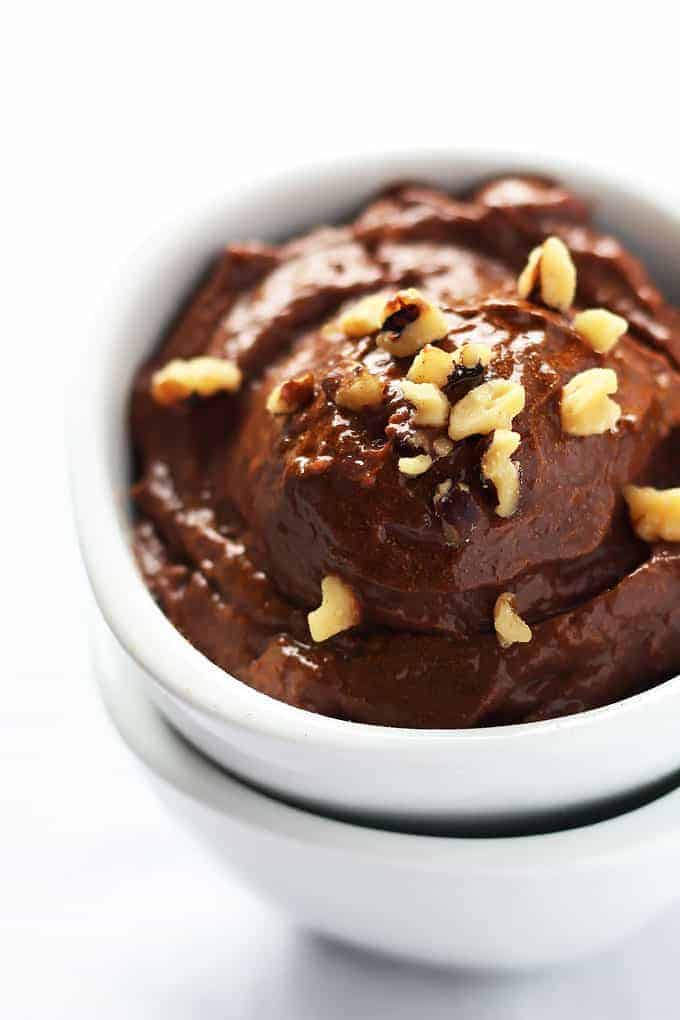 Dreams are made of this luscious nice cream! It is so smooth, creamy and the flavor combination of the banana and strawberry is perfection. This is the perfect dessert for relaxing on a hot day or having a picnic! The best part is it only takes 10 minutes and 5 ingredients. You can't resist the urge to go back for seconds on this one.