Kale is such a versatile vegetable, and it's so good for you too! Packed full of fiber, antioxidants, calcium, vitamin K, iron and vitamin C – it's a powerhouse vegetable that everyone should be eating more of. If you're wondering how to incorporate it into your vegan diet – look no further! We've rounded up some of the best vegan kale recipes from around the web for you to try…
---
Delicious & Nutritious Vegan Kale Recipes
Pin this for later so that you can come back and try another recipe next time!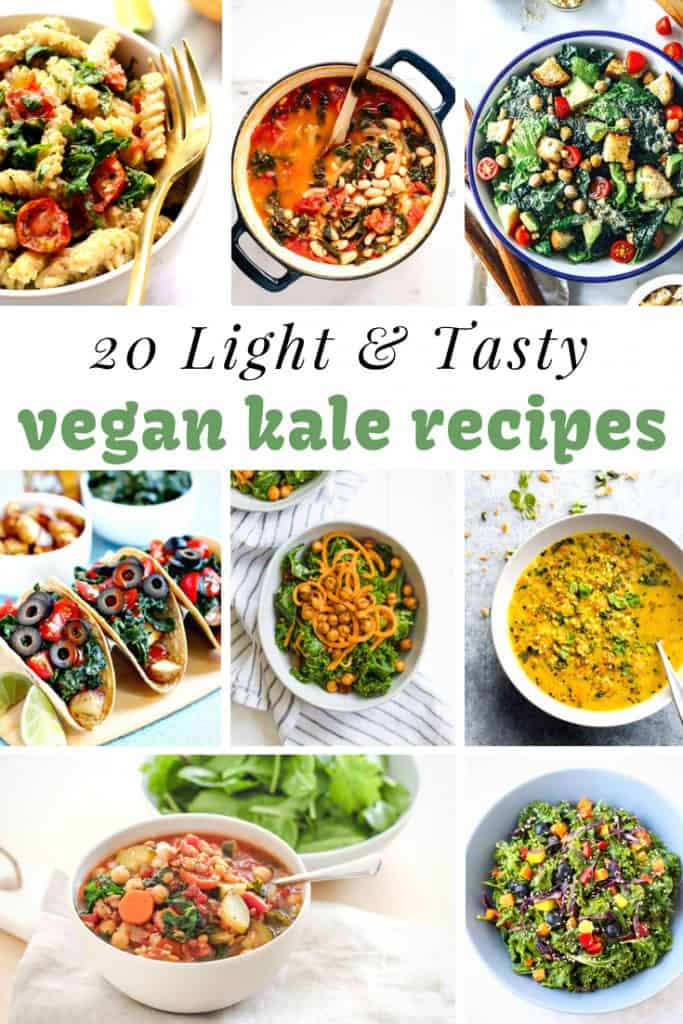 ---
This vegan kale soup is so decadent, rich and creamy! Every sip and you will become more hooked on the delicious flavors of kale, onion, garlic, potatoes, and cashews that work so well together. The real show stopper is the spicy roasted chickpeas on top though! They add a nice crunch, and the flavor is out of this world!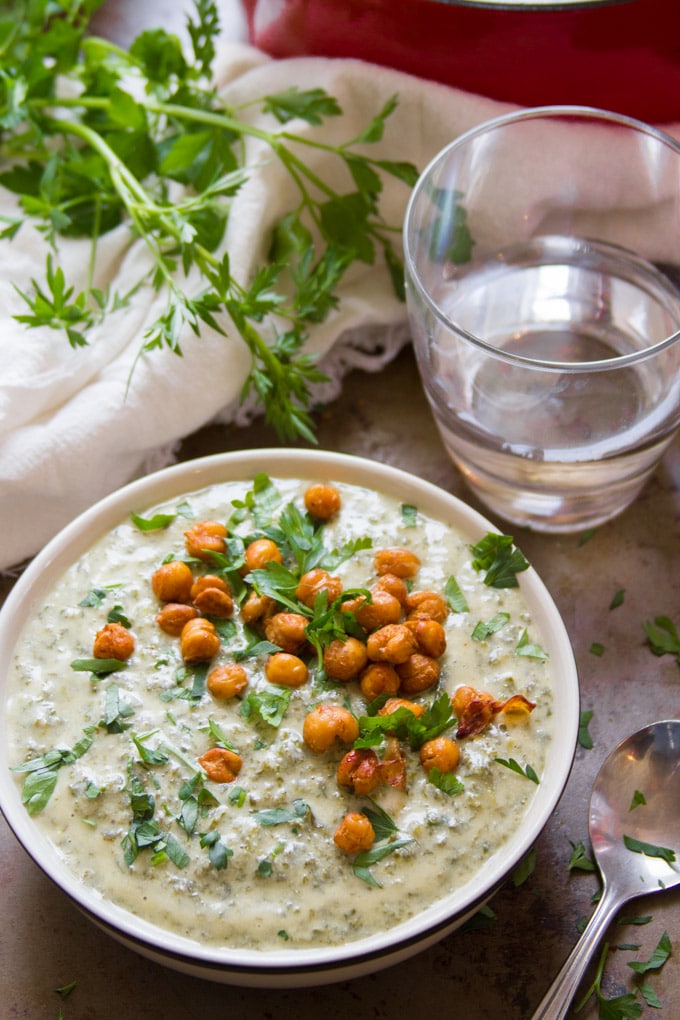 You will be shocked by how easy this kale pesto is to make and the flavor is divine too! We all live busy lives, and it is hard to find enough time to get everything done. Recipes like this make life much easier when you can toss it together in a hurry. Plus, it tastes great on a variety of foods like pasta, sandwiches, and salads. Just throw it on and you're done!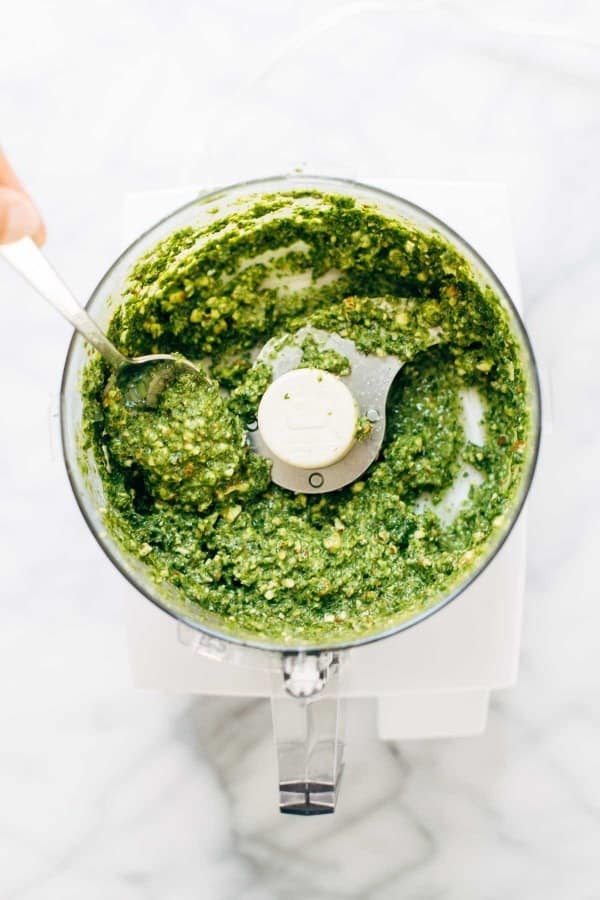 You just need a few simple ingredients and 45 minutes to make this purely enjoyable soup. It's loaded with potatoes, seasonings, beans, broth, and kale. From the first bite, you are going to be so happy you made it! Serve with some warm bread or a garden salad and it'll warm you up immediately.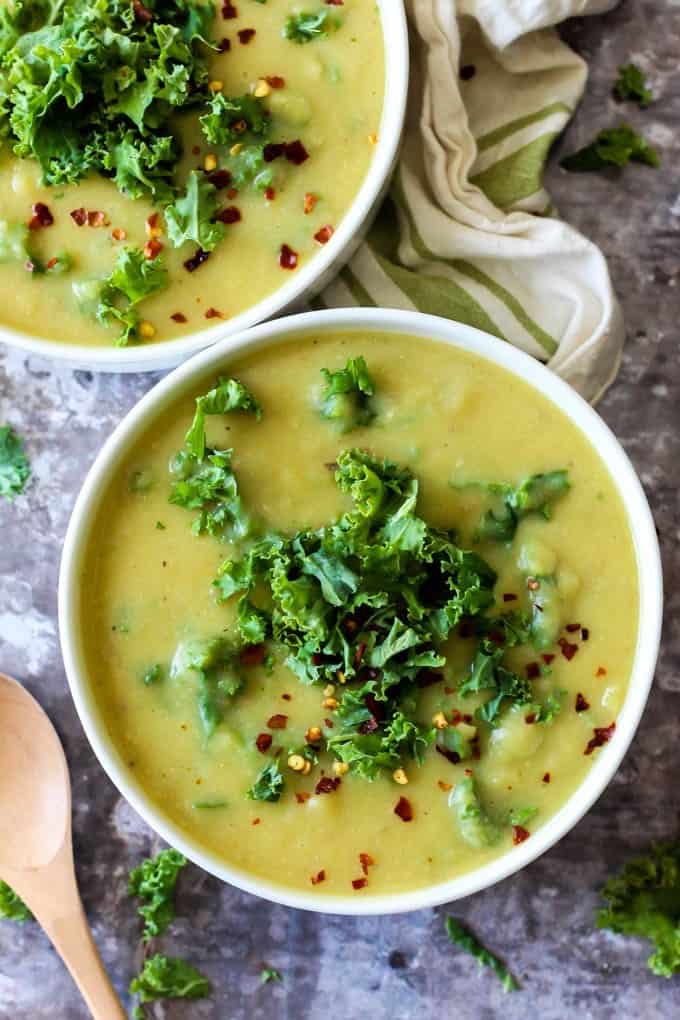 If you are looking for a hearty vegan chili, then you should make this one! The seasonings in this chilli really bring all the flavors together perfectly. This sweet potato and kale chili is one that would be great for feeding a crowd or if you like to meal plan – as it's easy to make it ahead of time!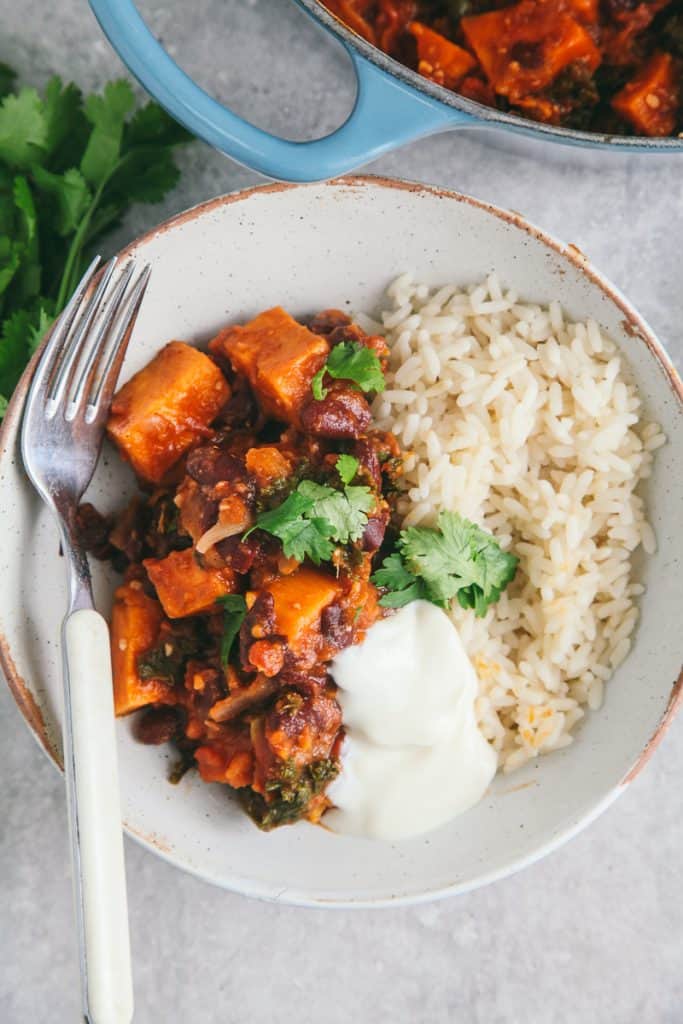 Kick up the flavor with this terrific salad! Sweet potato and chopped kale drizzled in a dijon mustard dressing with garlic and lemon make this salad phenomenal. Top with spicy chickpeas, and you have a mouthwatering salad that leaves a lasting impression… You'll be craving this one for sure!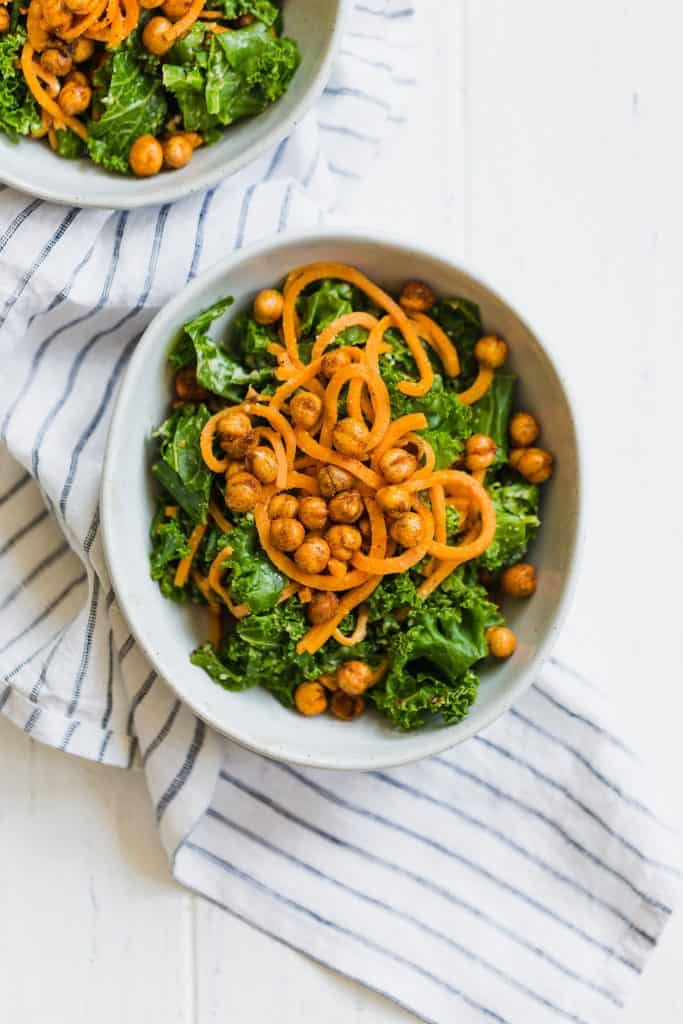 If you have never tasted kale falafel, you're in for a treat with this recipe. Each bite is loaded with tasty flavors you can't get enough of. The best part is that these can please a crowd and look fabulous on a plate too. Make kale falafel for an easy lunch, dinner or as an appetizer at your next dinner party.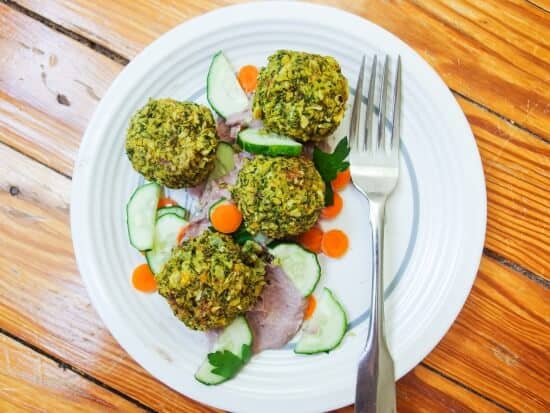 This vegan soup recipe is also Whole30 compliant and paleo! The thing I love about soup is you can eat it for lunch, and it fills you up nicely for the rest of the day. And the best part about making it fresh is that you always know exactly what is in your soup – no nasty additives or fillers. Plus, it tastes way better than the canned stuff you buy at the store!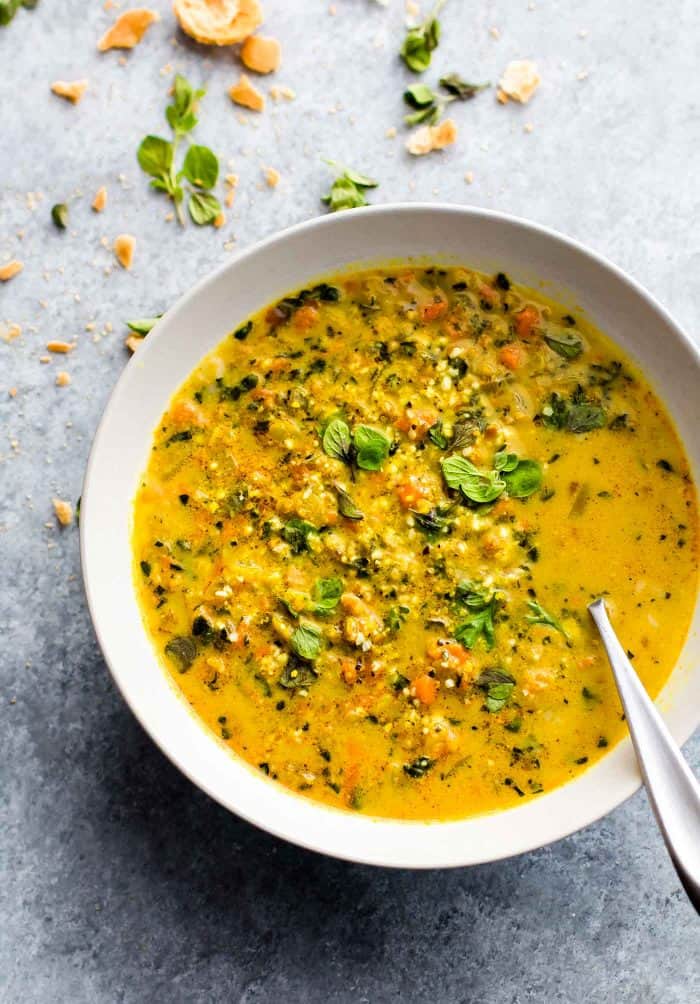 This scrumptious oil-free kale salad is made without any dressing. Can you believe it? Not only will you want to gobble up every morsel, but with all the bright colors it is truly gorgeous. I love the look on my friends and families faces when they take a bite of this salad. This kale salad won't get soggy either, so it is a win all the way around!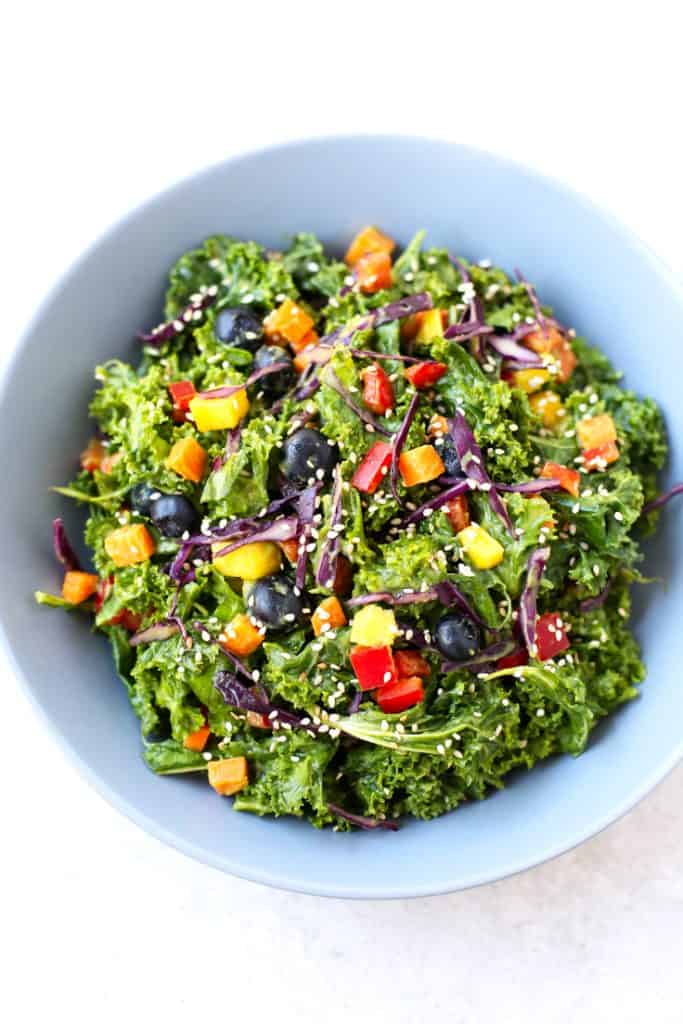 There is nothing better than a fresh vegan salad made from wholesome ingredients. Kale, romaine lettuce, cherry tomatoes, avocado, and cashew parmesan topped with a creamy dressing that has tahini and dijon mustard. Get an extra crunch from the chickpeas and croutons. Everyone will love this salad!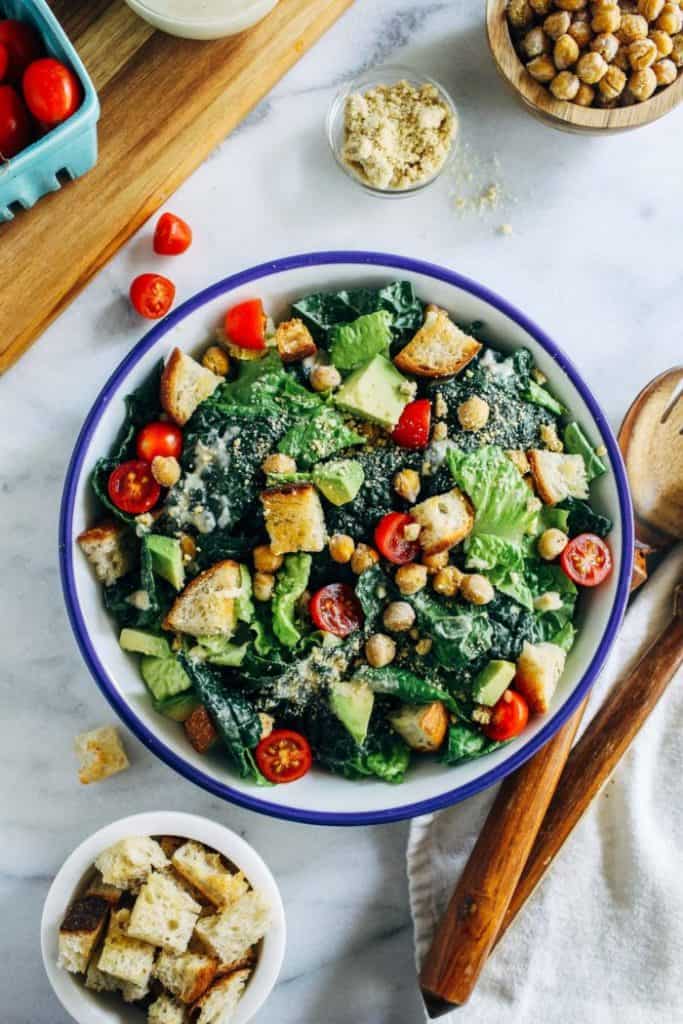 If you are dreaming about comfort food, you are not alone! Hearty, delicious and your taste buds are going to love you for it! Loaded with kale, tomato basil sauce, and the best Italian seasonings. Serve with a fresh salad and vegan bread for a complete, delicious meal that will keep you satiated for hours.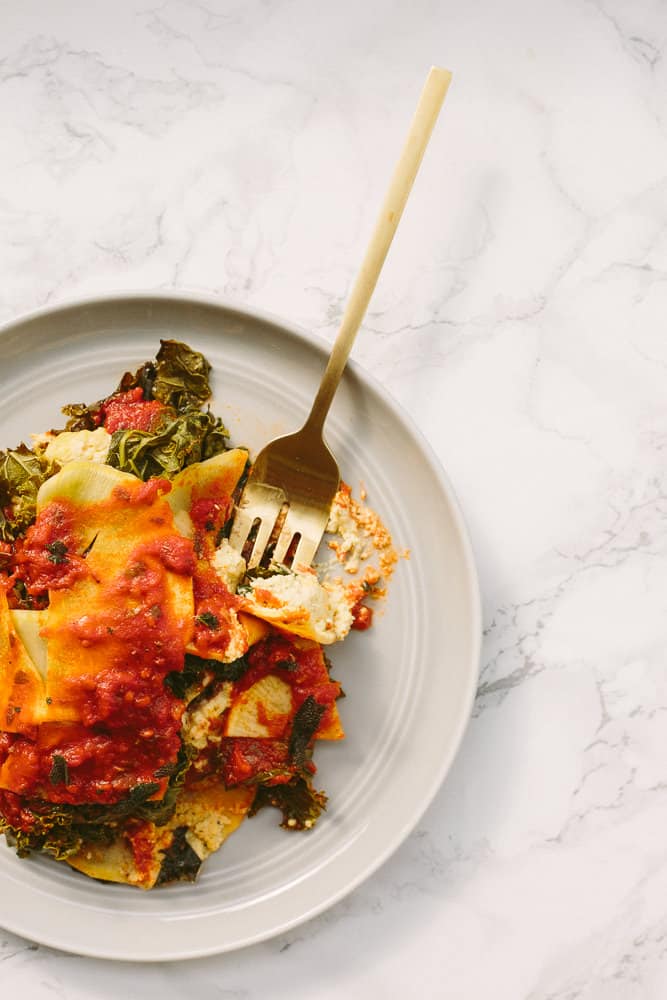 Fresh spiralized zucchini noodles paired with a kale pesto can be whipped up in under ten minutes! If you do a lot of gardening and you have tons of zucchini around, this would be a terrific recipe to use them up in. The best part is that looks so pretty, and even your kiddos are happy to eat every bite (just tell them its noodles!).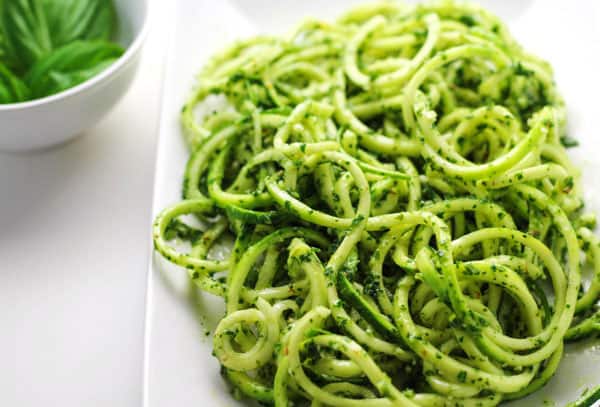 This broth-based soup has loads of cannellini beans and kale to make it hearty. In just 30 minutes you will have a fantastic dinner that is loaded with healthy nutrients. You can also make the soup ahead of time so it perfect for events or having it ready for those busy nights. No matter what, when you taste this kale soup, you are going to be impressed that something so simple can taste so great!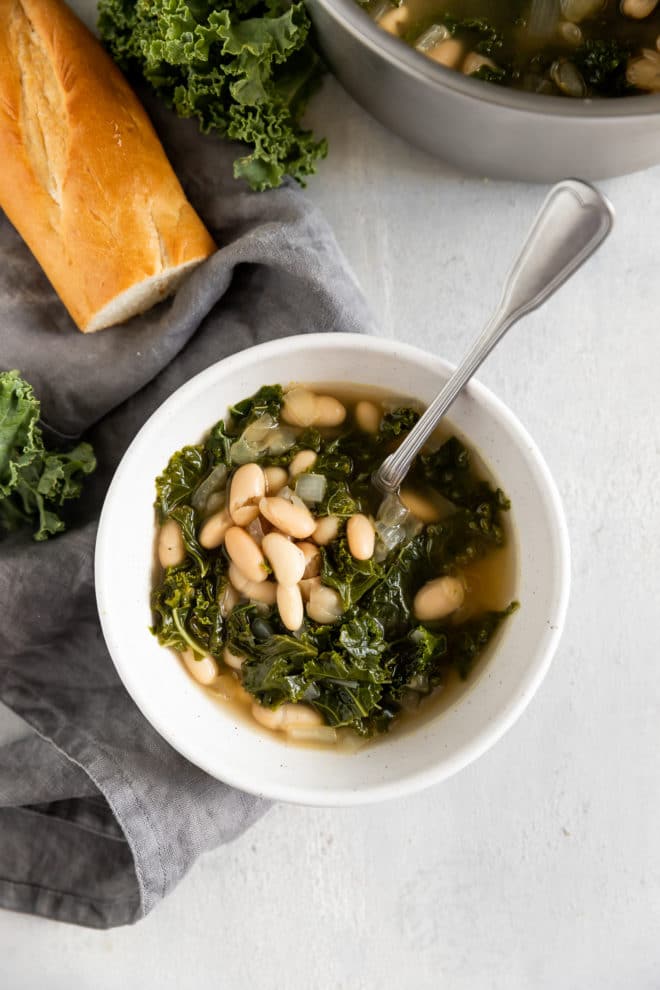 You can never go wrong with tacos! The potatoes and the tender kale is a perfect marriage of textures and flavors. Now your next Taco Tuesday will have some extra pizzazz, and you will have an easy recipe! I do have to warn you, that you shouldn't plan on any leftovers because they are just too good! Serve the fillings on warm corn tortillas, and the crowd will go wild!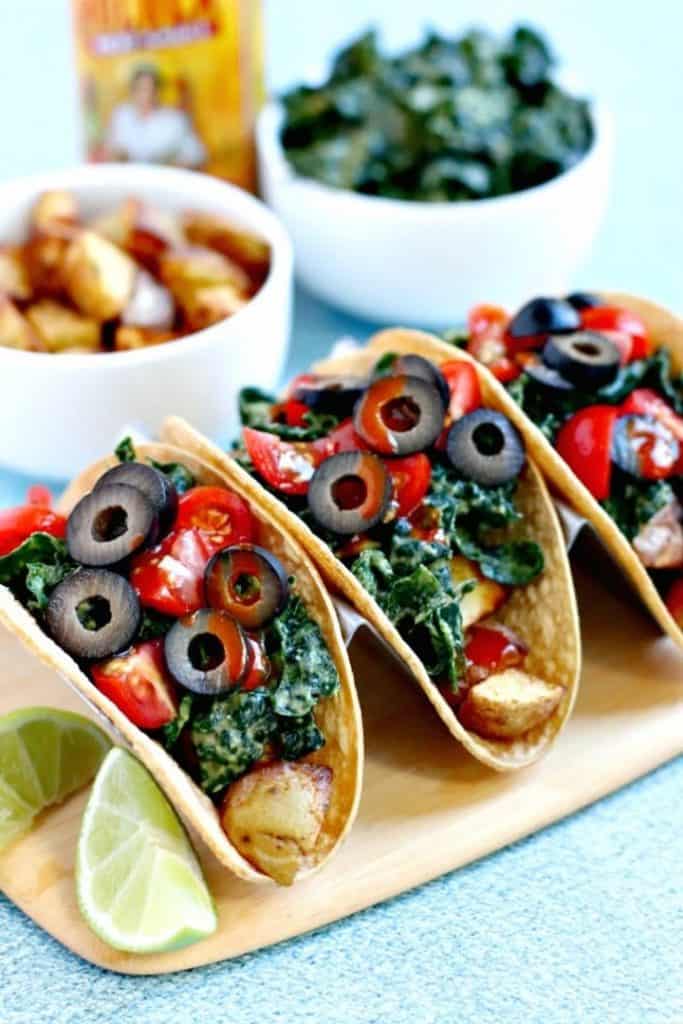 This stew is a dream come true because it is filling, has lots of yummy veggies and is simple to make. Use vegetables right out of your garden, and you can skip the grocery store. If you are hosting a party and want to feed a large group, this stew pleases a crowd. Serve with your favorite crunchy bread.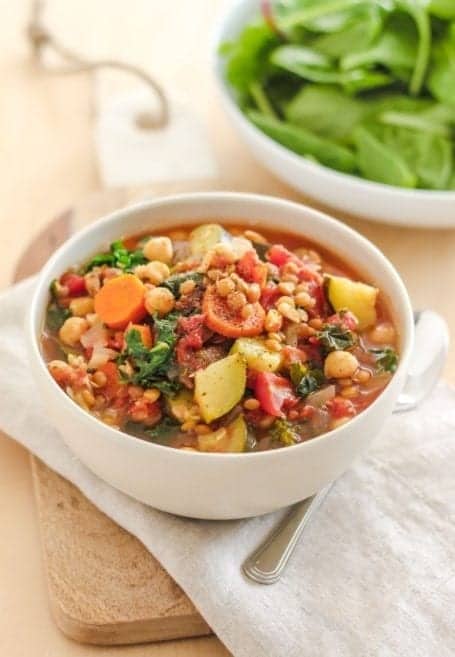 Here is the perfect way to use up those kale stems instead of tossing them away. Transform them into a creamy sauce that can be used in tons of recipes, plus it tastes so good you'll want to eat it with a spoon! Add some to a salad or spread it on your sandwich for an extra special treat. Scrumptious!
Bring Italy right into your home with this delectable white bean stew with kale. The best part is that it is filled with healthy fiber and protein! What can be better than that? I say move over fancy Italian restaurant because you can create this masterpiece in your kitchen with little effort! Trust me, take one bite and you will be hooked for life.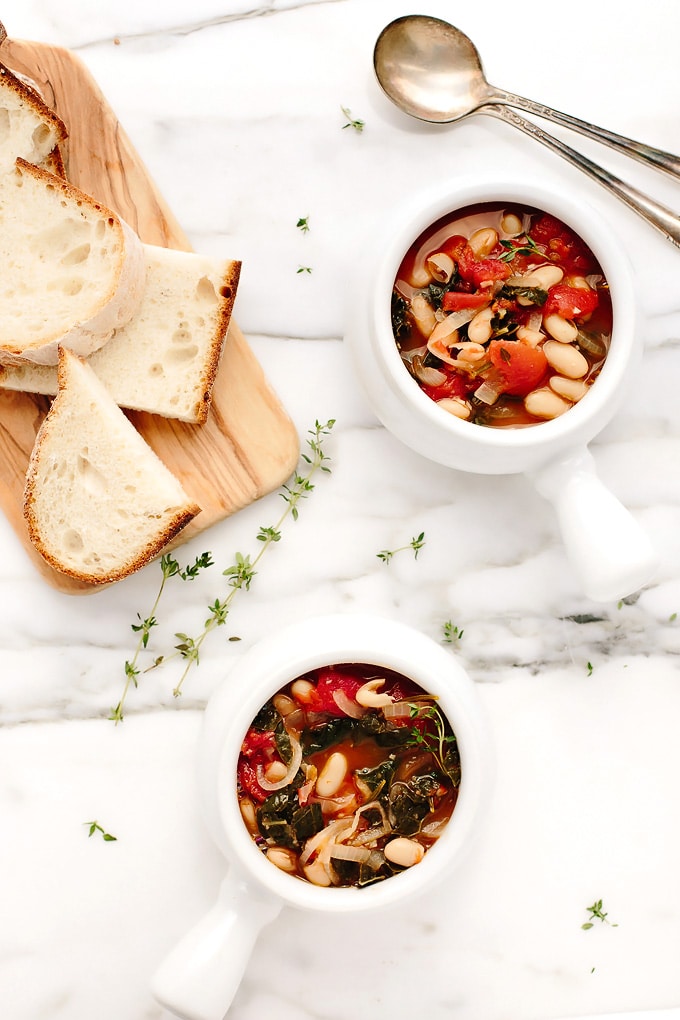 This salad is a little sweet and a little savory, but packs an explosion of flavors in every single bite! The crisp, fresh apple is the real show stopper. Paired with the Thai flavors this dish is a home run. This recipe is also paleo and gluten-free. Enjoy a helping or two!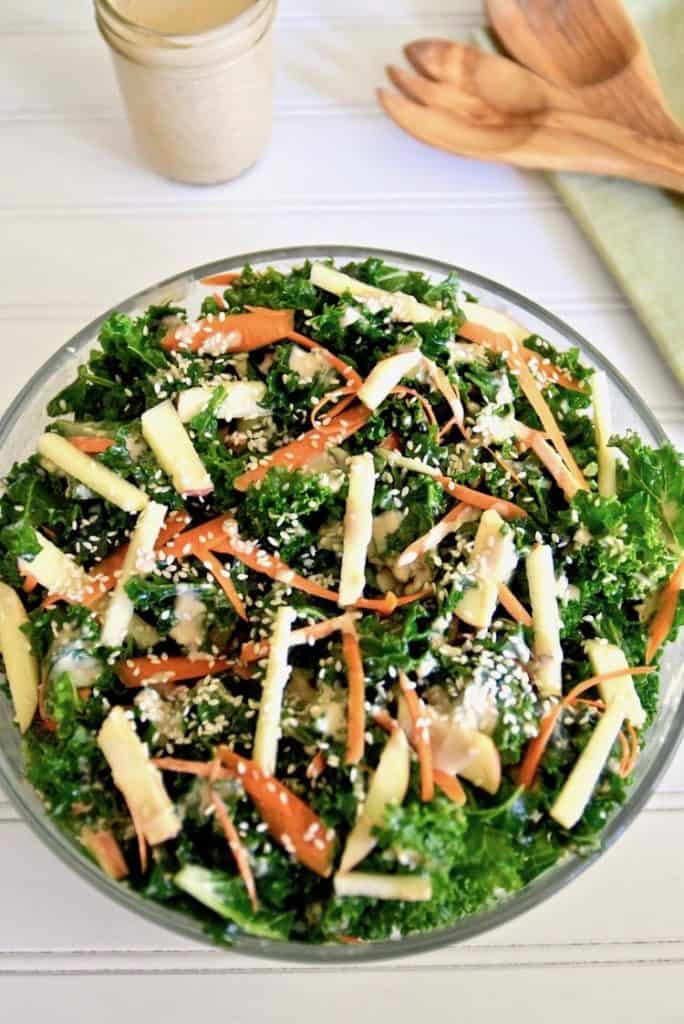 Am I the only one that can never get tired of pasta? This recipe is drool-worthy and the flavors leave me begging for more. You only need around 30 minutes to make it, so it is perfect for those busy school nights when you don't have a lot of time to spare. You should really give it a try because it is phenomenal and your kids will love it.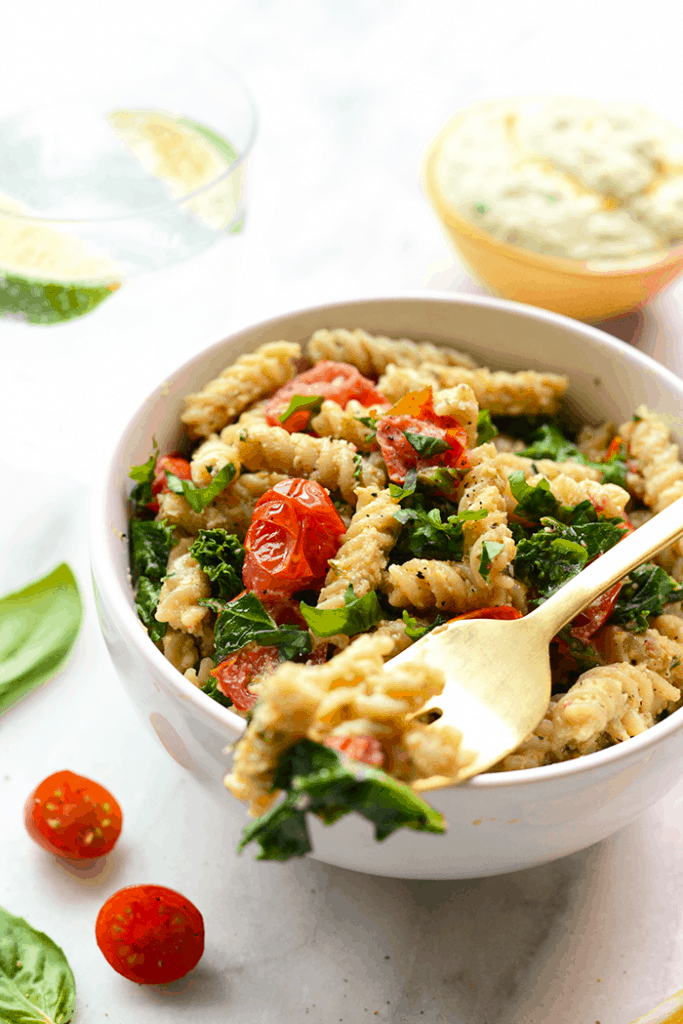 Dried onion, quinoa, kale, vegan butter, vegetable broth, garlic powder, salt, and pepper is all you need to make this stunning dish. It doesn't get much easier than that. All the flavors marry together, and you won't be able to get enough. Kids and adults will go crazy for it!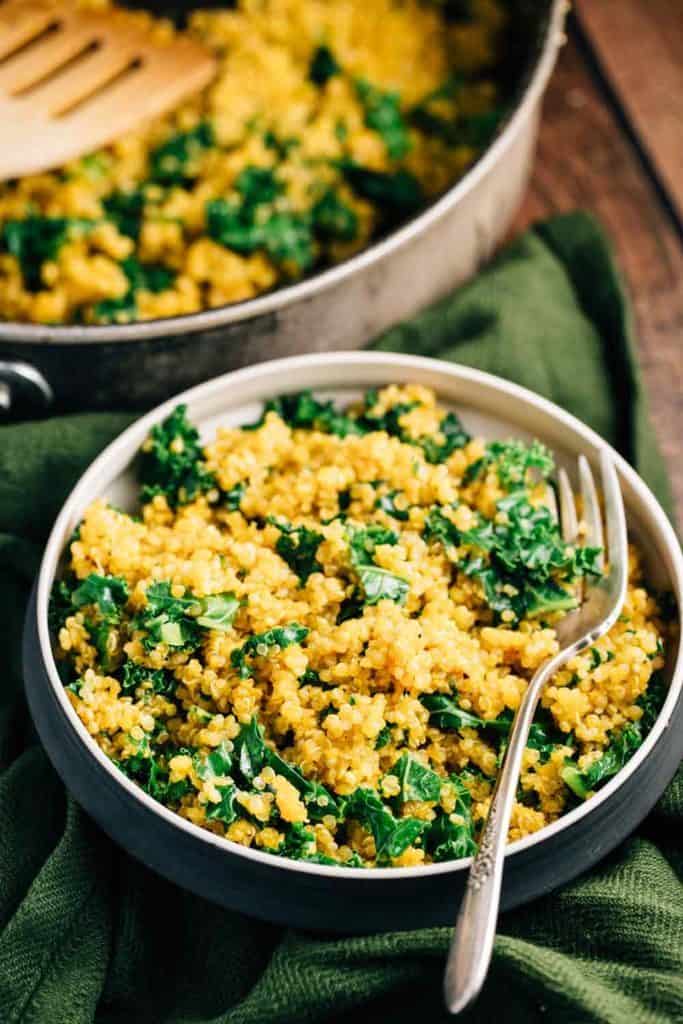 Toasted walnuts, parsley, garlic cloves, red pepper flakes, lemon zest and juice, olive oil, and kale stems blended together to make a perfect pesto! Serve this scrumptious pesto on pizza, with pasta, on sandwiches, or in soups. It does taste so good you are going want to lick the bowl clean. Yum!