Ever wished you had a comfy place to sit when playing with the kids on the floor? Or an extra seat for guests when you don't have enough space on the couch? Why not try your hand at making a DIY pouf yourself?
These DIY ottomans look so great, I bet they'll become you and your kids' favorite place to sit in the house!
---
DIY Ottoman Projects to try at Home
Pin this for later so you can come back and find your DIY Pouf inspiration easily!

You don't have to spend loads of money to buy a pouf ottoman because you can easily make one yourself! You just need some heavier fabric, sewing machine, fiberfill, and a few other materials to throw an ottoman together. Enhance the look and style of your space with a gorgeous DIY ottoman and you won't regret it.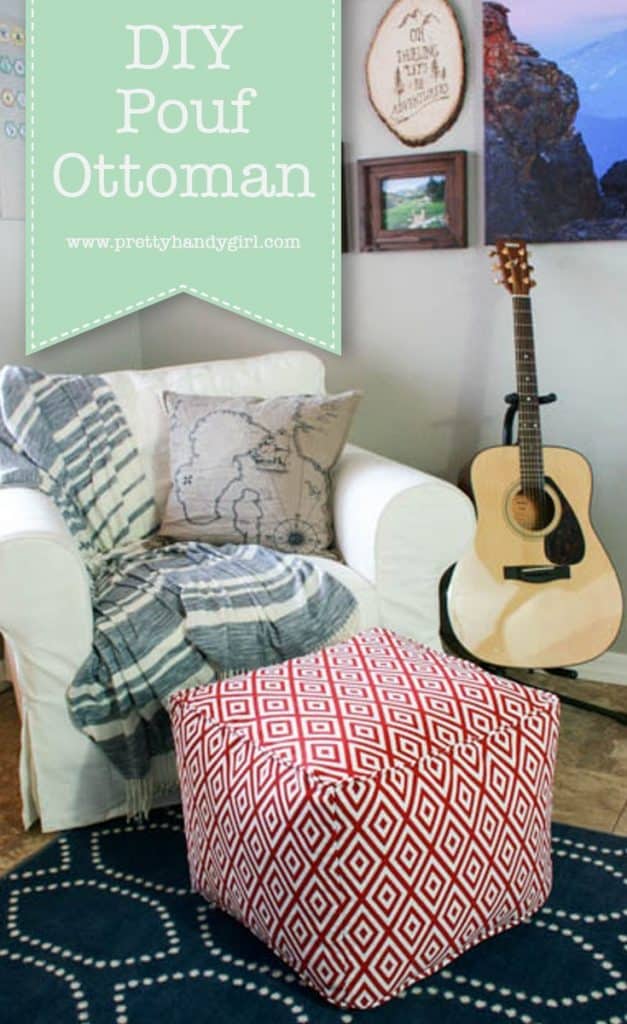 I love the character of this hand-stitched pouf! They chose a neutral color and it looks fabulous in their room. Two rag rugs were used to become the exterior of the DIY ottoman, how clever is that? I love it that you can use items you already have around the house for filling too. This project is fun and the reward is amazing.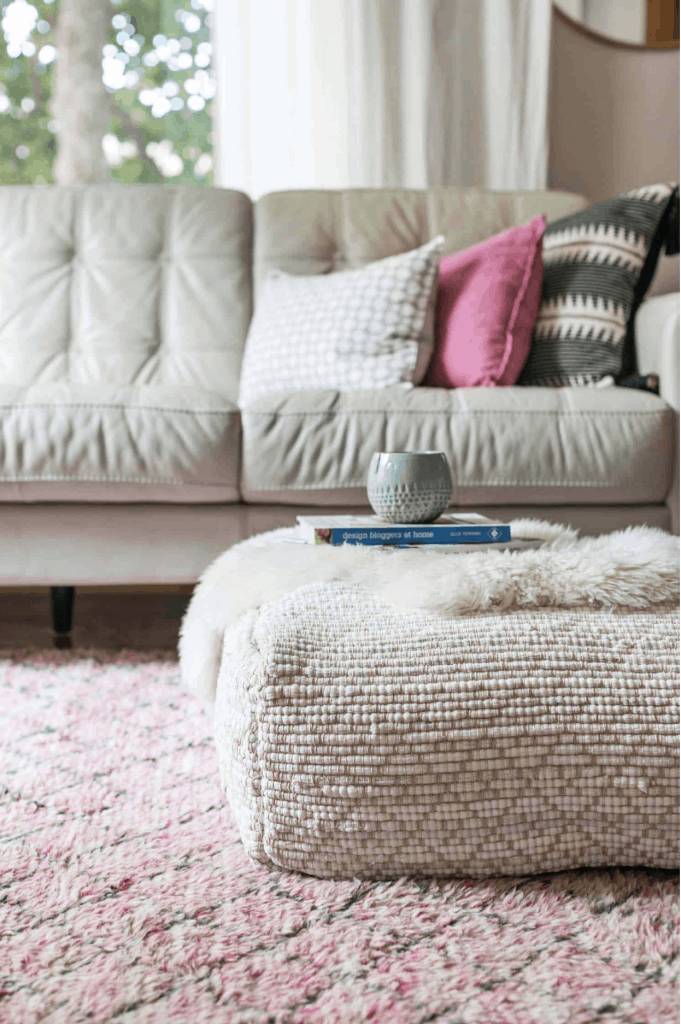 To make this DIY ottoman you will need six crocheted squares and some filling. If you are good at crocheting then this will be an easy project for you. Even if you don't do a lot of crocheting, but dabble in it, then you can create a gorgeous DIY pouf in no time. The best part is that you can use any color or style that you like.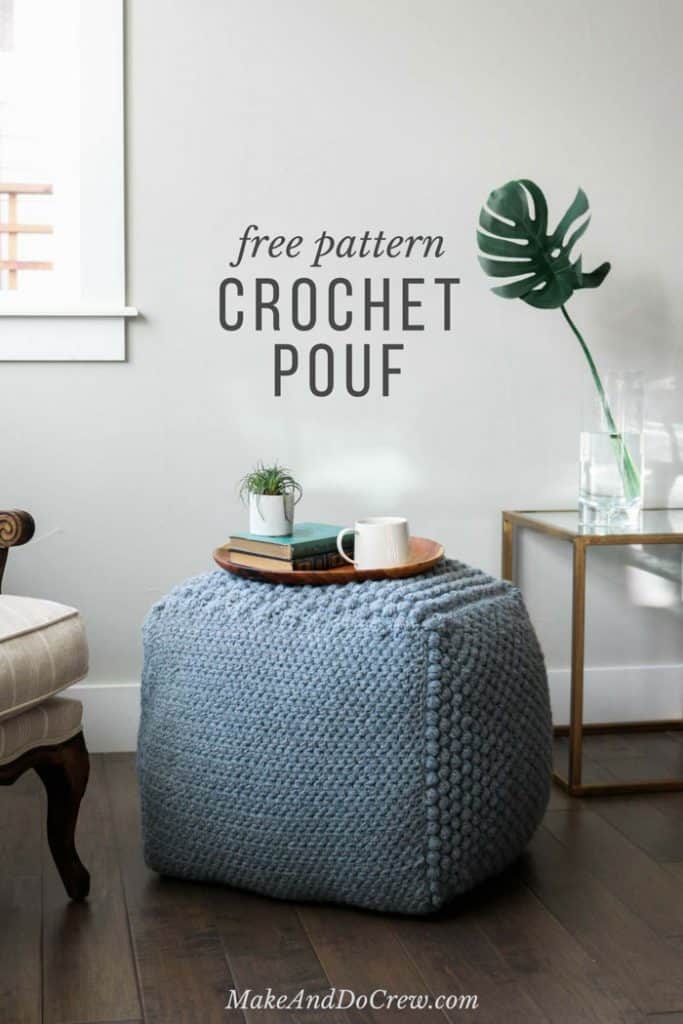 Add charm to your home or deck with a DIY ottoman. You don't have to be a master sewer to be able to make this ottoman. If you can sew some straight lines, you can do it! Choose a fabric pattern that you enjoy, and poof (sorry, I had to do it!) you will have a beautiful piece that you made yourself. Take a look at the tutorial to get started!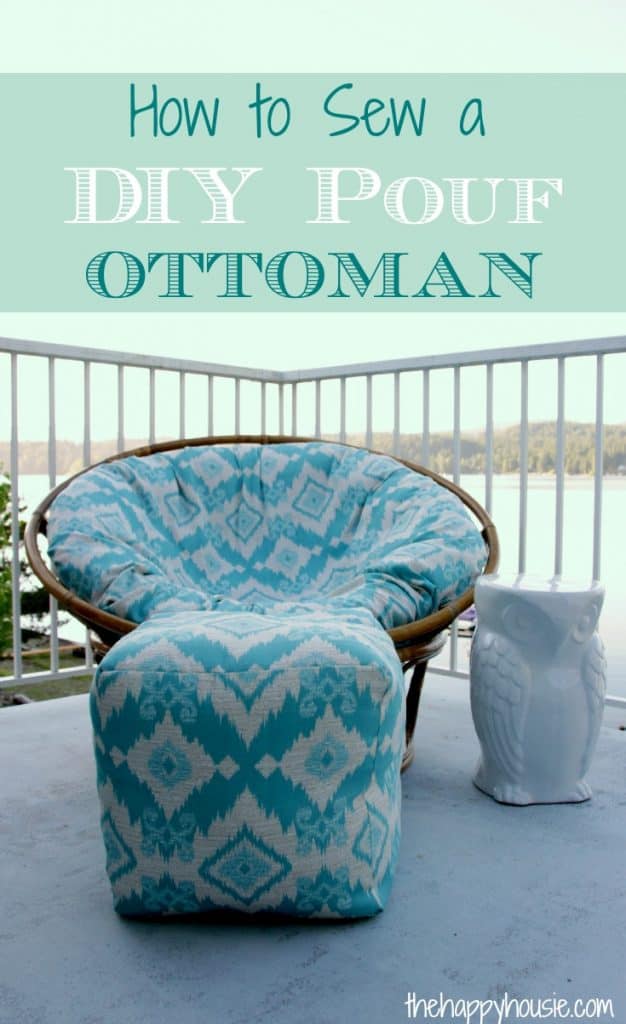 This DIY pouf is incredible with the different colors and the circled shape! It would be perfect in a nursery or kids room. Imagine all the fun your kids will have relaxing on the ottoman or reading a new book. You can make it as bright and vibrant as you wish or choose more neutral colors. No matter what you do, it is going to turn out wonderful.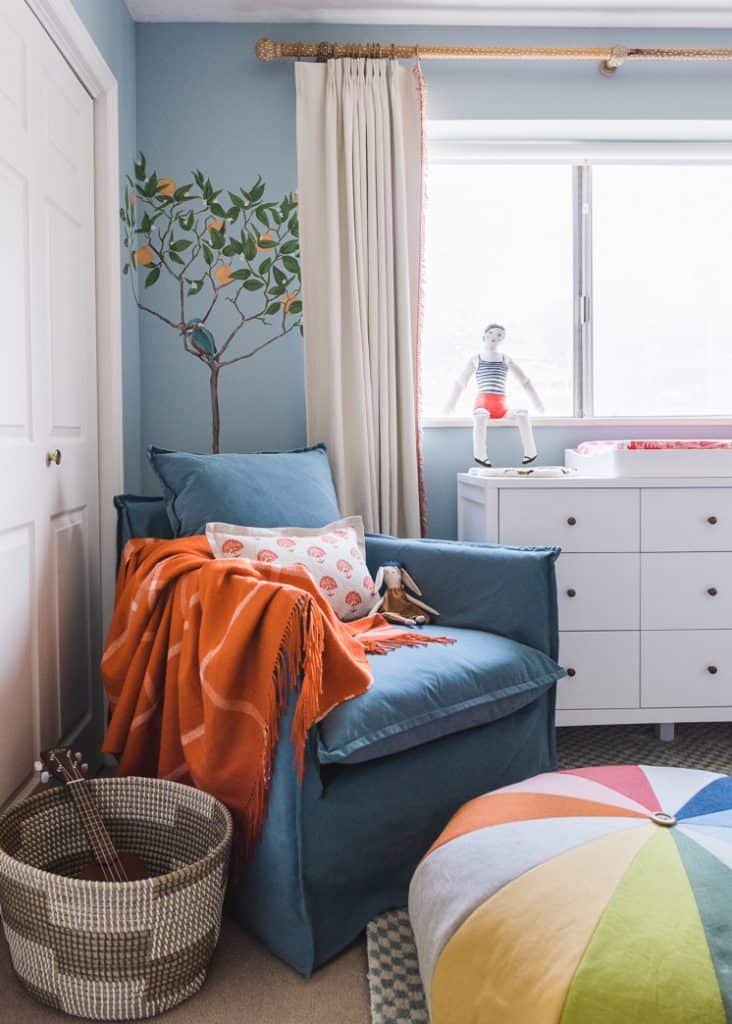 The base of this floor pouf is an old cable spool that had been tossed. I love how creative they were to turn it into a stunning floor poof. The result is a sturdy pouf that isn't difficult to make and looks incredible. Imagine coming home after a long day, kicking your feet up, and relaxing with a cold glass of iced tea. Ahh…that is the life.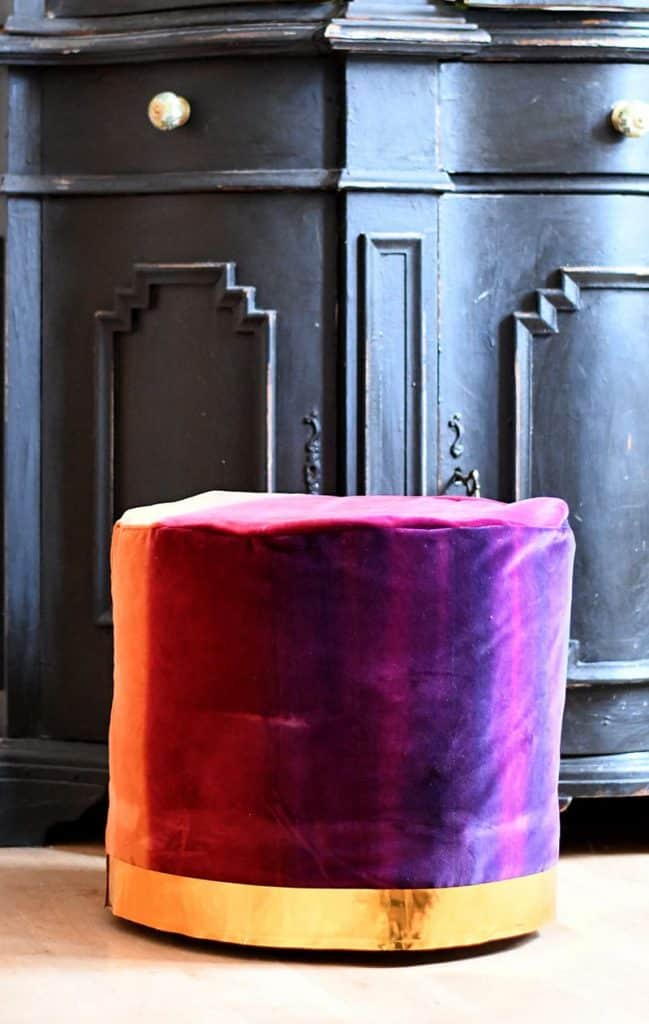 You can make several floor poufs for all the kids in the family or to have around when you have get-togethers. They add a pop of color to your room and aren't hard to sew either. Use indoor or outdoor fabric so you can use it no matter where you are. This is an inexpensive way to add furniture to your room too.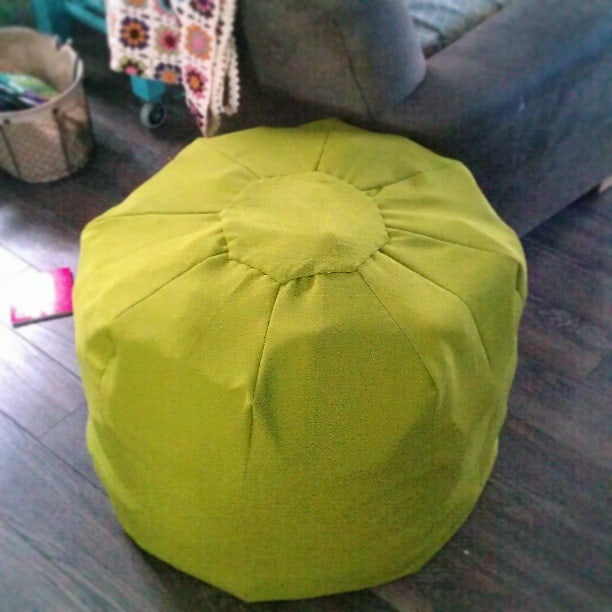 If you love to knit but are looking for an idea that is more than a blanket, you have to see this DIY ottoman. It is elegant, easy to make, and you can put your knitting experience to good use. Plus, this knitted floor DIY pouf is so soft and plush. It just invites you to kick back for a bit.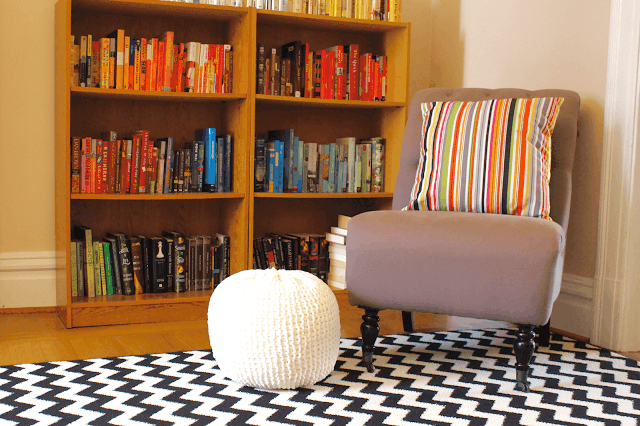 The finished pouf in this tutorial definitely looks like it belongs in a magazine! Gorgeous print, black and white design, and completely functional. This is a win all around. The best part is that it has a zipper so you can always as more stuffing as it ages and settles a bit. I can't wait for you to see this one!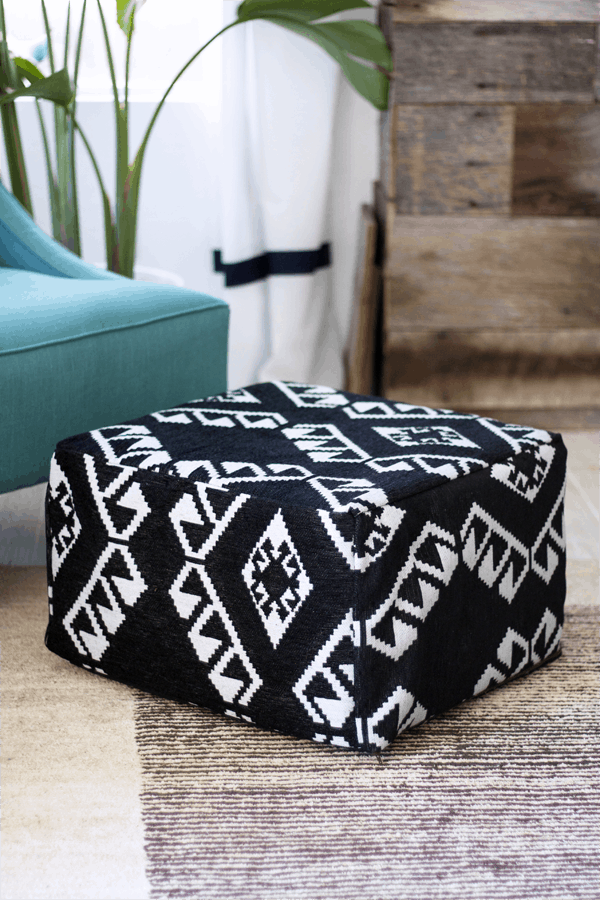 What I love about this DIY pouf is that it looks just like the ones you can buy at a department store, but so much better! The look and feel of leather is sure to be a hit and it will last a long time too. You can find inexpensive remnants of leather too, which will save you even more money. Have a look at this terrific plan!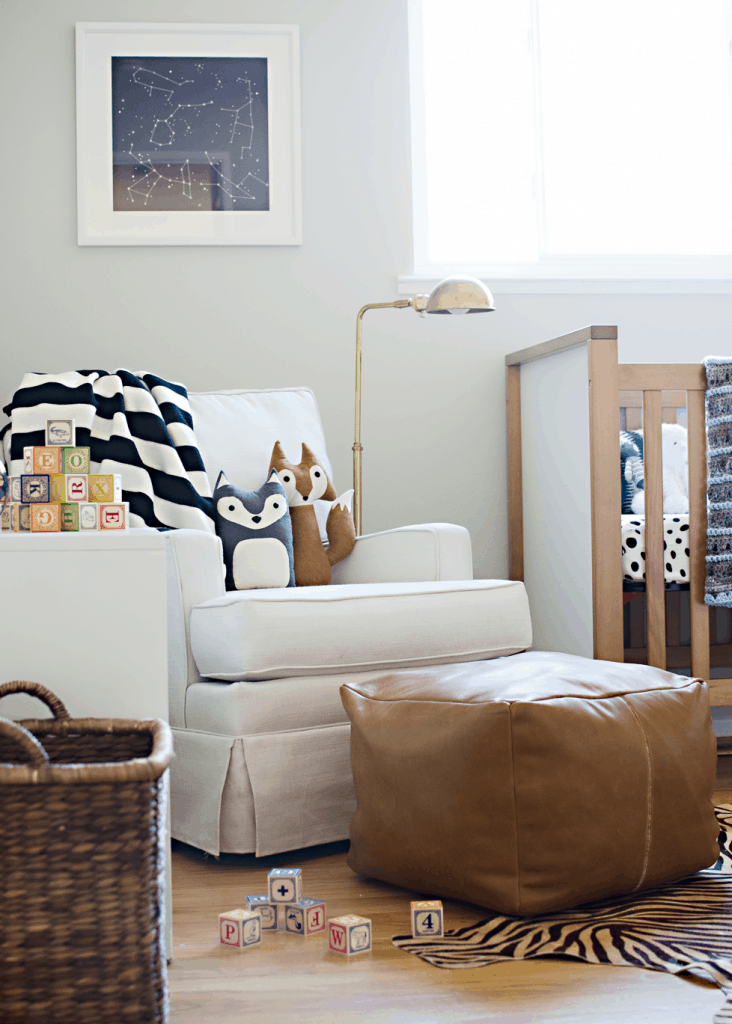 This DIY ottoman has the look and feel of leather, but it is actually made with vinyl, making it a vegan-friendly option. You can also use burlap if you would rather. Either way, the result is a gorgeous piece that your kids are going to love to sit on. Plus, you can put your feet up and relax too. Choose colors that fit your style and you are going to love adding this to your home.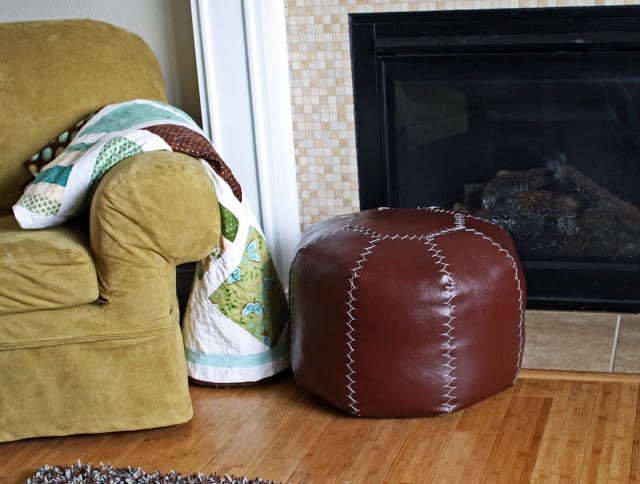 Not going to lie, when I see this oversized floor pouf, I want to take my blanket, curl up and watch a good movie! It just invites you to relax a bit while adding character to your space. Don't worry because you can make your own DIY ottoman in around an hour. That is how easy it is!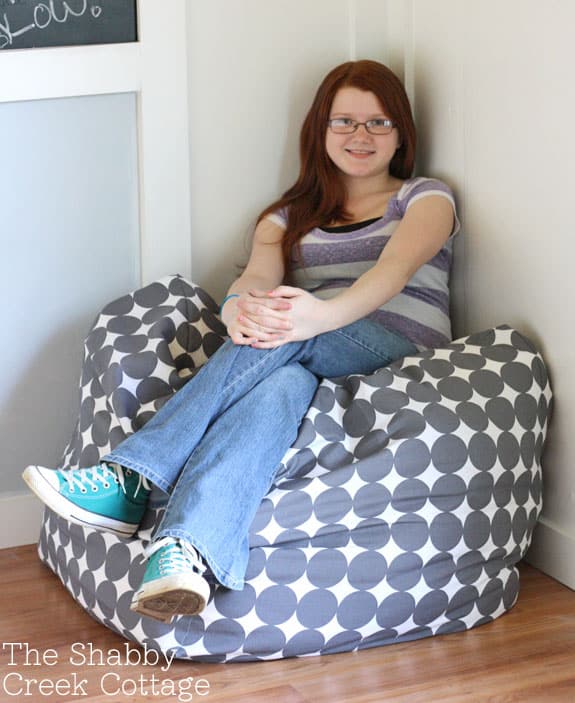 This is fantastic because you are reusing an old sweater that you were probably going to toss out anyway! And if you don't have a sweater you are willing to part with, you can go to your nearest yard sale or thrift store to pick one up for super cheap. The only part you are going to regret is that you didn't make one sooner.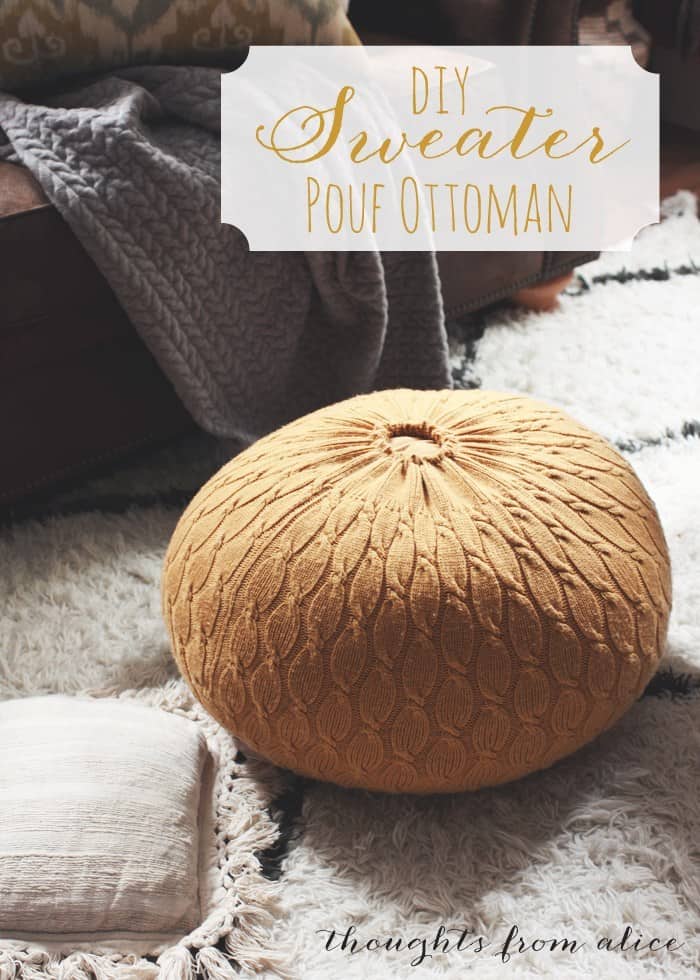 Oh how I love the look of this DIY ottoman. They used canvas as the base and added color by painting shapes on it. How clever is that? Plus, you know the canvas will hold up to almost anything. Add a sleek, but playful style to your space and you won't regret it.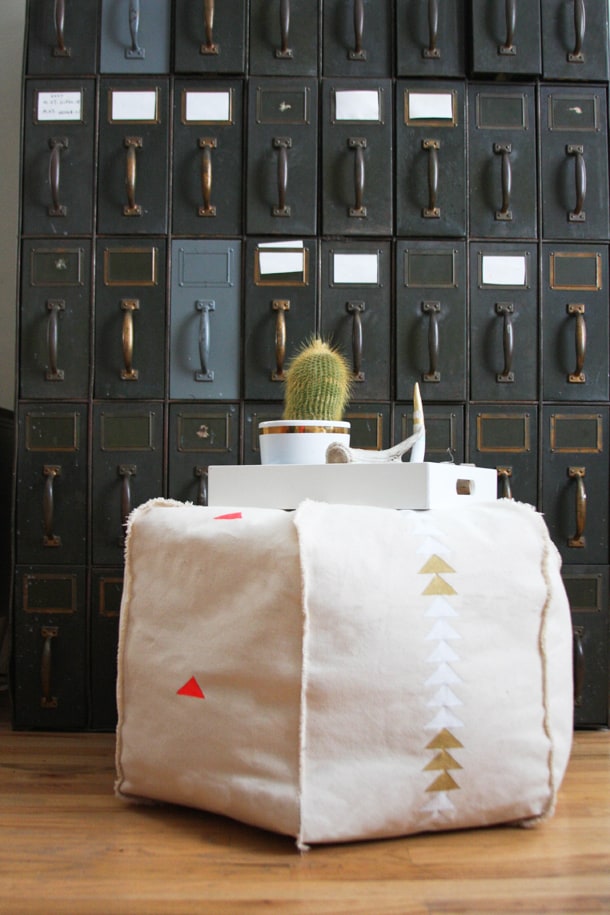 This big and puffy pouf is luxurious and really easy to put together. No sewing needed, just some chunky yarn and a mission to create your own beautiful pouf ottoman. Add a couple of ottomans to your family room or office and I promise you are going to get asked about them all the time. Take a peek!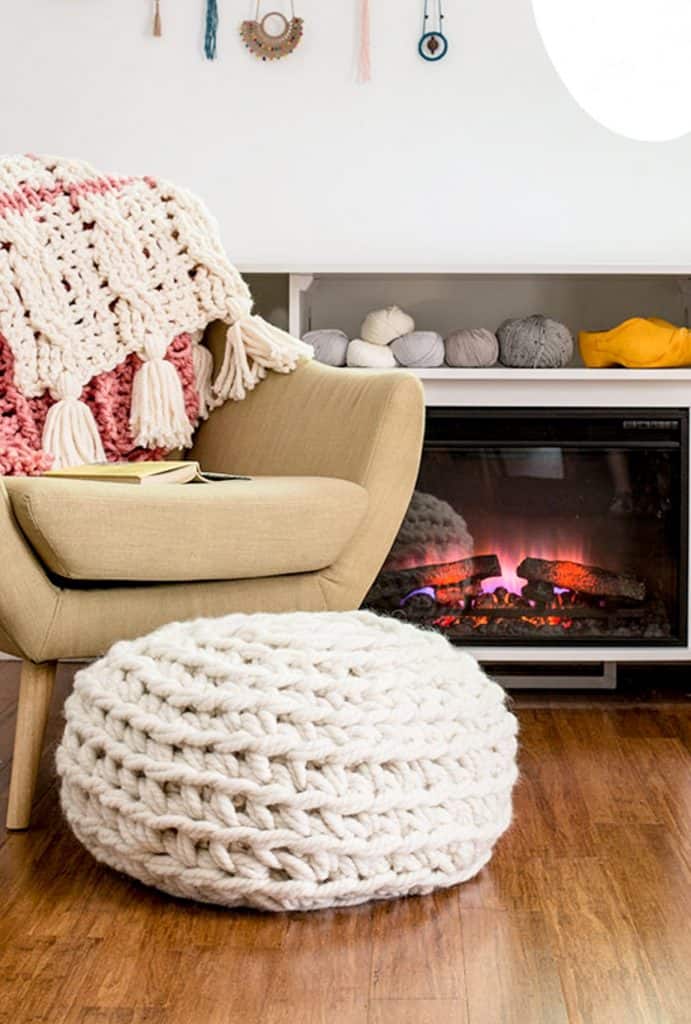 Transform your burlap coffee sacks into a farmhouse style ottoman that is beautiful and comfortable. Plus, you won't be able to keep the kiddos off of it! This project turned out terrific, and you can use whatever kind of fabric you prefer. I love how versatile it is and the charm it adds is amazing!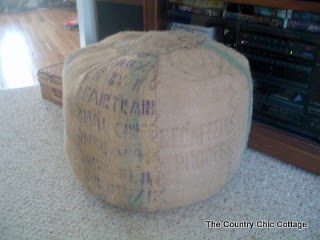 This pouf is extraordinary and has extra character which turned out terrific. When you first look at this one, you might think that it is really hard to make. Surprisingly, it is much more simple than you can imagine. It might take a little while to put together but it will be worth every second. This ottoman is worth giving a try!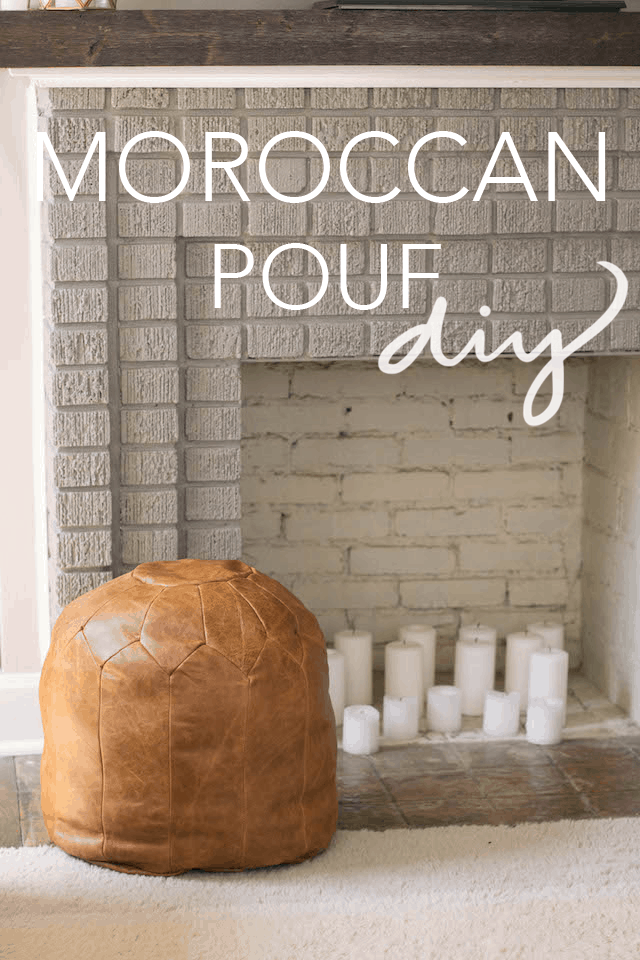 This DIY ottoman just screams summer with its bright colors and pink flamingos. Perfect for your backyard patio or party area. Make a few to sit around on the deck and your guests will love sitting on them while having a drink. Plus, the kids will love that they are like comfy bean bags with cool designs on them.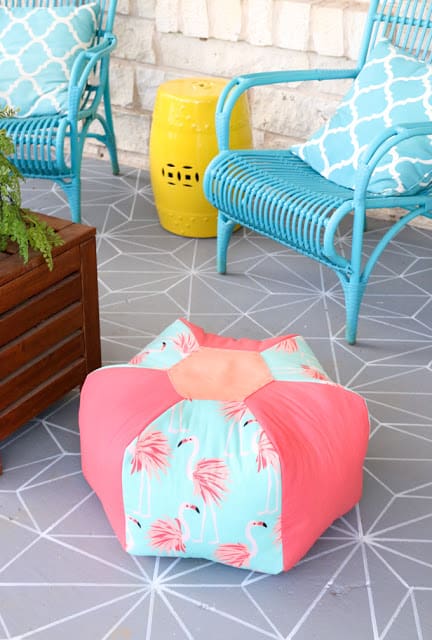 There are so many wonderful features of this pouf! I love the style of the leather they chose and the embroidered star is simply stunning. One thing is for sure, this DIY ottoman is going to be a hit among friends and family. It just invites you to have a seat!