Kitchens can be tricky spaces to organize. They are supposed to be a functional space to create and cook, but often times the kitchen also turns into a gathering spot for household clutter. Having space to move about freely in a kitchen is essential, and having that space organized for ease of use is a priority.
Organizing a kitchen doesn't have to be complicated, it just needs to be organized to best suit the people who are using it the most. Here are some simple kitchen organization hacks to help organize your kitchen!
---
How to Organize Your Kitchen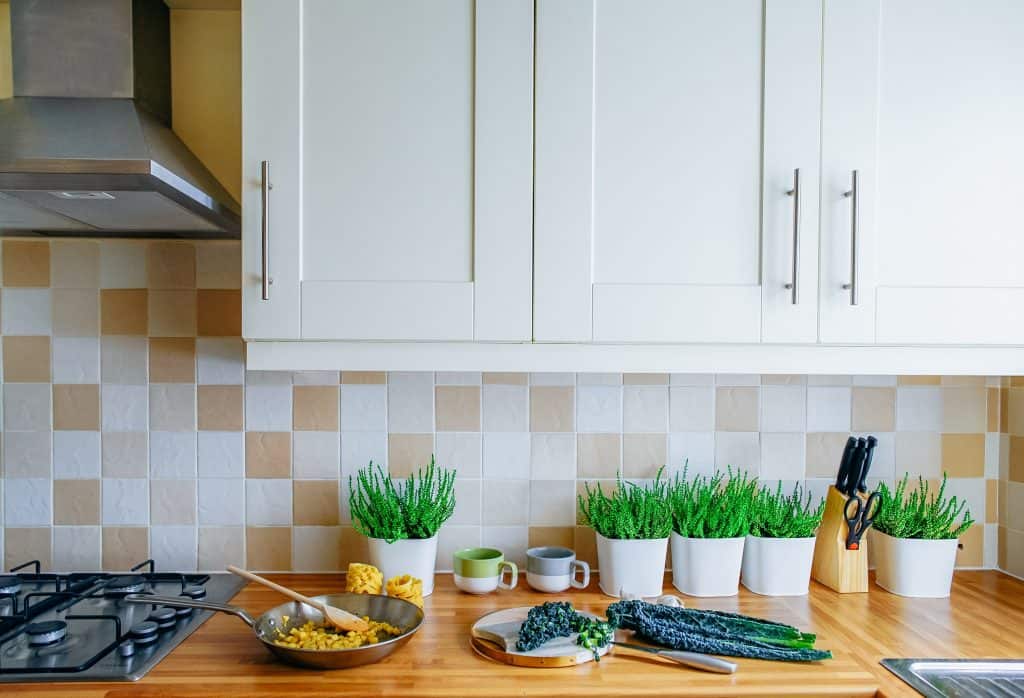 The stainless steel cart cutting table is like the best of both worlds. A cutting board on top, a storage basket on the bottom, and it's on wheels! Talk about and a great way to utilize your space. You can literally roll it to wherever you need to use it, and get to work!
If your kitchen drawers don't have inbuilt utensil organizers, you need to remedy that now! Having your utensils organized and neat is a must when you're cooking, and this good grips version is perfect for keeping everything in its place. Plus, it's extendable to fit your drawers perfectly!
Raise your hand if you're guilty of having to take out every pan in your cabinet, just to get to the one pan that you actually need! With this heavy duty pan organizer, you can have all of your pans visible and grab only the one you really want.
Everyone has a larger waste can in their kitchen, but have you ever thought about using a mini waste can for food scraps? It's a great way to separate compostable waste and put it in a place that's then easy to carry out and dispose of.
Spice containers are almost always the same size and shape and just seem to blend in with each other when you're reaching for them on the shelves. The hours spent digging around looking for that cinnamon are beyond reason. Why not use your wall space to your advantage and have your spices displayed where you can find them?
This magnetic shelf is genius! In a small kitchen, every space is prime real estate. If you've ever looked at the top of your stove, you may have noticed that you can't really set anything on it. Well, that doesn't have to be the case anymore. This magnetic shelf can fasten directly to the top of the stove, creating a shelving unit that is perfect for storing anything and everything that you may need.
Need a place to have your chef knives handy for when you need them? Check out this magnetic knife holder. Not only does it keep your knives handy for quick and easy access, but it keeps them from taking up space in your drawers or on your countertops.
No need to use up an entire drawer to store all of your wraps and foils! With this awesome dispenser, you can literally have all three items together for quick access  – taking up no space at all.
Having fruit out on the counter is a great way to encourage healthy snacking, but it can also take up quite a bit of space! Try using this handy fruit basket, which offers three different sizes all stacked on top of one another. You can have loads of fruit out, without it taking up all your precious bench space. Plus, it looks great!
Find yourself running back and forth from the table grabbing items constantly? With this holder, you'll be able to sit still. It can hold your utensils, napkins, and condiments all in one nice neat little package. And the best part? It rotates! Each person eating can spin and grab whatever item they want.
---
Finding fun and unique ways to organize your kitchen is possible! Just ask yourself what part of your kitchen you'd like to be more organized and build from there. Ease of use is key when organizing! Try a few of these kitchen organization hacks and before long, you may find that you have the highly efficient, well-organized kitchen of your dreams!
Pin this for later!