Recycle the old wooden pallets you have laying around into something useful and beautiful with these DIY wood pallet projects. Many of them only require materials most people have lying around in the garage. It just takes a little bit of time and some elbow grease to create something beautiful with these DIY pallet ideas.
---
Ten Wooden Pallet Projects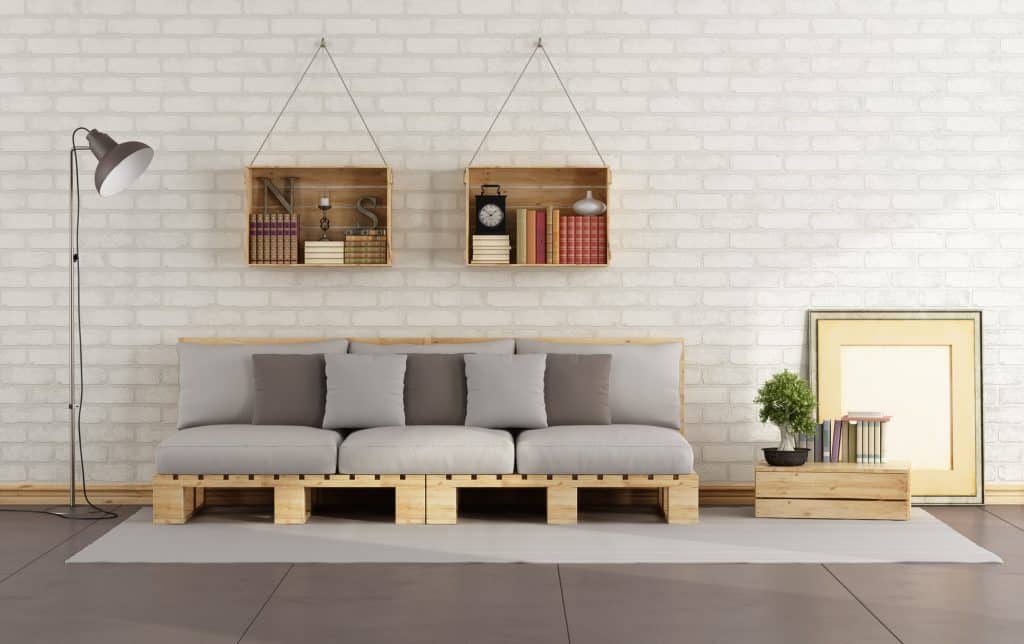 Pallet Coffee Cup Holder
This is a great way to organize your coffee mugs or more likely a great way to display some of your favorites. It can stand alone or be a great addition above your coffee bar. With this DIY wooden project, your pallet coffee cup holder can hold 12 or 16 mugs depending if you want the text on top or not. Besides the obvious supplies of paint, hooks, screws you will also need a circular saw for this.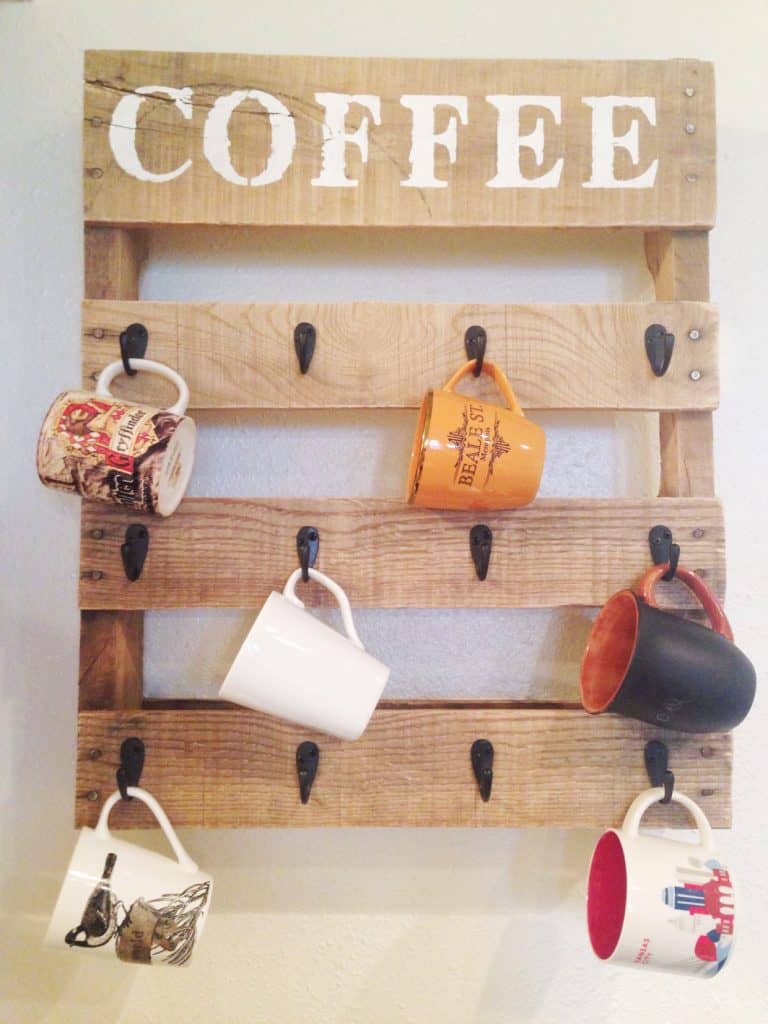 DIY Pallet Project Bookshelf
This bookshelf is one of my favorite projects for pallets because it turns your books into a design element. The idea of doing an entire feature wall in these shelves make my heart flutter. This pallet bookshelf is also a great addition to a child's room because they work well at various heights. The key here is to make sure it's well sanded down since you'll constantly be reaching into it.
Pallet Plaques
These DIY pallet plaques are a great way to display your favorite photos. It is always great to see glimpses of some of your favorite memories displayed around your home. Buying frames to decorate your home can get expensive quickly. These plaques use many supplies you already have around your house to help keep them inexpensive. One of the great things is that the pictures are clipped rather than glued so you're able to switch them as often as you'd like.  Selecting the perfect chalk paint or stain will be the hardest part of this whole pallet project idea.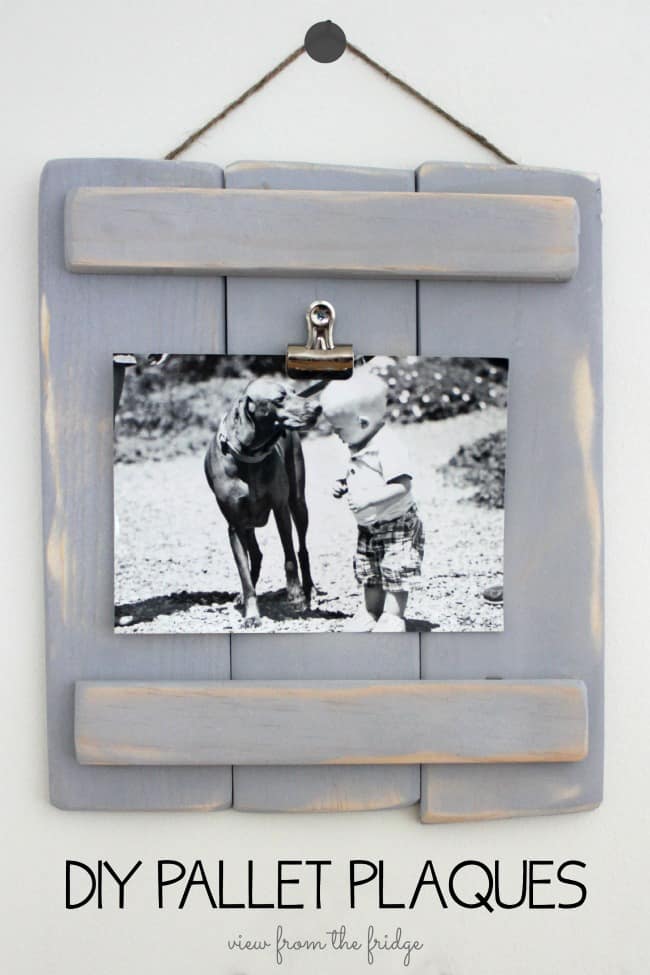 Fold Up Pallet Desk
For everyone who needs a desk but is struggling to find space in your house for a desk, check this out. The fold-up pallet desk is awesome and can fit on almost any wall.  One catch is that you do have to commit and screw it into a wall in your home. Once you see it I think that will be much less of a concern. For this DIY pallet project, you don't even have to take the wood pallet apart! It does require a little hardware like cable, cable hooks, crimps and eye hooks. Making sure you get cable strong enough to support what's on the desk is a point you can't skip over.
DIY Pallet Clock
These oversized rustic clocks are being sold at a lot of stores with really high price tags. A clock like this can end up being the focal point in your room or on your gallery wall. Having one that perfectly matches your aesthetic for a fraction of the cost is ideal, right? Turns out this DIY pallet clock is easier to make than we may have thought. You will need a jigsaw for this one to get that rounded look. After that, it's just about selecting the style of number and clock arms that you like best.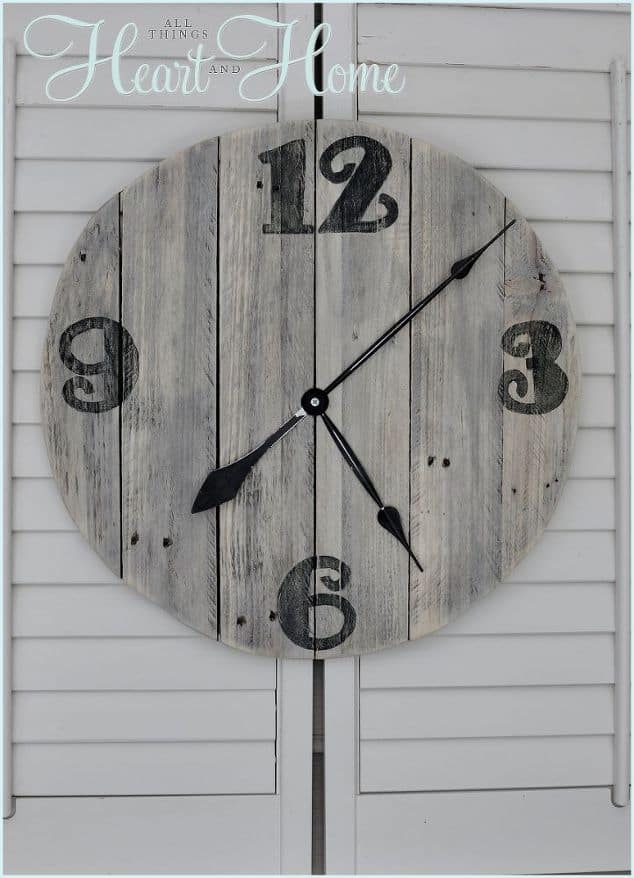 Vertical Wood Pallet Garden Project
This one is perfect if you've been wanting to start a garden but are short on space. This vertical pallet garden could be done easily even on an apartment balcony. The set up will be the same whether you'll be planting vegetables, herbs or flowers. After you have the pallet, the only additional items you'll need are landscape fabric, plastic sheeting, and a staple gun – making it one of the easiest pallet garden projects! Be sure to do a little homework on what plants need the most sun and water so that you can arrange them accordingly.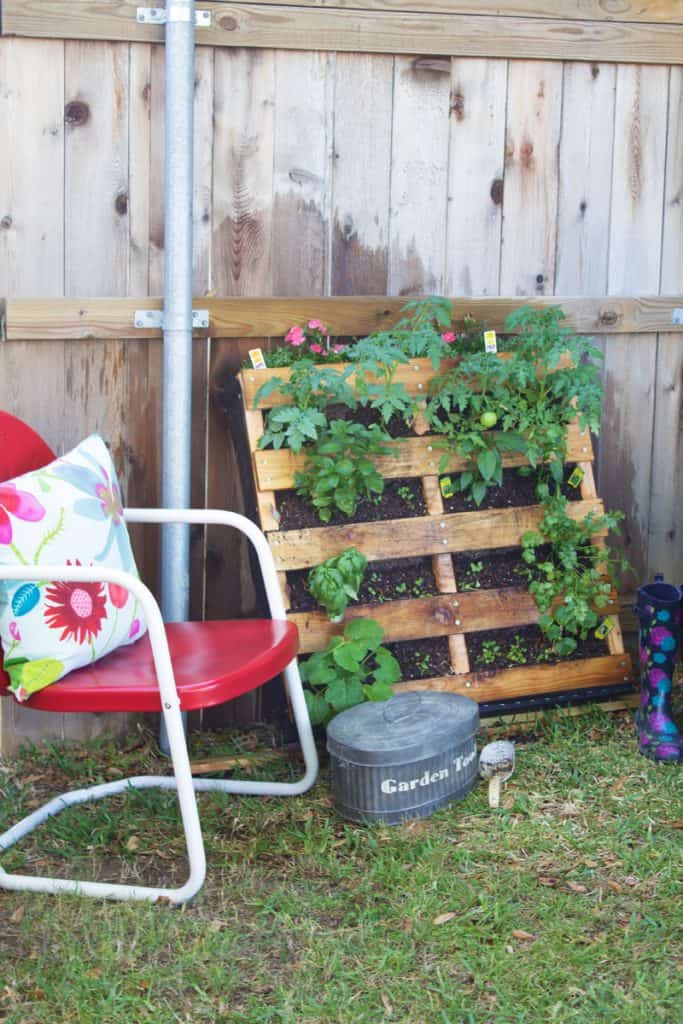 Outdoor Patio Pallet Table DIY
This outdoor patio table is a simple and sturdy way to spruce up your outdoor space. You'll need two pallets, some wheels and a bit of additional 4×4 wood. What's really cool is that with this design it's easy to make the table the right height for the patio furniture you already have. Since it's built on wheels it's also nice to be able to move around. If you decide to paint it, keep in mind how hard the sun can be on right colors, a neutral stain may hold up best.
DIY Deck Cooler
Now you're going to have to turn up the building skills just a bit for this one but trust me it's worth it. This DIY pallet wood deck cooler (find the tutorial at www.foxhollowcottage.com) means you can eliminate the bright blue eyesore in the back of all your summer cookout pictures. Okay, a cooler in the background of your photos isn't the worst thing, but you get the point, this wooden cooler looks good. You can write cute fun messages on the lid and the bottle opener is attached so it won't walk off on its own.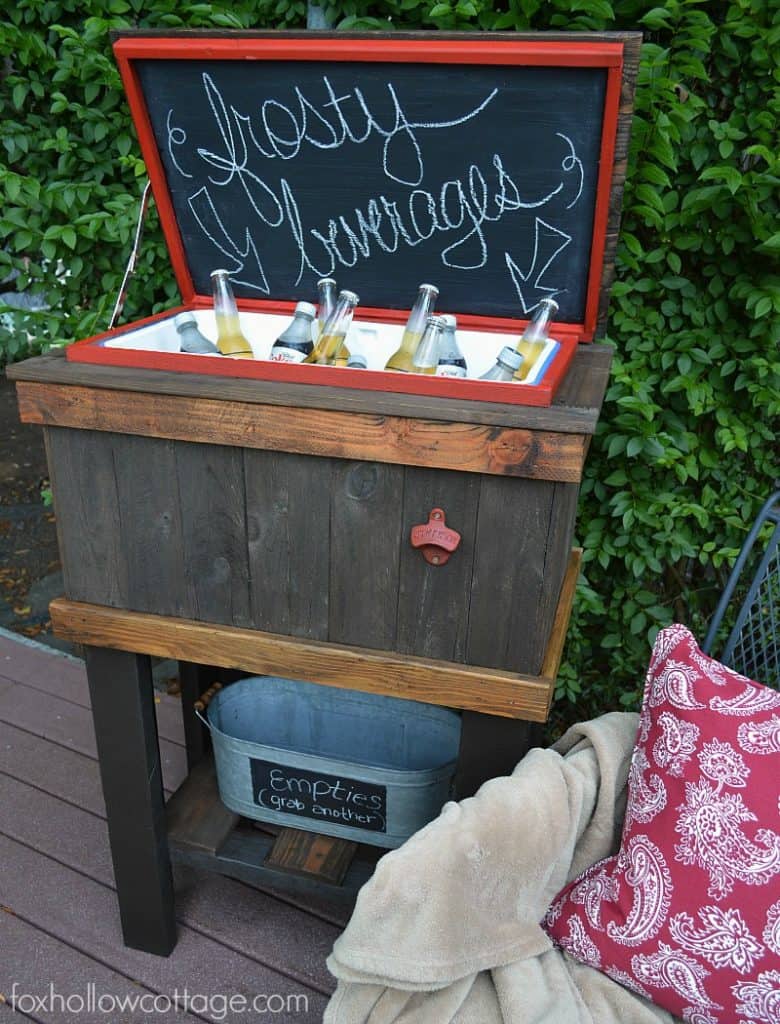 Wood Pallet Fence Project
Using pallets to create a fence around your yard is completely possible. However, I believe the DIY pallet fence is best suited for dividing off smaller outdoor spaces. Adding some chicken wire to it makes for rabbit deterrent for your garden. Alternatively, adding a little paint would make it a great border for your patio – and helps to make a pallet fence look good. The key is making sure they are well secured with roofing nails or stakes so they hold up.
DIY Wood Pallet Sign
If the DIY pallet projects above seem a bit too large to tackle, this one's for you. The pallet sign is a great beginners project that you can still be creative with. Once you break down the pallet you'll be able to cut the boards down to the size needed. The scrap pieces of wood are what will be used to hold the boards together. To complete this project all you'll need is a saw, nails and paint for your design – making it one of the best easy DIY pallet projects!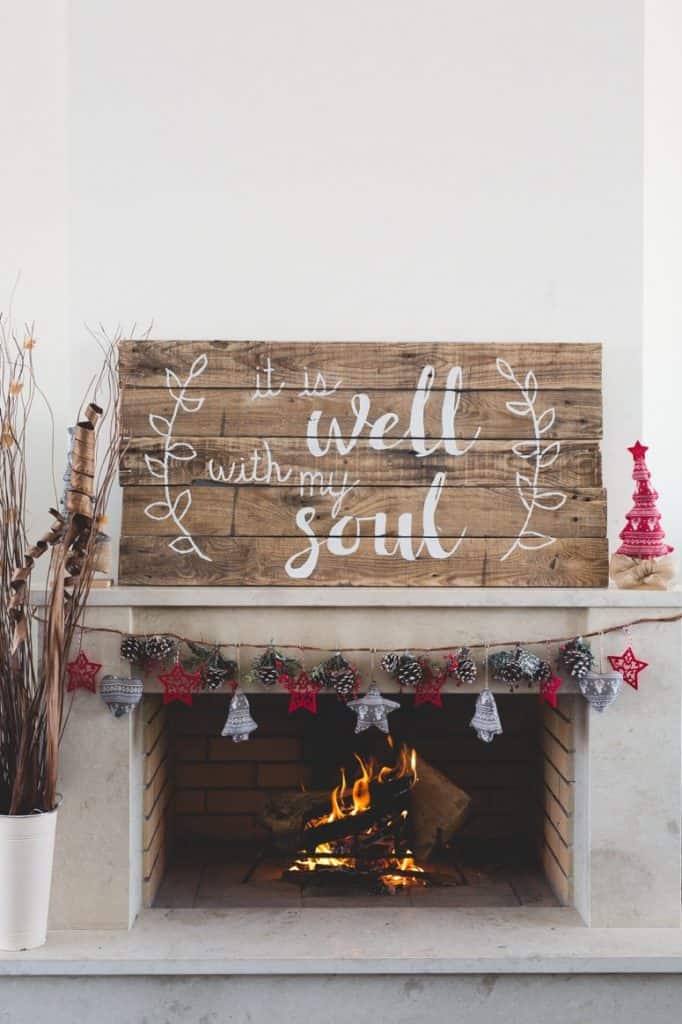 ---
Which of these fantastic DIY Wood Pallet Projects are you going to tackle? Something simple like a cute wooden sign, or something more adventurous like a table or cooler? Whichever wood pallet project you choose, you'll sure to have fun with these DIY ideas with pallets!
Pin this for later!