The start of spring is often a welcome change. After months of snuggling up and staying warm in sweaters and scarves, we can shed a layer or two and incorporate some splashes of color to embrace the season ahead. If it's been a while since you considered your springtime wardrobe, you might find it a little lacking. Here are five ways to freshen up your wardrobe – just in time for spring!
---
Ideas to Spring Clean Your Wardrobe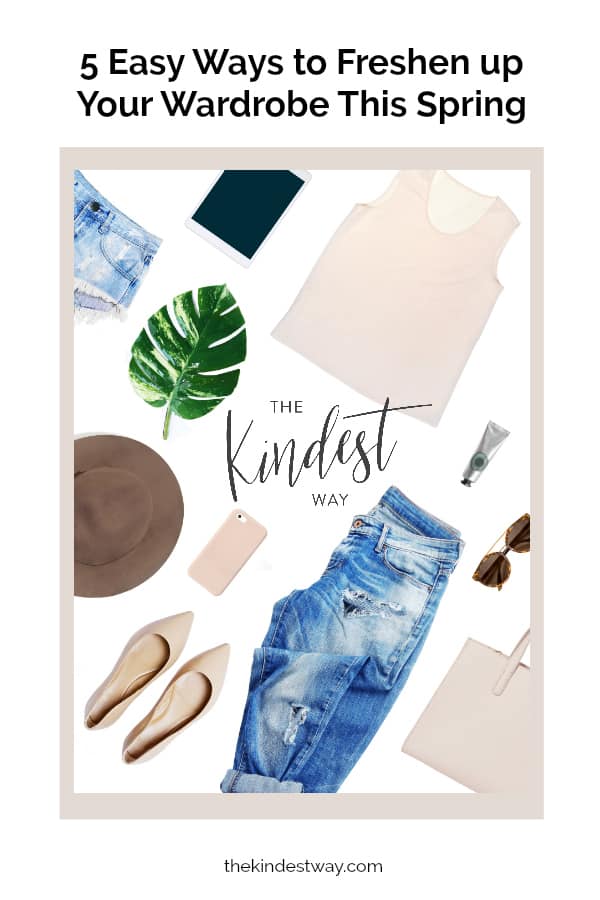 #1 Start with your closet.
When the time comes to pack away your winter wardrobe and pull out your springtime attire, do a quick audit. It can be easy to forget what spring-appropriate clothing we actually own when we've been buried in bulky sweaters and boots for months. Assess the things you own before you purchase anything new to make sure you're filling the gaps in your lineup.
This audit is a good time to donate anything that doesn't fit or is simply taking up space in your closet. We all have that blouse we bought three years ago and haven't worn once. If you can find a way to incorporate it into your wardrobe, keep it, but if not, add it to the pile to purge.
#2 Hit up your local thrift stores and consignment shops.
If it's been a while since you last stepped into your local Goodwill, it's time for a trip! Thrifting can be an excellent, affordable, and earth-friendly way to add new items to your spring wardrobe. Set aside a Saturday morning, recruit a friend or two, map out a few stores you'd like to check out, and start shopping! Thrifting can require a bit of patience, but with the right mindset and a bit of luck, you'll be pleasantly surprised by what you can find.
#3 Shop the sales.
If your spring wardrobe needs a little more attention than originally anticipated, it may be time to visit your local mall. Sleeveless blouses, flowy skirts, and lighter colors have already started to hit the shelves, but if you can wait until the big seasonal sales, you'll be able to stretch your dollar a little further. Easter is typically a great time for sales at bigger retailers, so keep an eye on the ads.
To stay in the loop on your favorite retailers, sign up for their email lists or follow their social media feeds. Many will share coupons to apply in-store or discount codes to use for your online purchases.
#4 Host a swap party.
Swap parties are a great way to refresh your wardrobe in any season. Trading clothes with friends and family is a lot more fun than shopping a stranger's clothing at a yard sale, and by giving clothes new life instead of sending them to a landfill, you're doing your part to help the planet, too. Invite your friends to clean out their closets and show up to the party with anything they're willing to trade. Serve up some light appetizers, put on some music, and spend a few hours checking out the items everyone brought. You might be surprised by how many things you can find to add to your wardrobe!
#5 Splurge on statement pieces.
Don't feel too guilty if you find you need to spend a little money on your spring wardrobe refresh. It's OK to invest in a few key items to really brighten up your wardrobe and tie everything together for the spring season. Consider new flats, a brightly-colored cardigan, or a pair of jeans in a lighter wash. Choose items that are versatile so you can mix and match them with multiple outfits. Add in a piece of jewelry or two or a fun handbag to really tie everything together.
If you're ready to spend a couple of dollars but aren't quite sure where to start, think about using a service like StitchFix to ship you a personalized box of clothes and accessories to try. Their stylists select clothes based on your preferences and the styles dominating the season, so it's a surefire way to wind up with things that are on trend if you aren't the savviest shopper.
---
Refreshing your wardrobe this spring needn't break the bank! It's all about making smart choices, recycling and rejuvenating where you can and only investing in quality, sustainable clothing that will last the distance. When was the last time you had a wardrobe overhaul?