If you go to a store and walk down the home decor aisle, you are sure to see gold everywhere. It is one of the biggest color trends right now, and people can't get enough of it! Grab a can of gold spray paint and transform any dull and boring pieces in your home – breathing fresh life into them. I have some awesome IKEA hacks using gold paint below that might give you the inspiration to give some of your drab furniture a facelift!
---
20 Easy Ikea Hacks With Gold Paint
Who knew that a can of spray paint could totally transform the look of a chair! This IKEA Hack was a huge success, and now I want to spray paint all the chairs in my home.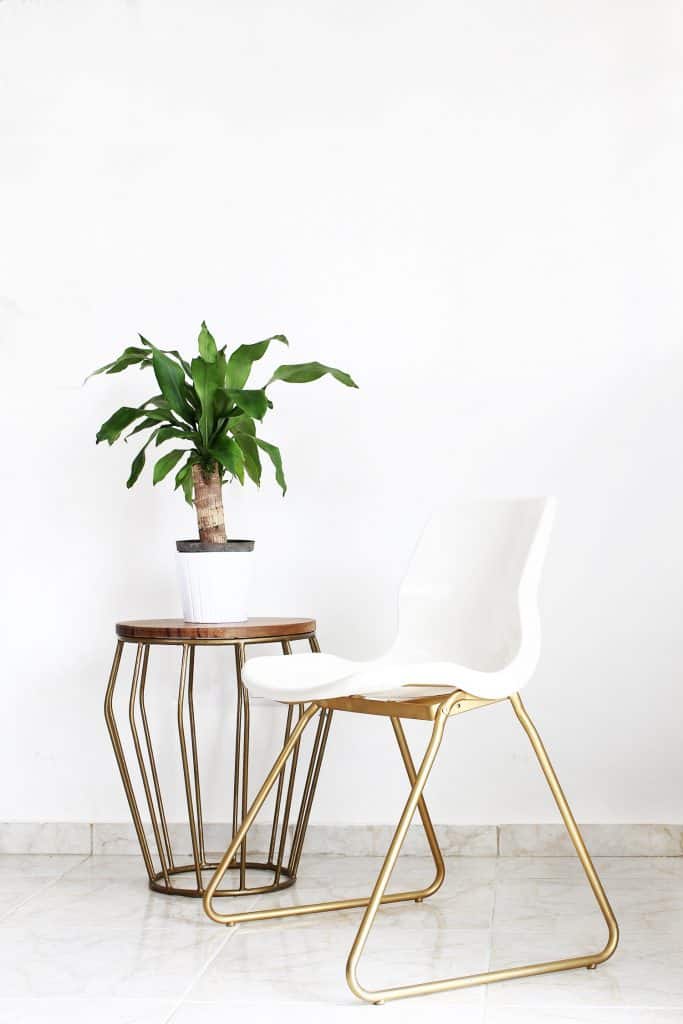 When I saw this transformation on this bar cart I was amazed at the change! With a little gold paint and a marble contact paper, it made this bar cart look very expensive. You could also use the same method to spruce up an Ikea Raskog Trolley.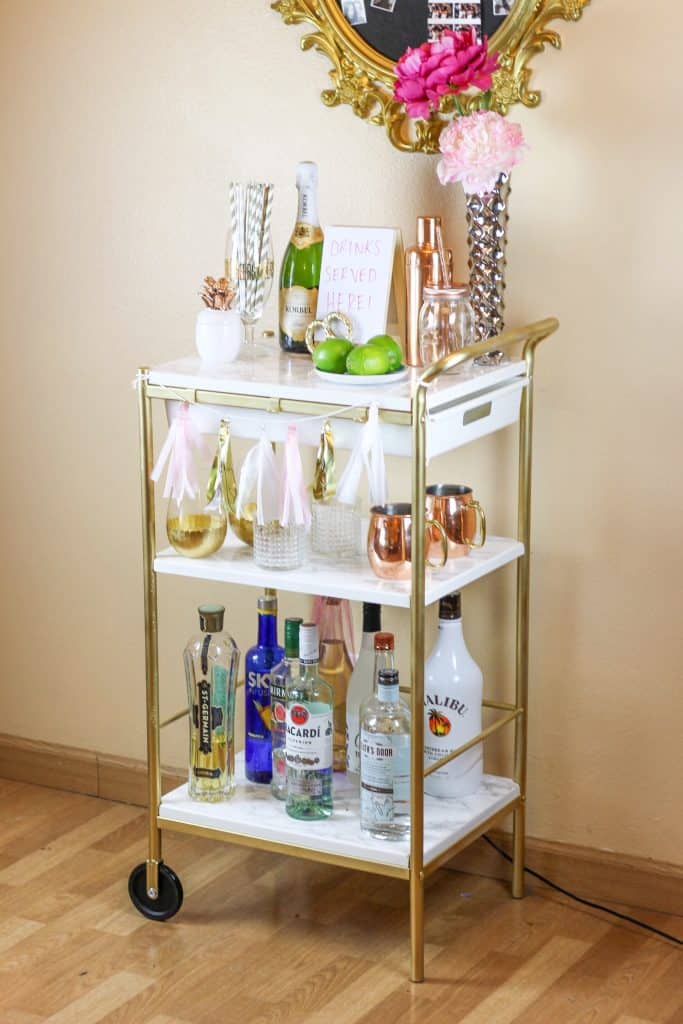 Buy a basic dresser and add a honeycomb design that really stands out and makes the dresser look totally different. This would look great in your child's room or even the master bedroom. It gives it that timeless style.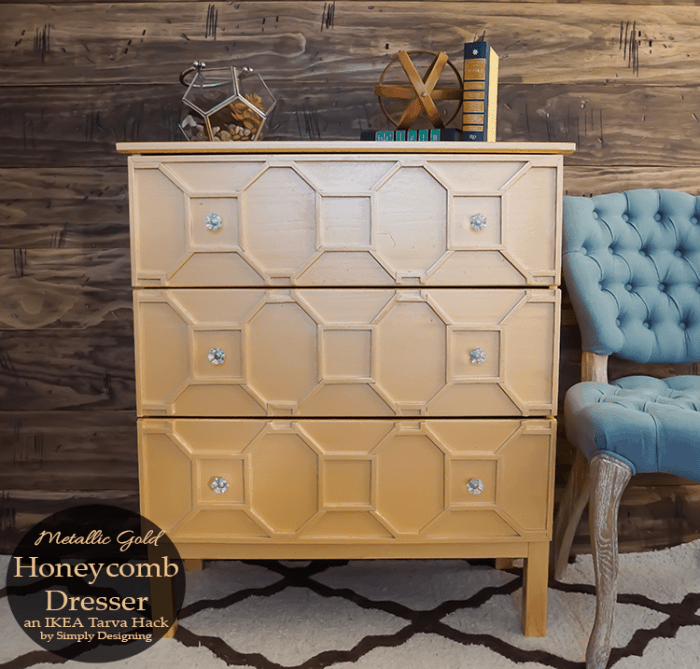 This shag footstool is really creative and fun, and a way to add a little pop of color to the room. I love the gold dipped feet, it really adds a dun touch to this stool.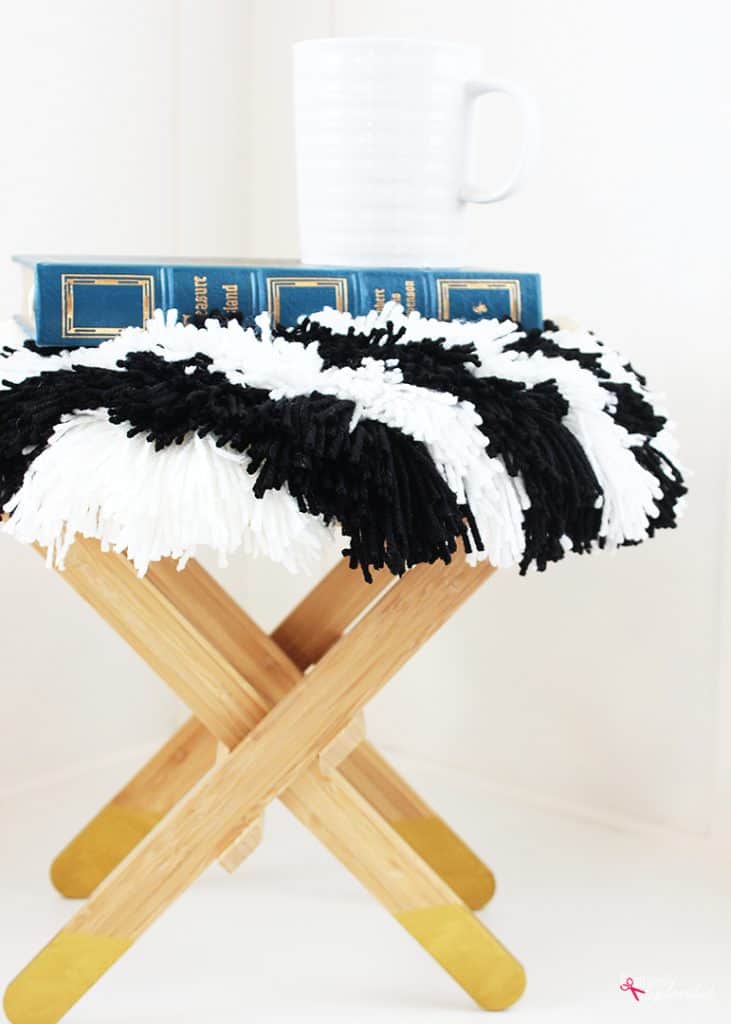 I never knew you could paint the fabric on a chair. This DIY is really amazing and I love how cute this turned out. I think a chair like this would look gorgeous in a loft, to add a playful vibe with the polka dots.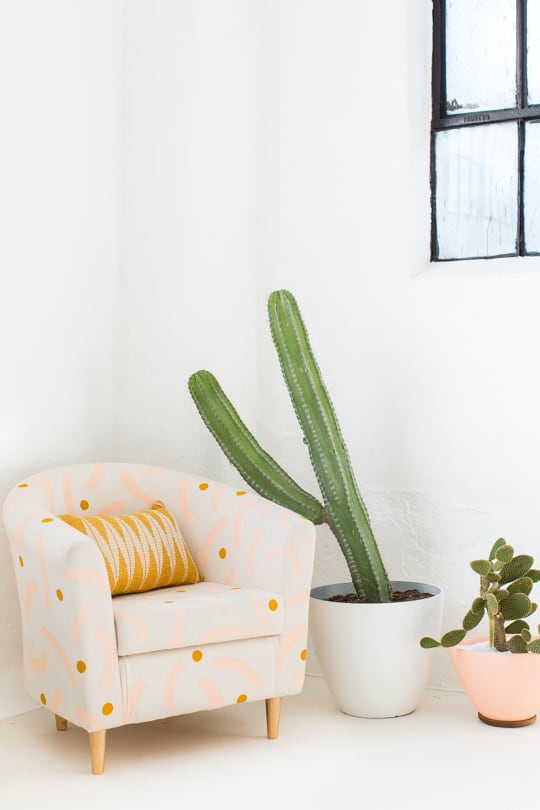 The blue really pops and the gold design adds such a simple but elevated look to this chest. I totally want to get the supplies and make this.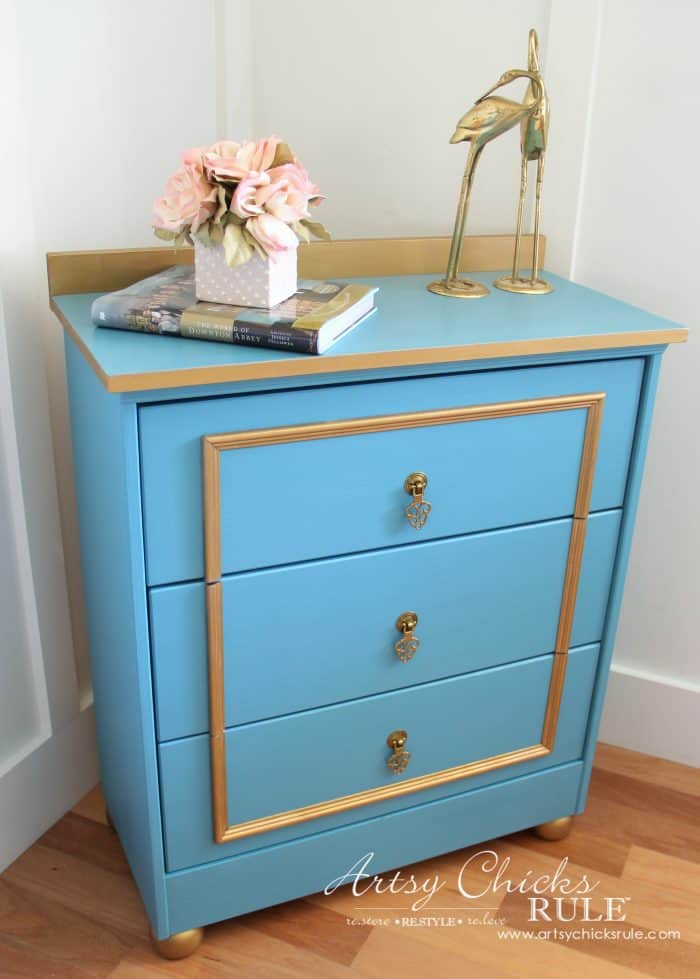 This is a white shelf with a gold trim on the ends. Add some colorful decor pieces and pops of gold here and there to really give your home a clean and crisp feel.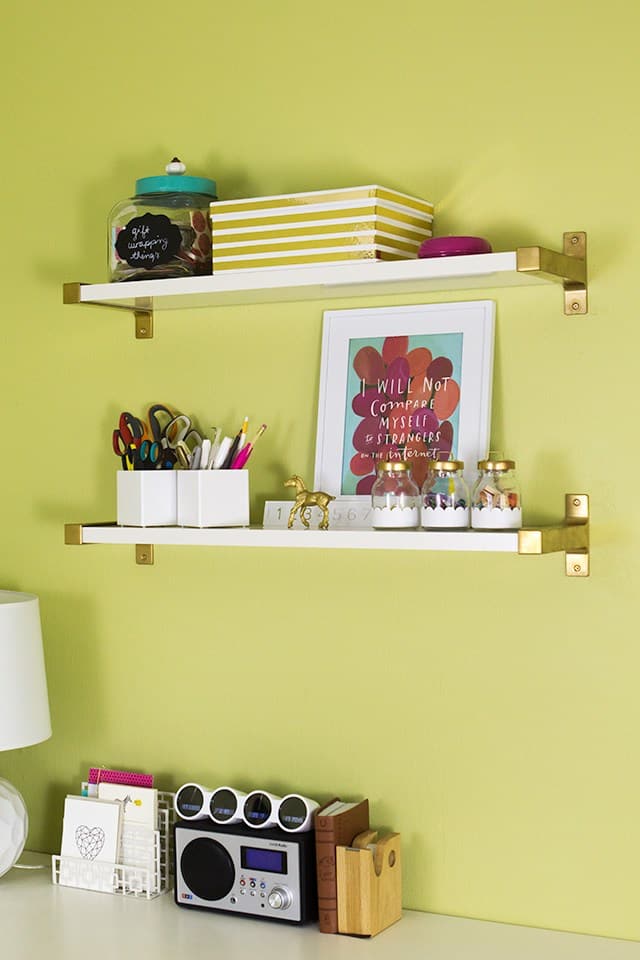 The black and white look with that pop of gold on the edge is stunning. This is a really fun way to add some style to your room with a minimal budget in hand. 
By adding the touch of gold handles, it completely transforms the look of a basic end table into a sophisticated table. Such an easy DIY that completely changes the entire look.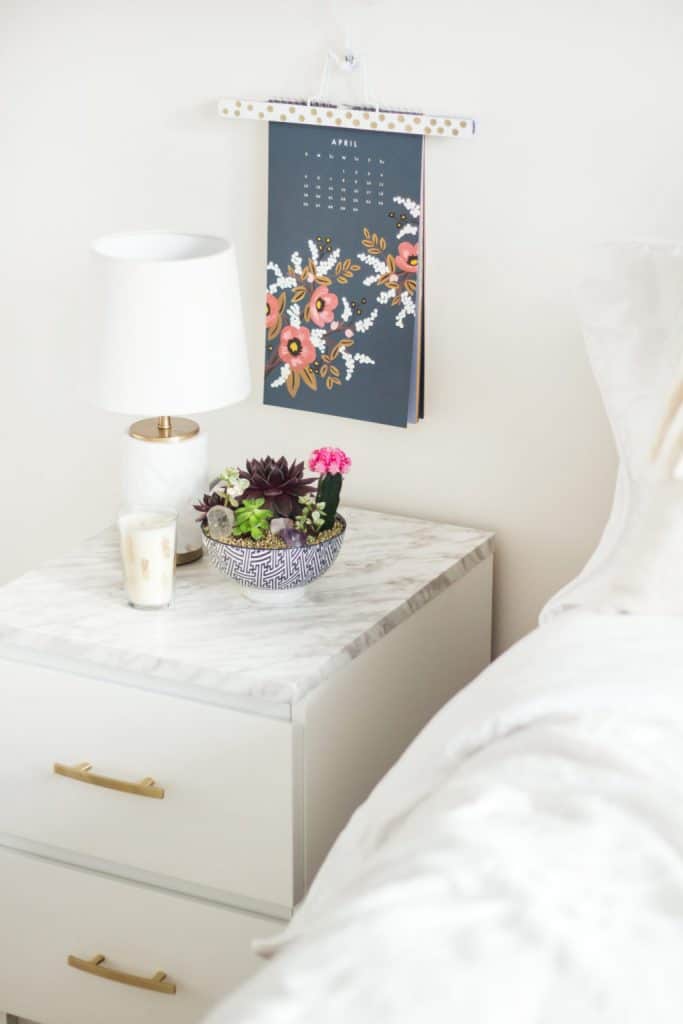 From cork coasters to a unique and fun jewelry dish in minutes. I love the half dipped look and the final outcome of these modern jewelry dishes.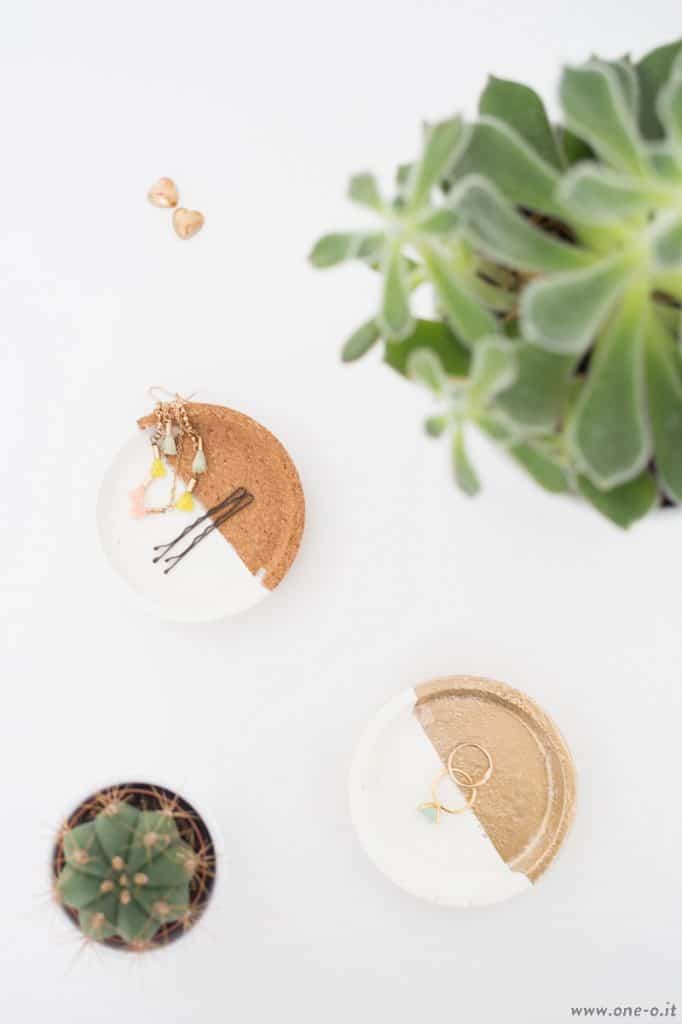 A very chic and mid-modern look is what you will get with these gold lines added to a plain dresser. It would be really fun for a teen's room.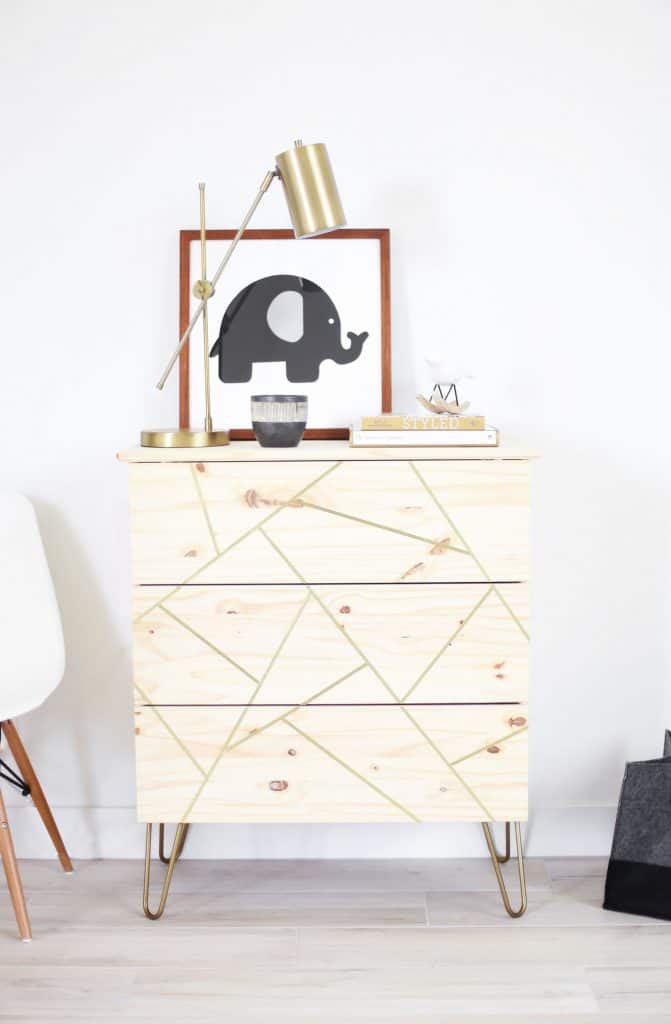 IKEA shelves are very affordable but can leave a room looking dull. Transform them and give your room a modern twist with some bold shelves.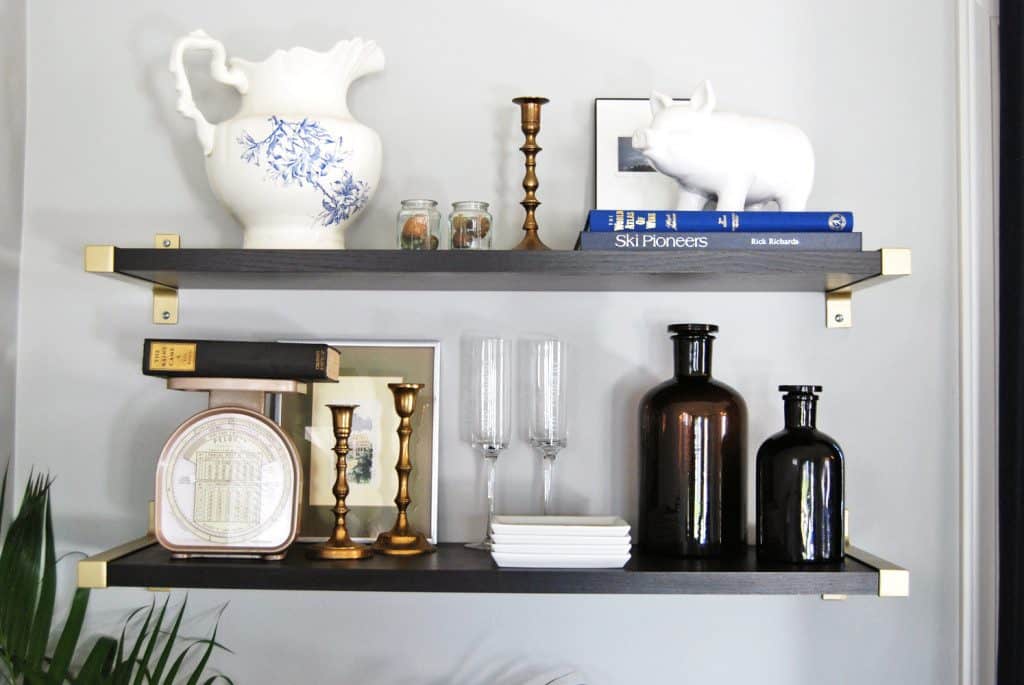 This plant pot was under $2 and with a little paint and a decal, it now looks like it is a $20-$30 pot. The look of this is so simple and modern.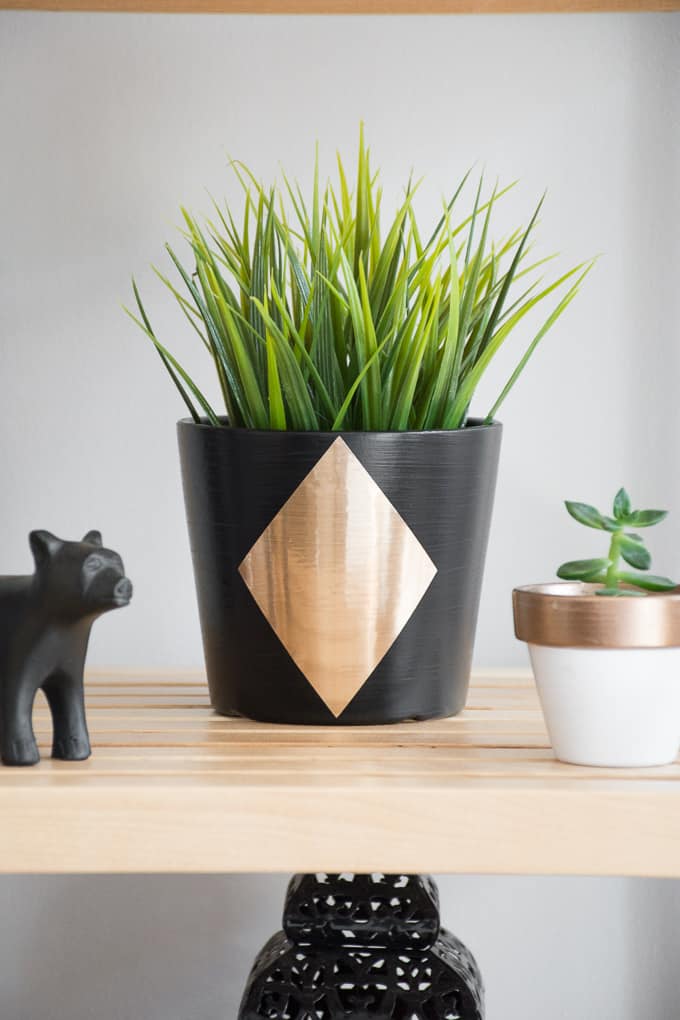 This is a super simple DIY that will totally breathe new life into a room. The gold really gives it that modern feel and even makes the shelf look more expensive and high-end.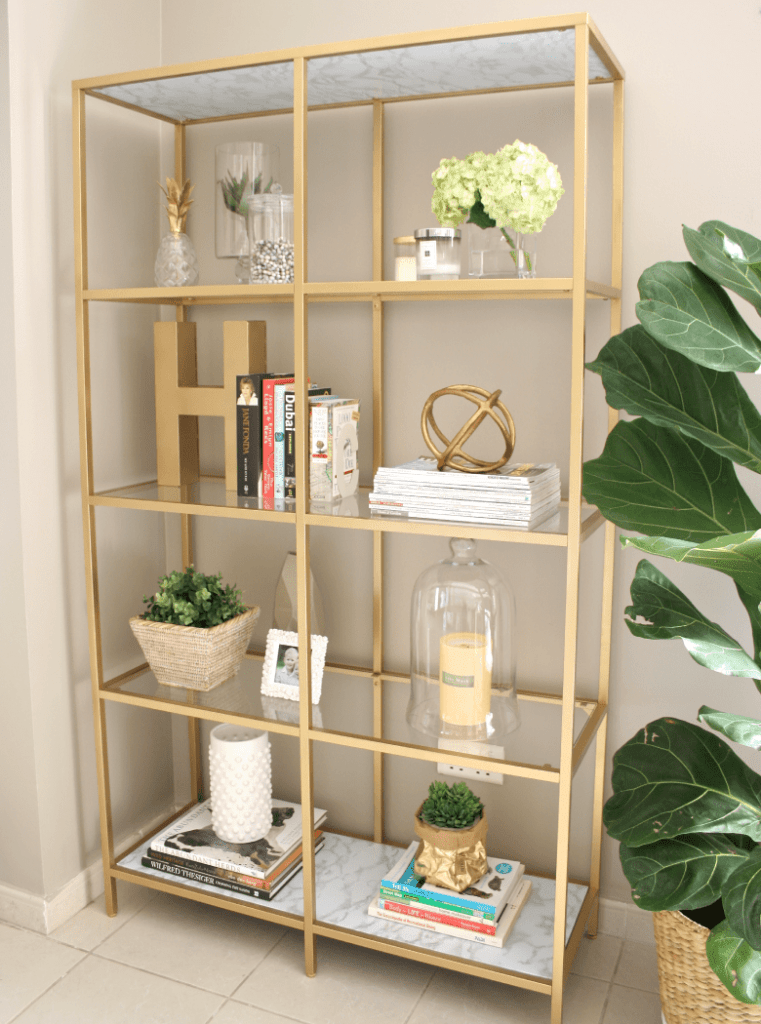 The look of these can really add a new dimension to any room. This is neat how they did a sconce on each side of the bed, would also look great in an office.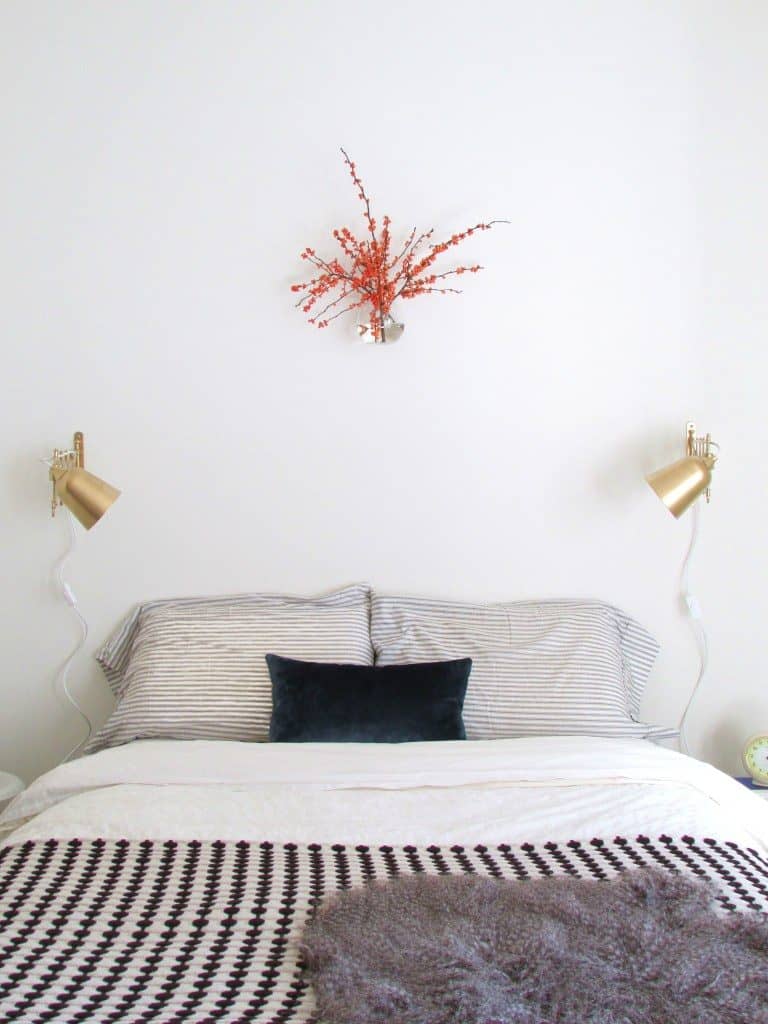 This DIY adds even more gold to the shelf for a whole new dimension and design. It is a very modern and stunning design that will elevate the look of your entire room.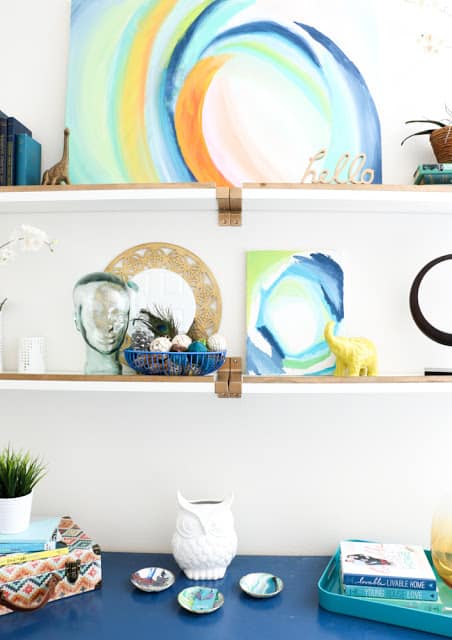 From going from a silver to a gold on the metal really makes this look like a totally different cart. A simple DIY with a huge difference at the end.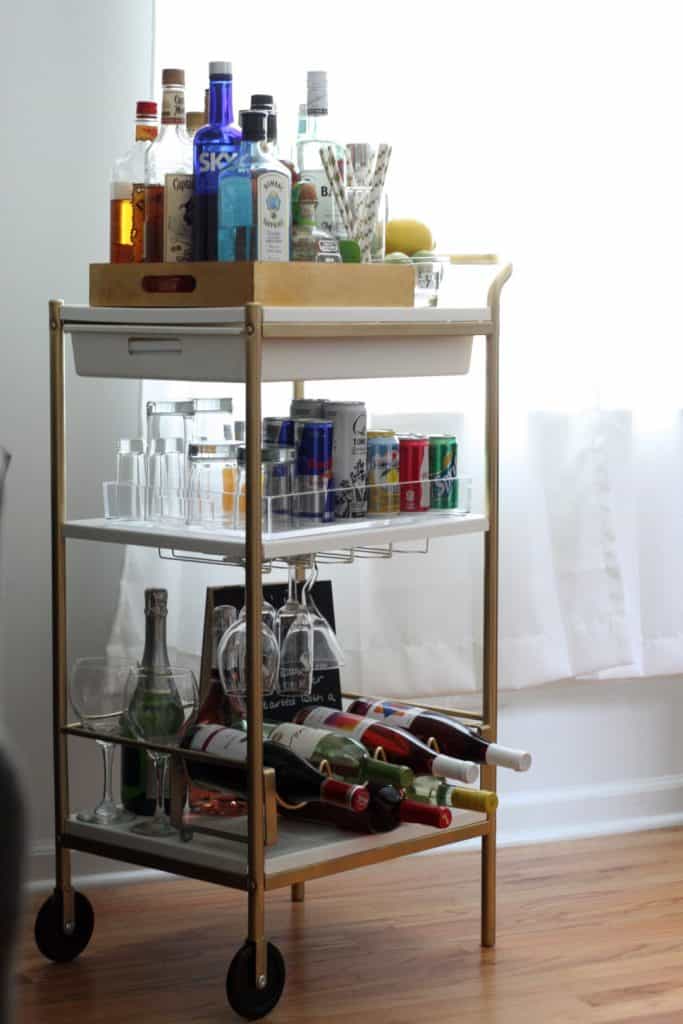 If your office is a bit boring and you want to transform the room, start with your office chair. A quick DIY will really make your chair look totally different. Add some pops of gold throughout the office to blend it.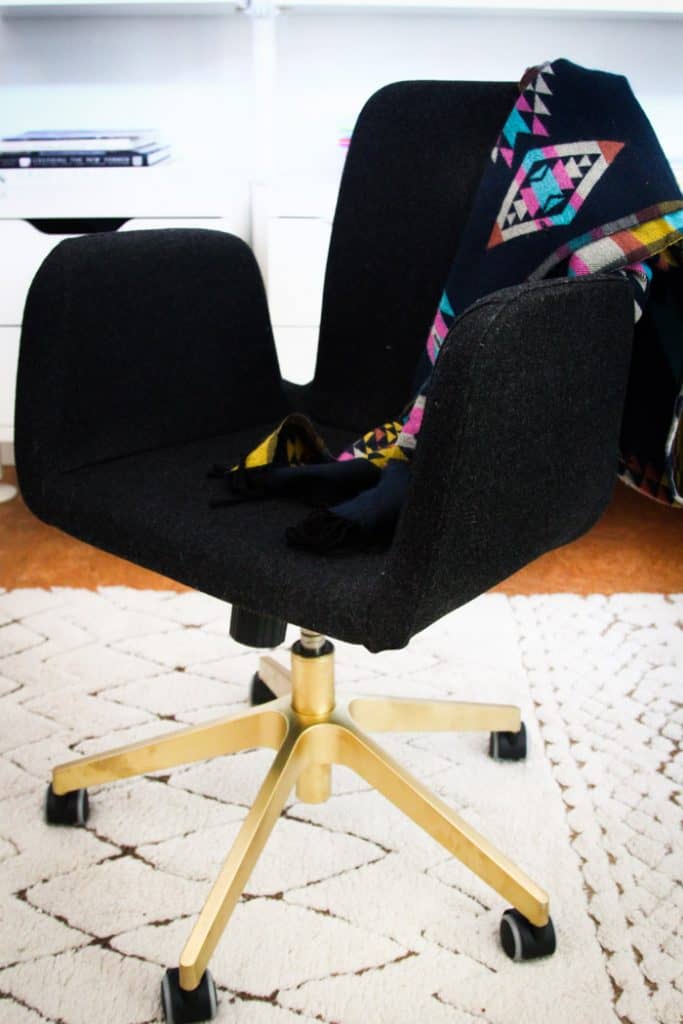 Don't spend an arm and a leg on an office desk! Transform it like this DIY and give it that instant wow factor that allows it to stand out in the room.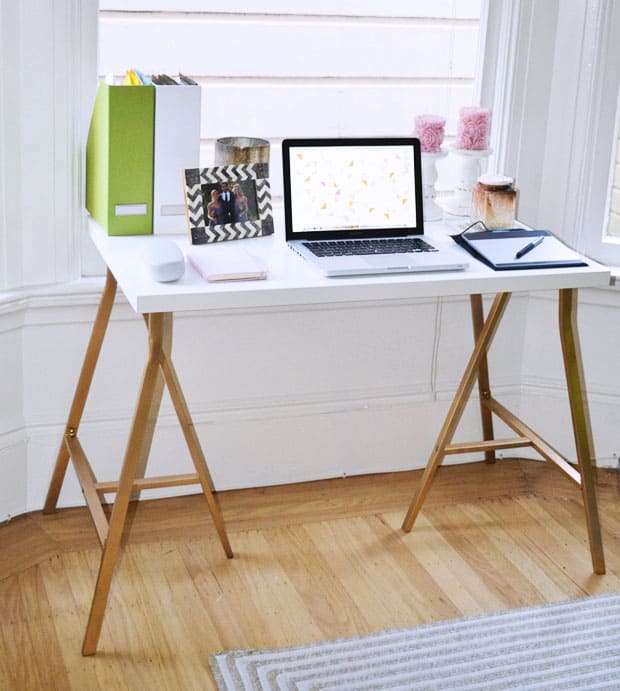 These basic side tables really can go from dull to stunning with just a can of spray paint. The gold trim really steps up the level of the look. 
Pin this for later!