There's nothing quite like the feeling of sinking into a hot bath at the end of a long day. And even better if it's filled with the sweet-smelling goodness of a fizzing bath bomb. But if you like to indulge in baths often, as I do, then you'll know that it can turn into an expensive habit. That's why I've started making my own DIY bath bombs!
It's easier than you think to create beautifully scented bath bombs at home. And they make great gifts too! Here are some of my favorite bath bomb recipes to make at home…
---
DIY Bath Bombs to Make at Home
Pin this post for later so you can come back and find DIY bath bomb recipes to try next time!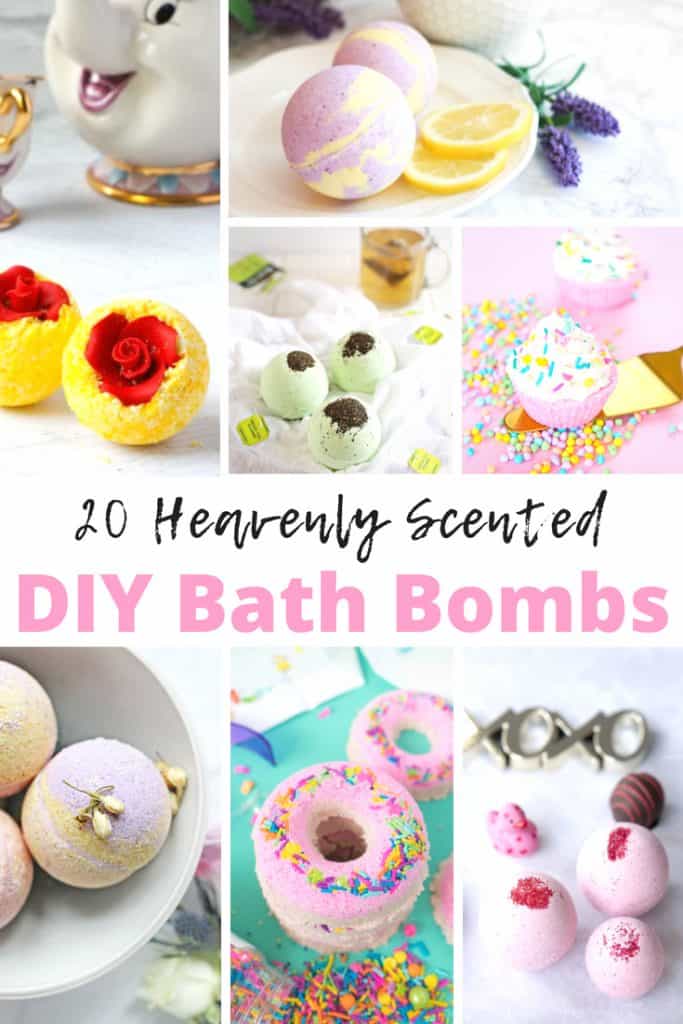 I love the relaxing aroma of these lavender and rose bath bombs! The best part is not that they smell phenomenal, or that they are super easy to make; it is how stunning they look! Whether you are making these bath beauties for yourself or giving them away as gifts, anyone who lays their eyes on them is going to be impressed.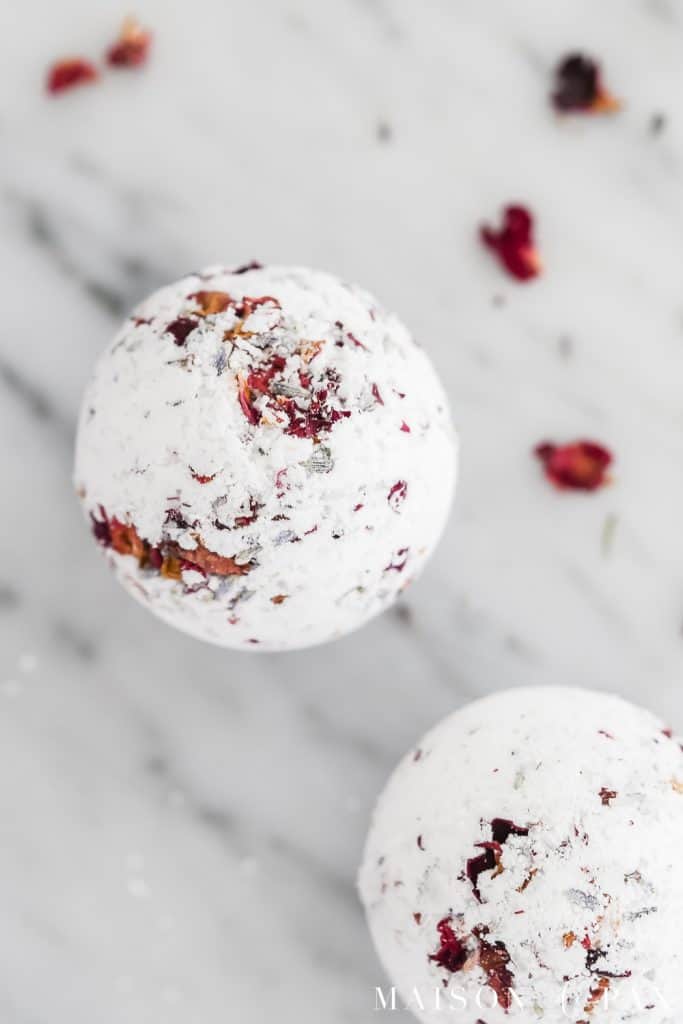 DIY Lavender Rose Bath Bomb Recipe by Maison de Pax
Not only do these coconut oil bath bombs look fabulous, but they also smell amazing and leave your skin feeling silky smooth. Imagine relaxing after a long day with a perfectly wonderful homemade bath bomb in a tub filled with hot water. Ahh…How amazing it would feel. Plus, it is a bonus that you know exactly what goes into each bath bomb too.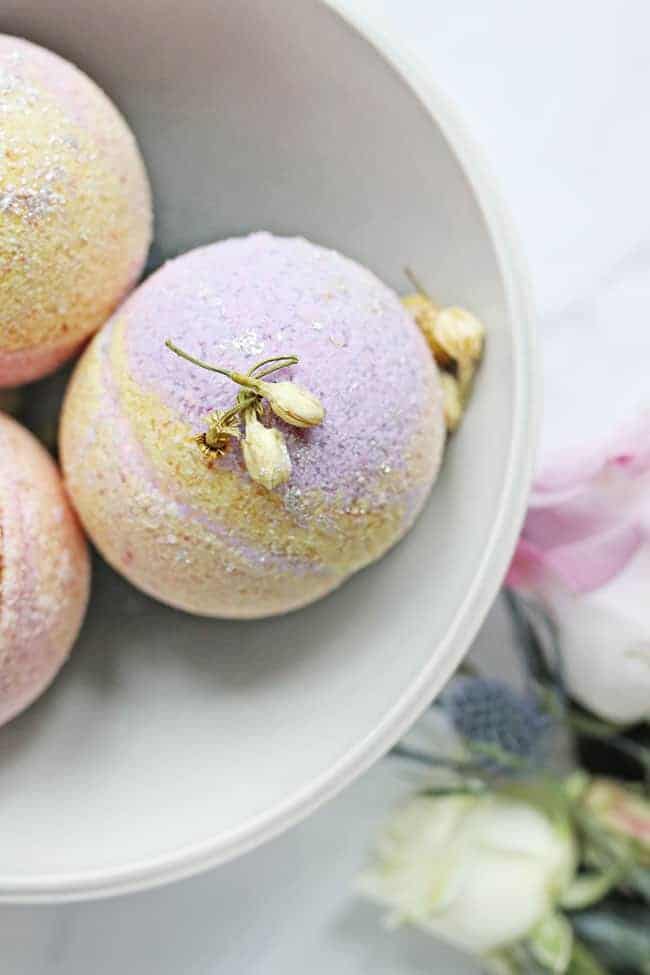 Easy Bath Bomb Recipe by Hello Glow
When you smell these eucalyptus bath bombs, you are going to feel more relaxed immediately! Eucalyptus has a natural calming effect and these bath bombs won't disappoint. This recipe is really versatile because you can add in any of your favorite essential oils. I love the overall color and design of them too.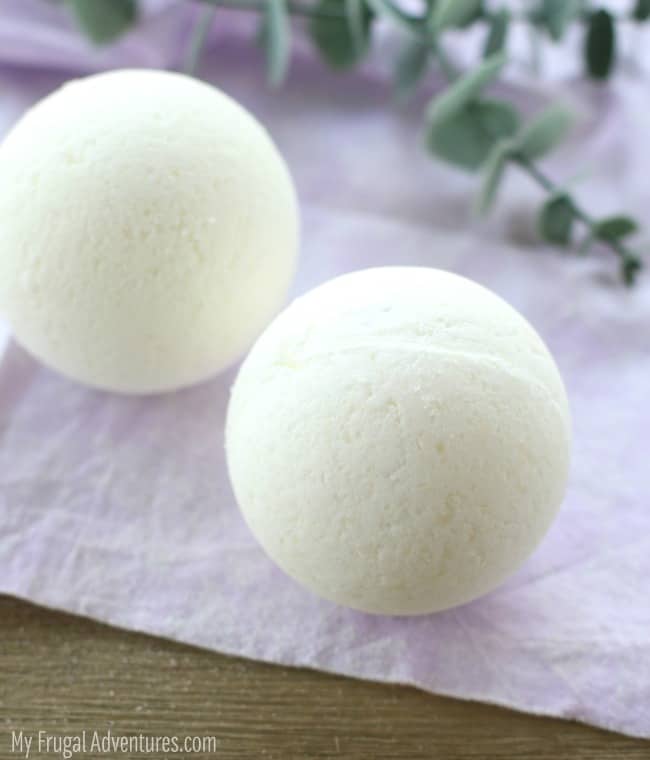 How to make bath bombs tutorial by My Frugal Adventures
Traditionally, everyone gives out candy, cards, and flowers for Valentine's Day. Why not change it up and give something homemade and extra heartfelt. There is nothing better than the gift of relaxation and self-healing. Plus, I am sure anyone who opens a bath bomb gift from you is sure to have a smile on their face!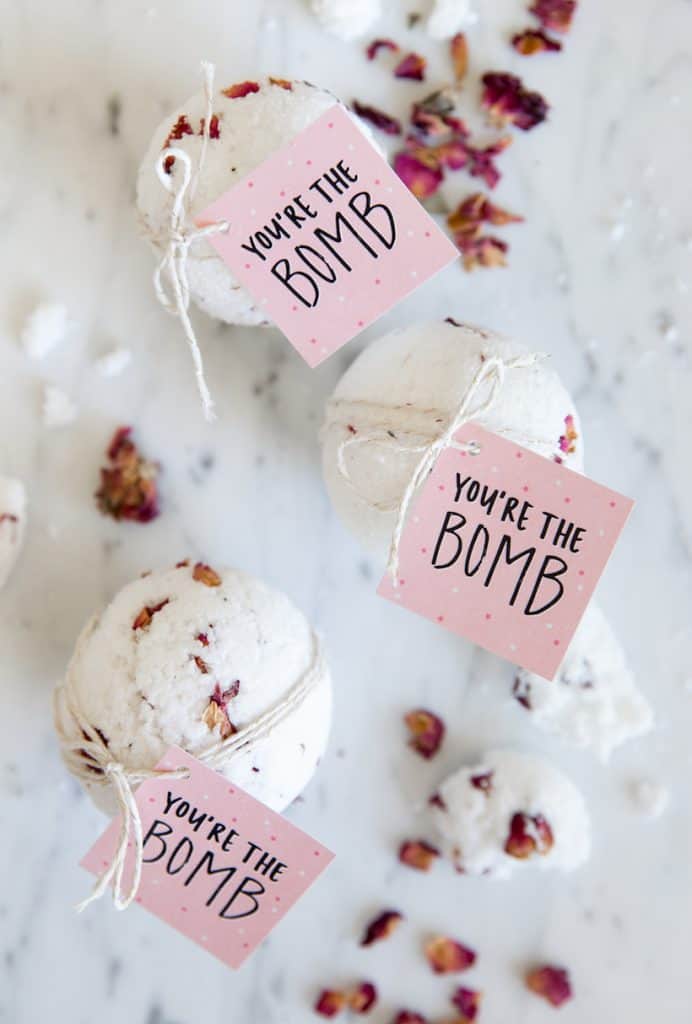 Valentines Bath Bomb Tutorial by Camille Styles
The color of this pear DIY bath bomb is so fun and playful. You need very few materials, and they are practically effortless to throw together too. The hardest part is waiting for them to set up overnight because you are going to be so excited to use one. Once the first bath bomb starts fizzing away in the tub, you will know it was worth the wait.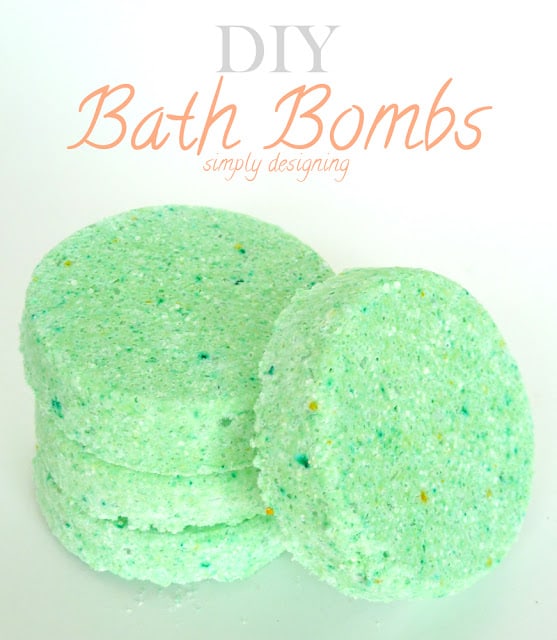 Easy DIY Bath Bombs by Simply Designing
Sometimes, it is nice to have a bath that is invigorating, and anything citrus is going to help wake you up while relaxing your tired muscles. Your skin is going to be smooth and smell fantastic too. These bath bombs seriously feel so good, that you are going to fall in love immediately!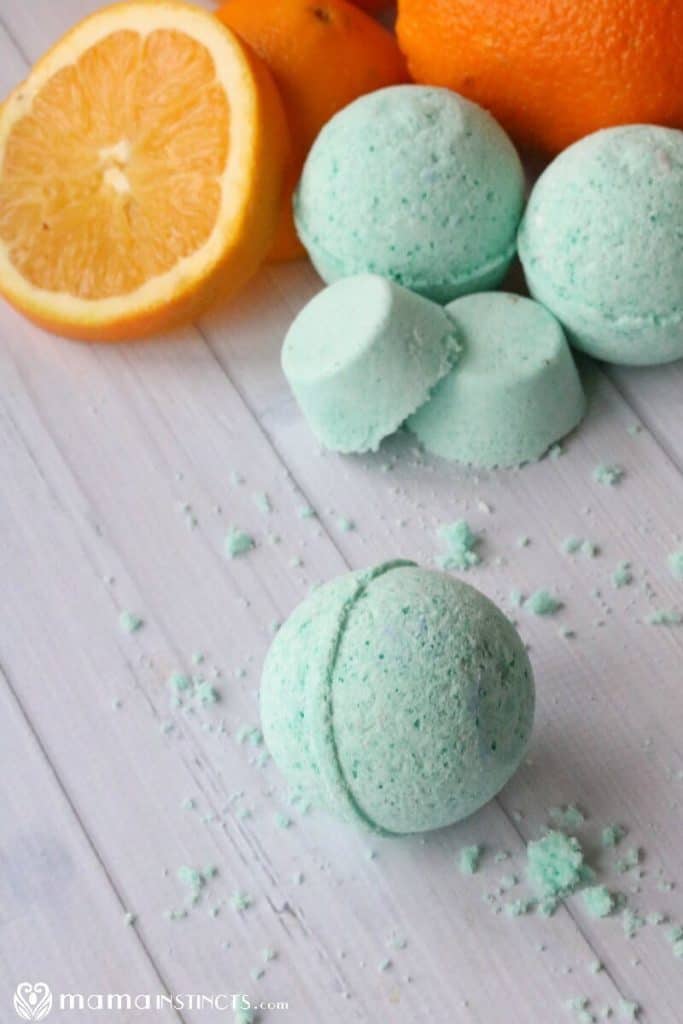 DIY Citrus Bath Bombs by Mama Instincts
The combination of citrusy orange and romantic lavender is out of this world! This scent makes the perfect gift idea because everyone is sure to love it. Decorate your bathroom with a glass jar filled with bath bombs for an inexpensive way to add elegance. The best part is that you can easily access them when you are ready to take a bath.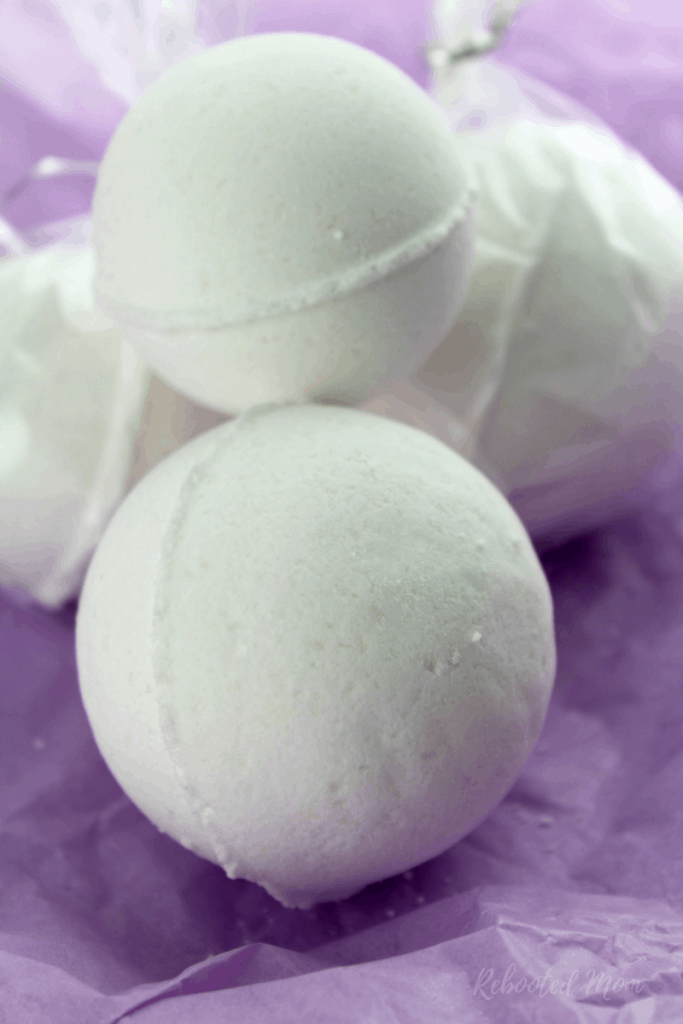 from Rebooted Mom
I am over the top excited about these bath bombs! If you love anything related to Disney you are going to know how awesome these are. The bath bombs have the perfect combination of bright yellow, which symbolizes her dress and the red rose. Elegant, stylish and refreshing bath bomb you need to make!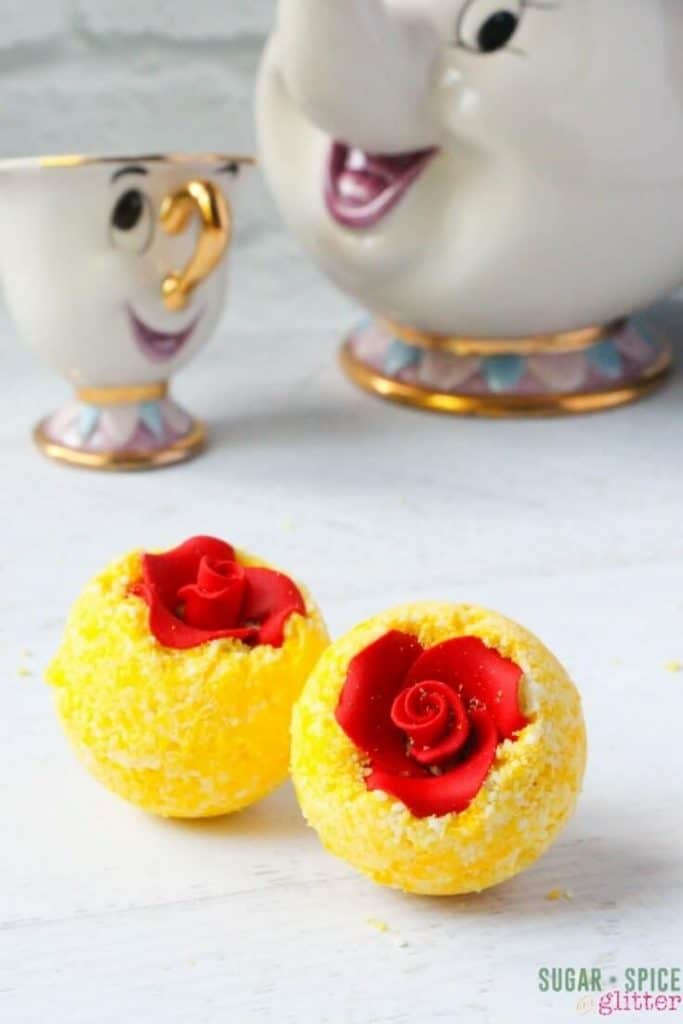 Disney DIY Bath Bombs by Sugar Spice and Glitter
One of my favorite things about making bath bombs is how inexpensive they are. Making them at home will save you a lot of money compared to buying them already made from a department store too. These orange bath bombs contain real orange zest and look fabulous! You probably have most of the ingredients at your house also.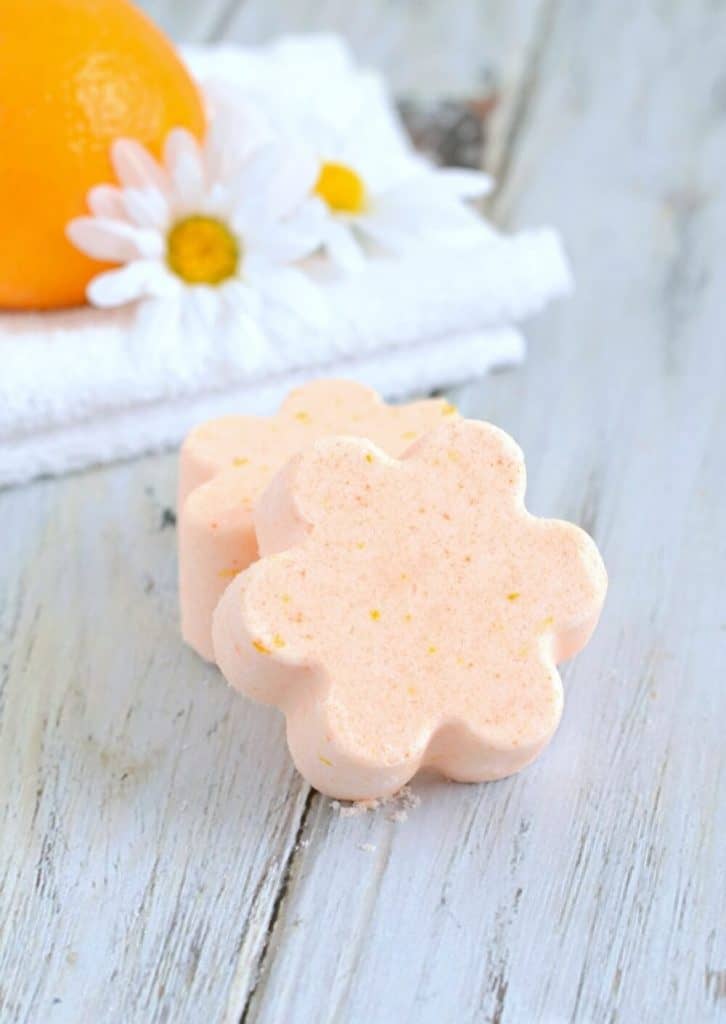 Easy bath bomb recipe by I Heart Naptime
If you suffer from seasonal allergies all the time, then you know first hand how miserable life can be. Make your own lavender lemon bath bombs to ease your discomfort and help you relax a little. When you breathe in the aroma the bath bombs will help your sinuses, and help you breathe again!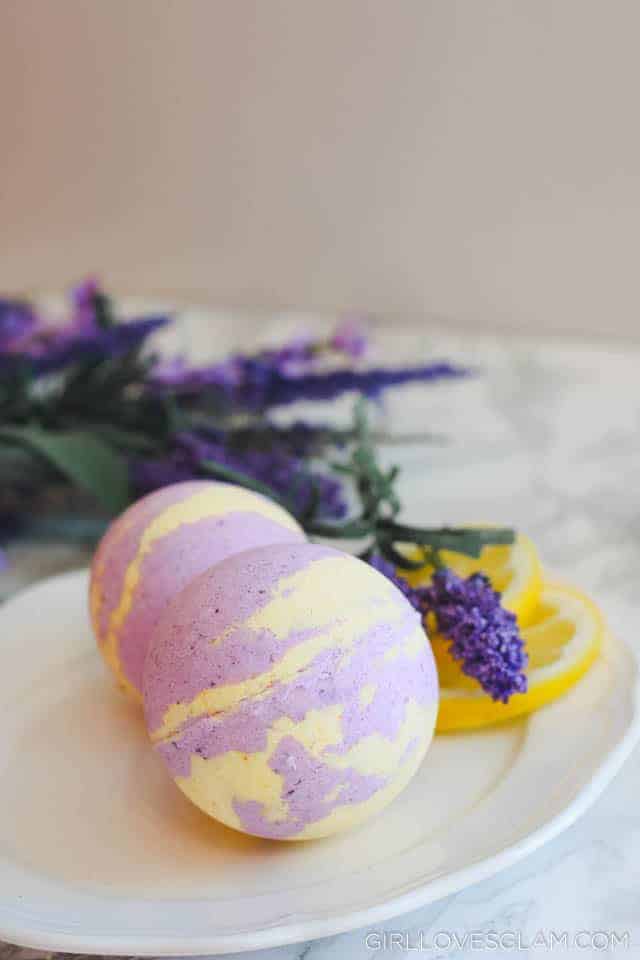 Allergy relief bath bombs by Girl Loves Glam
You will love the fact that these bath bombs can be thrown together in only ten minutes! How fantastic is that? You can be as creative with the molds as you want too. Make balls, squares, hearts, or anything else you want. This is a fun project to make with your kids also because they are so easy!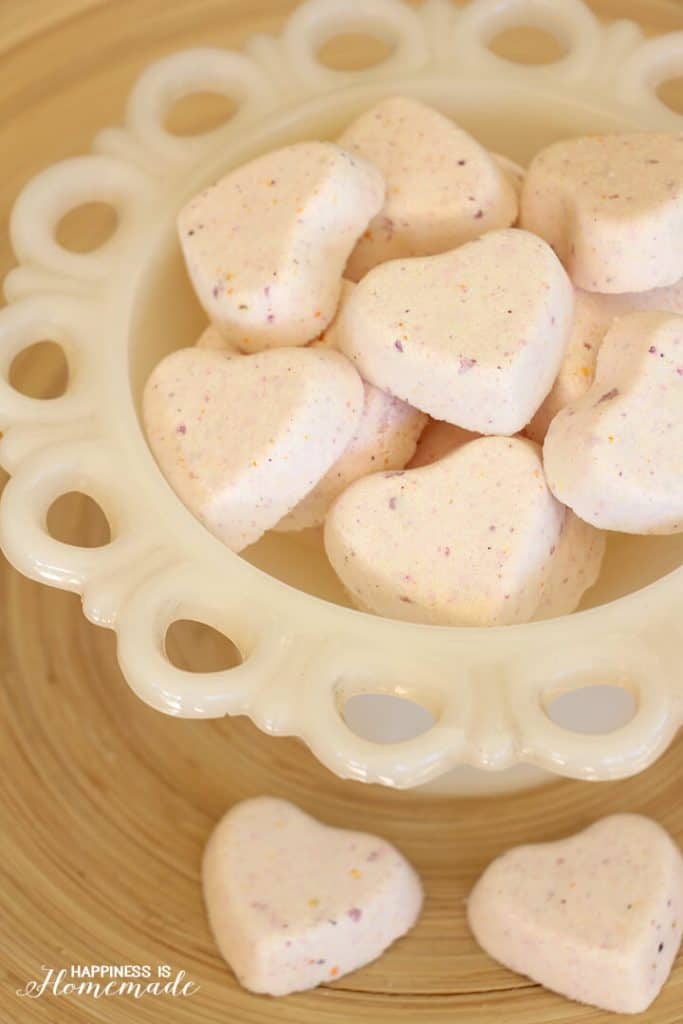 Citrus Fizz DIY Bath Bombs by Happiness is Homemade
These heart-shaped beauties smell like peppermint and are really invigorating. They are a pinkish red color that is unique and romantic. Add them to cellophane bags with pretty ribbons and pass them out as gifts for Mother's Day, Christmas, Valentine's Day or any other fun occasion. The recipients will be impressed!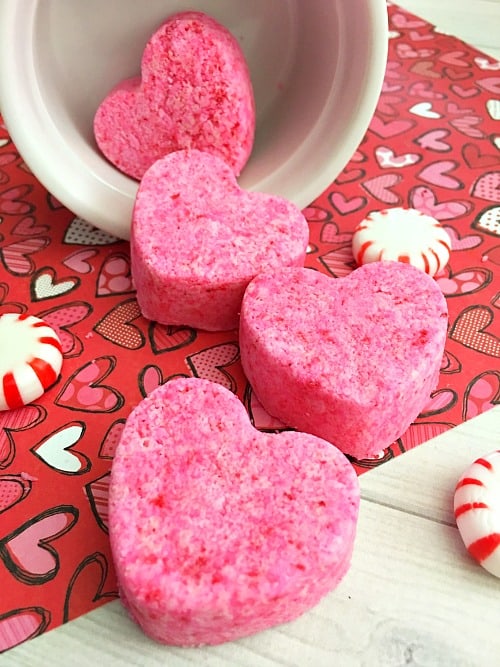 Heart Shaped Bath Bombs by A Cultivated Nest
Who says green tea is for drinking only? Surprise yourself with some relaxing green tea and lemon bath bombs! The finished product is so gorgeous they look like they should be sold in a store. So you should definitely make some and draw a hot bath to try them out in. You will thank yourself later!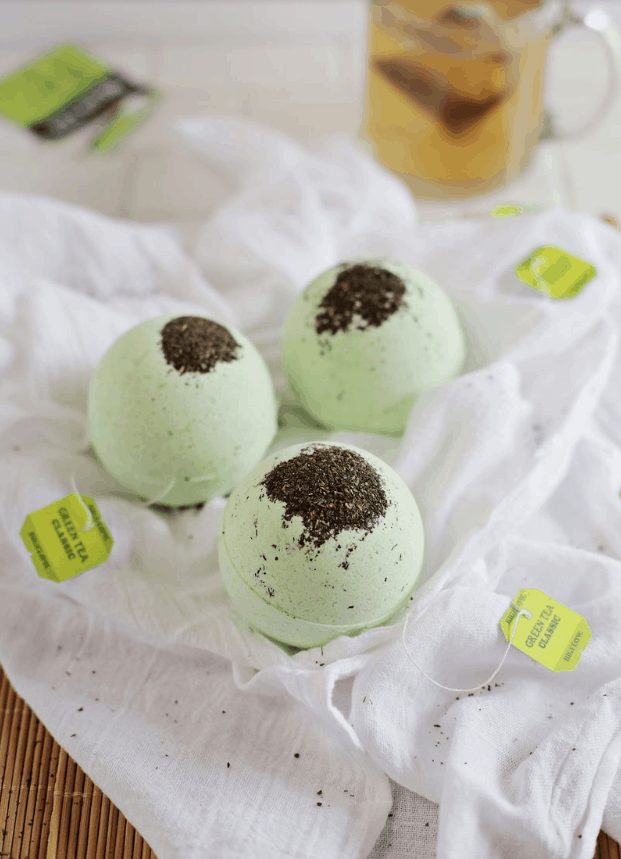 Lemon Bath Bombs by A Beautiful Mess
This helpful tutorial gives you lots of tips and ideas on how to make your own bath bombs without breaking the bank. Lavender and Joy are the essential oils that were used, but you can actually use anything you like. These turned out incredible, and they smell so good!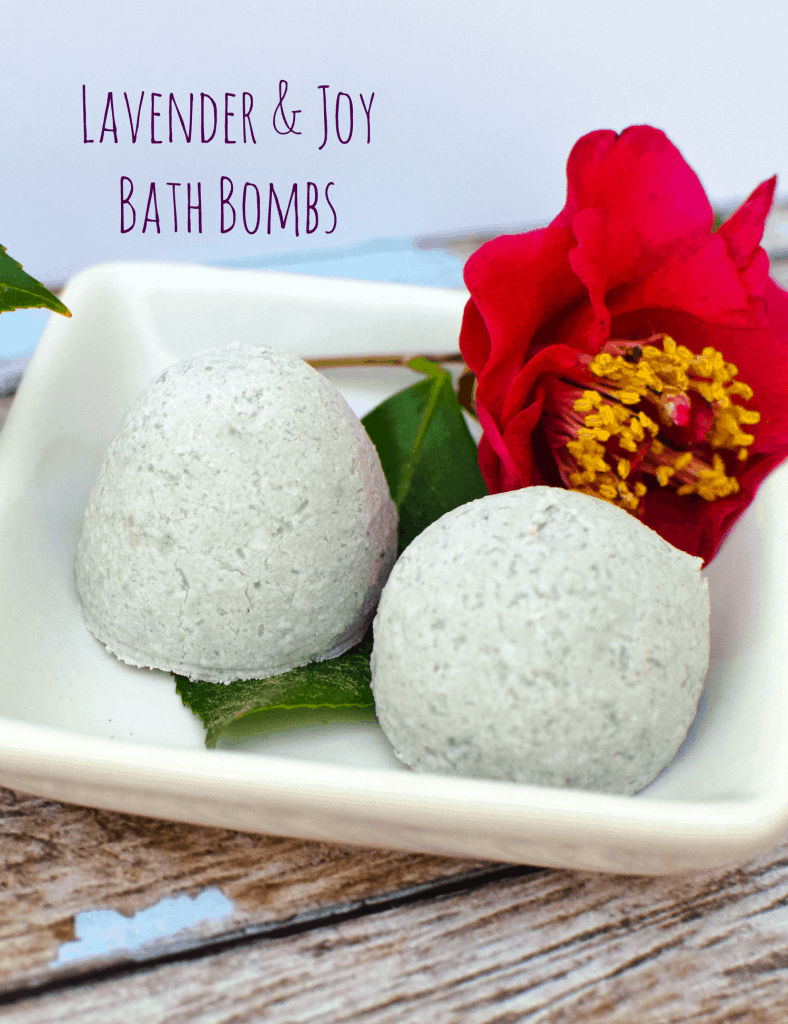 How to Make Bath Bombs by Really Are You Serious?
Romantic bath bombs filled with pheromones that will naturally attract your partner to you! Take a hot bath with one of these fizzy bath bombs and the pheromones will stay on your skin. The color and aroma just scream romance. Make a few of these and enjoy the rewards!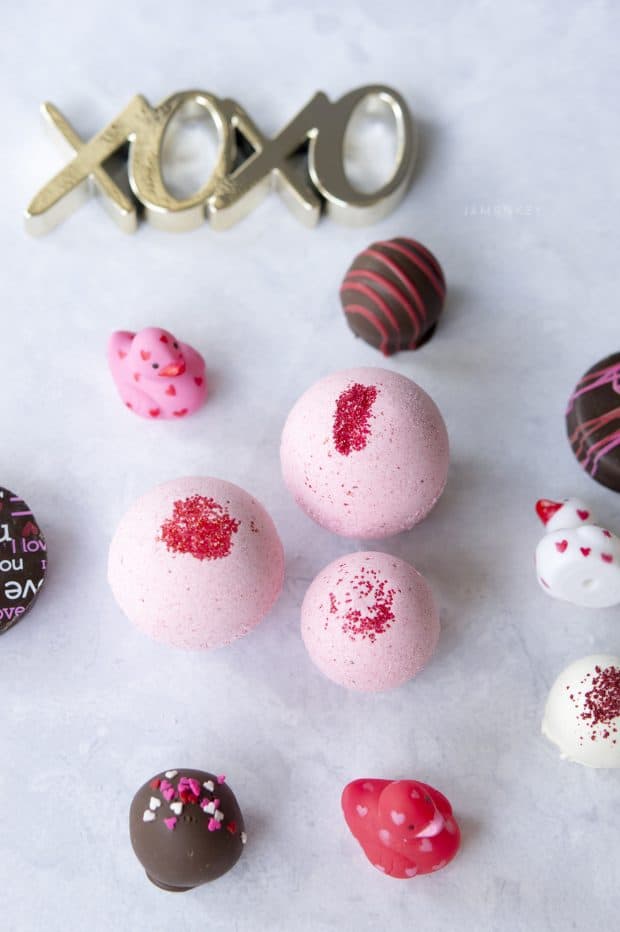 DIY Lush Bath Bomb by JaMonkey
These bath bombs are really enjoyable to make because they have multiple colors. The best part is you will feel like they are from another galaxy! Each of your kids will probably want to get involved with making their own bath bomb too. So you can have an entire family bath bomb making party! How is fun that?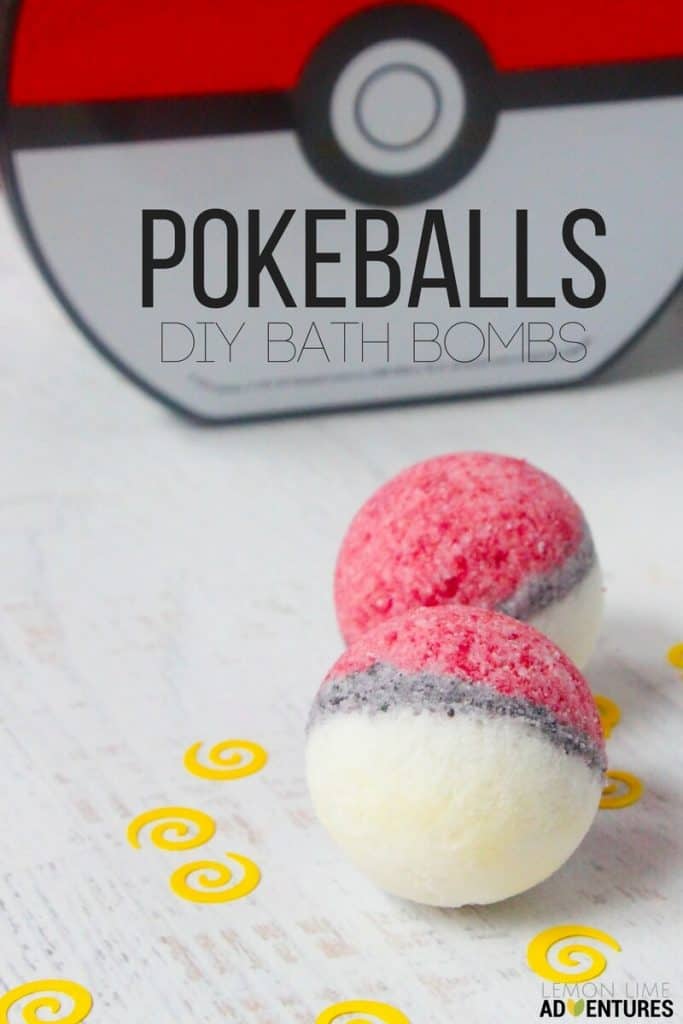 DIY Kids Bath Bombs by Lemon Lime Adventures
These bath bombs seriously look so amazing you are going to want to eat them! They look like they were made in a factory and not in your home. Give yourself the treat of a spa day at home with some of these yummy cupcake bath bombs. Use your favorite essential oil, and these can be made in no time!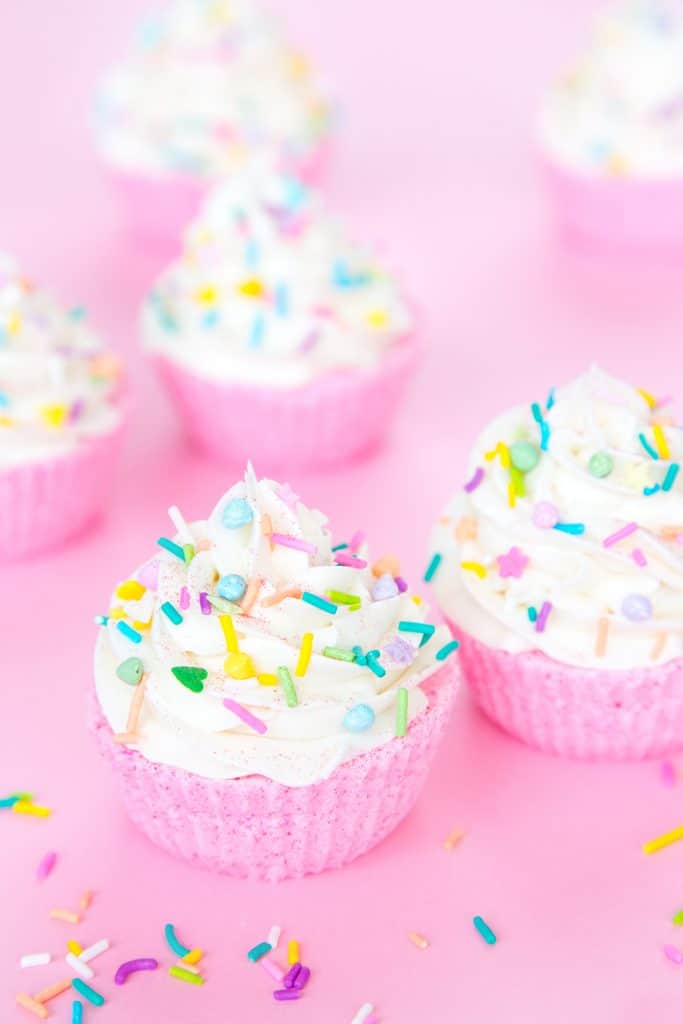 DIY Glitter Bath Bombs by Aww Sam
Oh, the subtle purple and the fragrant lavender is a combination made in relaxation heaven! Toss a couple in your bath, and all your cares will disappear. Each batch makes twelve bath bombs, and they are so much cheaper than store bought! Enjoy!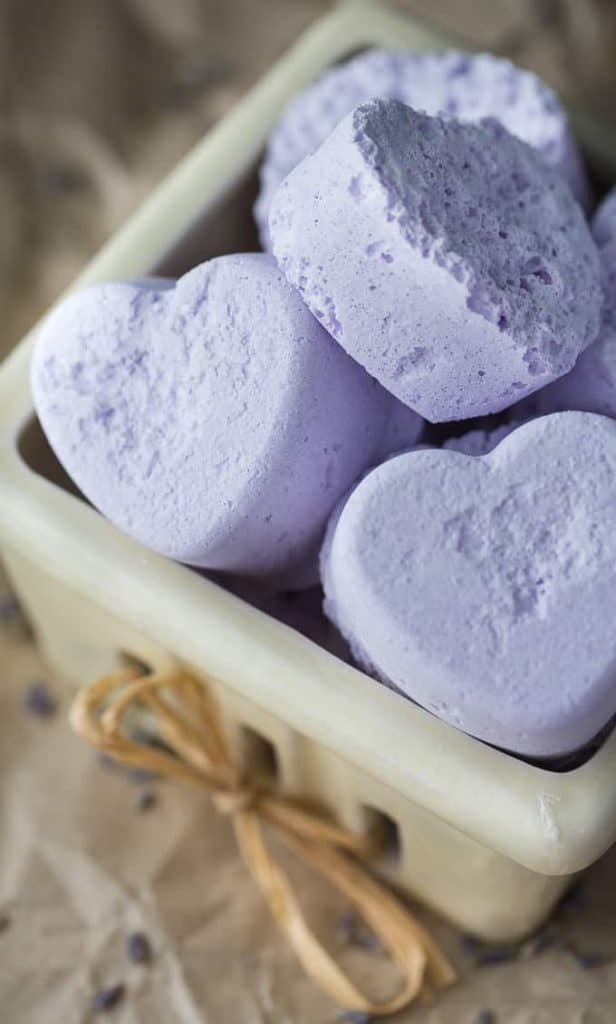 Lavender bath bombs by Simply Stacie
Making anything that is shaped like a donut is sure to be a hit, and these bath bombs won't disappoint! These would make incredible hostess gifts at baby showers and wedding showers too. The options are endless, and anyone who receives one is going to be so surprised that they are homemade.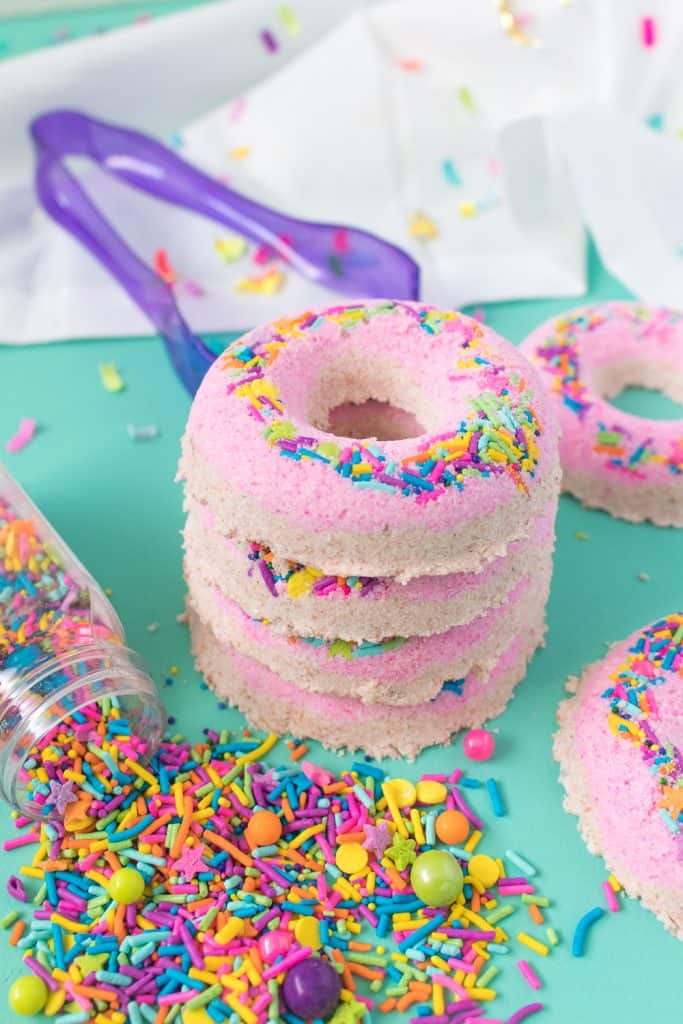 DIY bath bombs by Club Crafted
Each of these gorgeous bath bombs has actual rose petals in them. How terrific and stunning is that? It is impossible to take a bath and smell roses and not be able to relax and drift into happy thoughts. You can choose the essential oils and coloring for them too!