If you're looking to spruce up your bedroom space or you need somewhere to place your cup of tea and favorite book at night, these fabulous DIY bedside table ideas will inspire you! Perfect for those on a budget, or people who simply don't want to shell out loads of money on expensive nightstands when you don't have to – these DIY projects will have your room looking amazing in no time!
---
DIY Bedside Tables to Inspire Your Next Project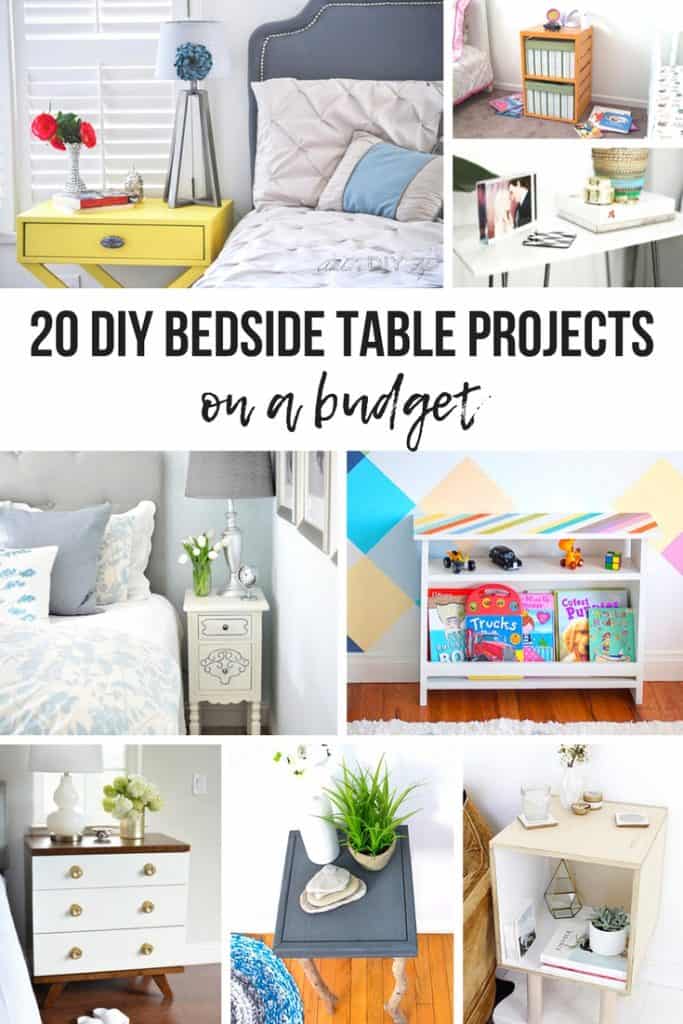 If you're a fan of Pottery Barn but your wallet isn't, then this inspired nightstand will be a hit! The lattice design and sunny color choice will brighten up any bedroom. But of course, you can choose the color of your liking when you build it yourself. Double win!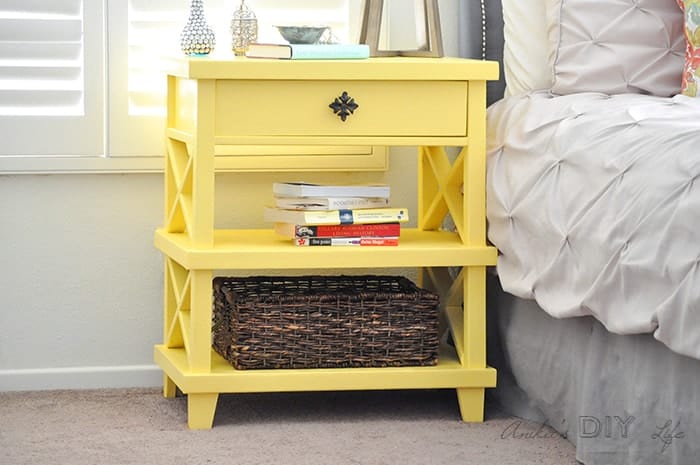 Pottery Barn DIY Bedside Table by Anika's DIY Life
Move aside IKEA! This practical, fun and functional kids bedside table costs peanuts to make and is perfect for storing all the bedtime essentials. Just the right size for your kid's clock, water bottle, and nightlight on top, and with built-in book storage underneath – it's the perfect DIY bedside table! Plus, it allows your children to see all of their books at once – making it easier to choose and read their favorites.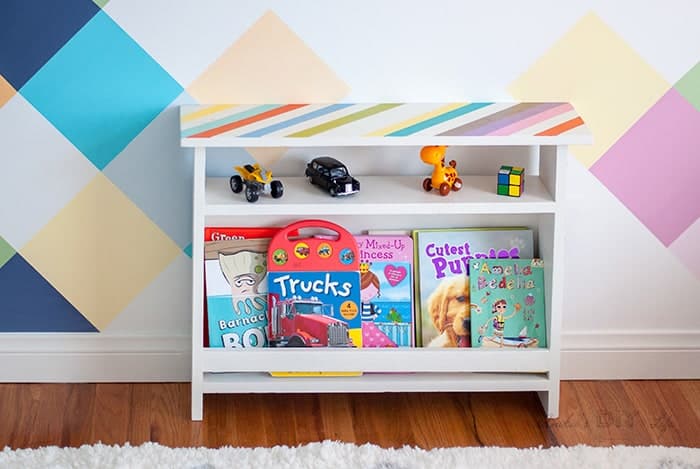 Kids DIY Bedside Table by Anika's DIY Life
This is the perfect DIY side table when you're short on space, but still want something that looks fabulous, and is functional to boot. The driftwood legs add a wonderful beachside charm to this table. It'd look great in your beach house or in your nautical-inspired apartment.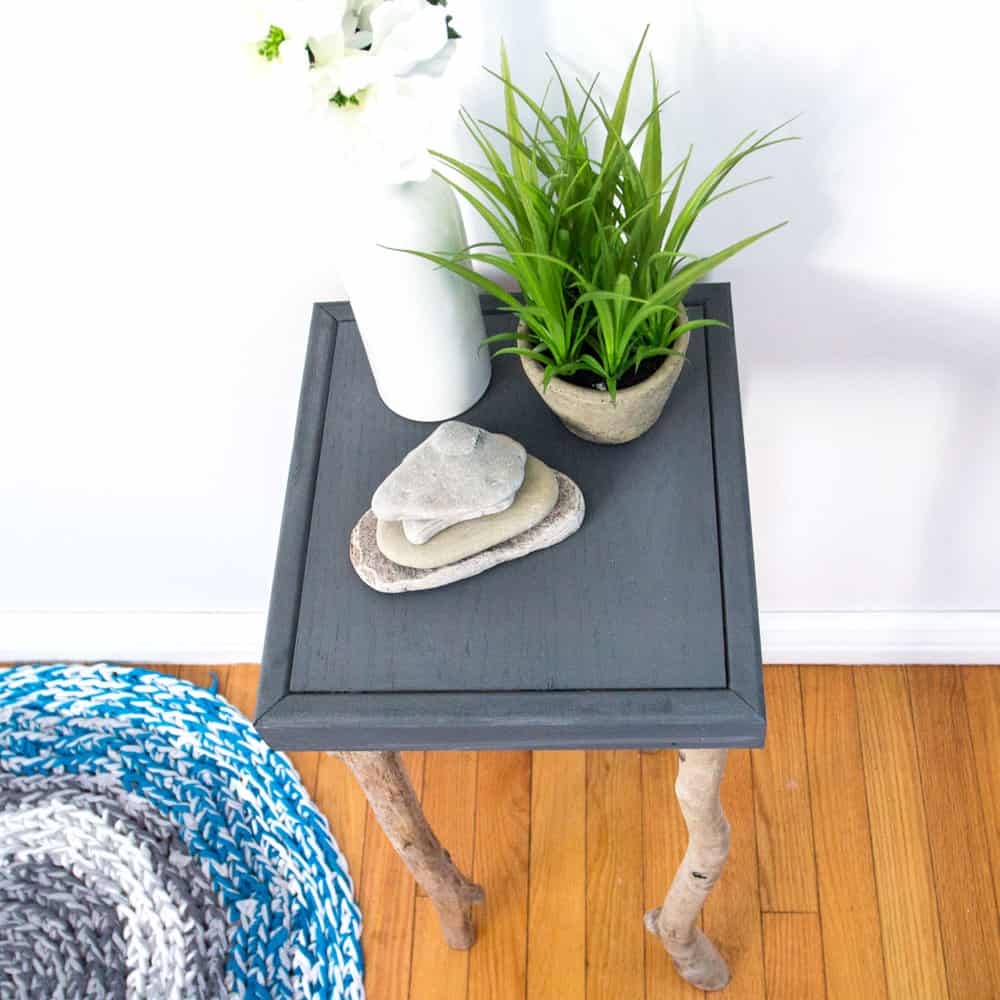 DIY Rustic Side Table by Sustain My Craft Habit
Bedside tables don't get any easier than this to make! These simple Ikea hack side tables look amazing, are super simple to make, and are totally customizable. Paint them in your favorite color, choose different legs – the options are endless to make these bedside tables 100% unique.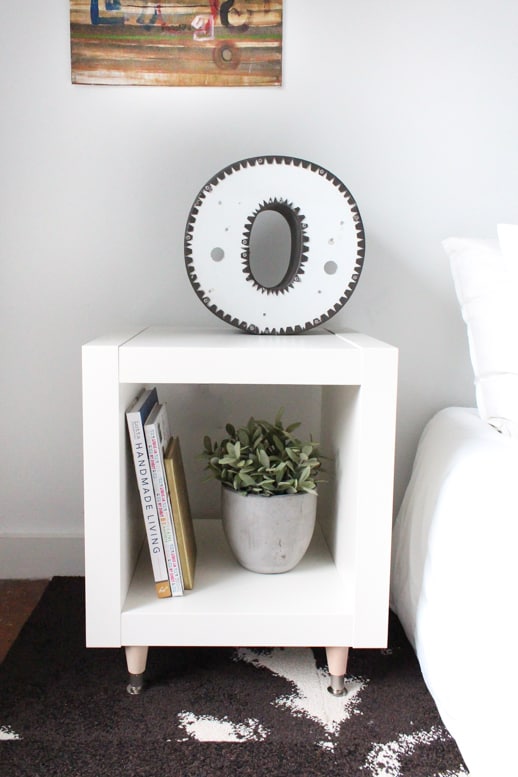 DIY Ikea Hack Sidetable by Sugar and Cloth
I love creating new things out of everyday objects. And this upcycling project is easy enough for beginners to undertake! With just two wooden crates and a few bits and bobs, you can whip up this DIY bedside table in no time. It makes a great addition to kid's rooms and gives them somewhere tidy to keep their nighttime essentials handy.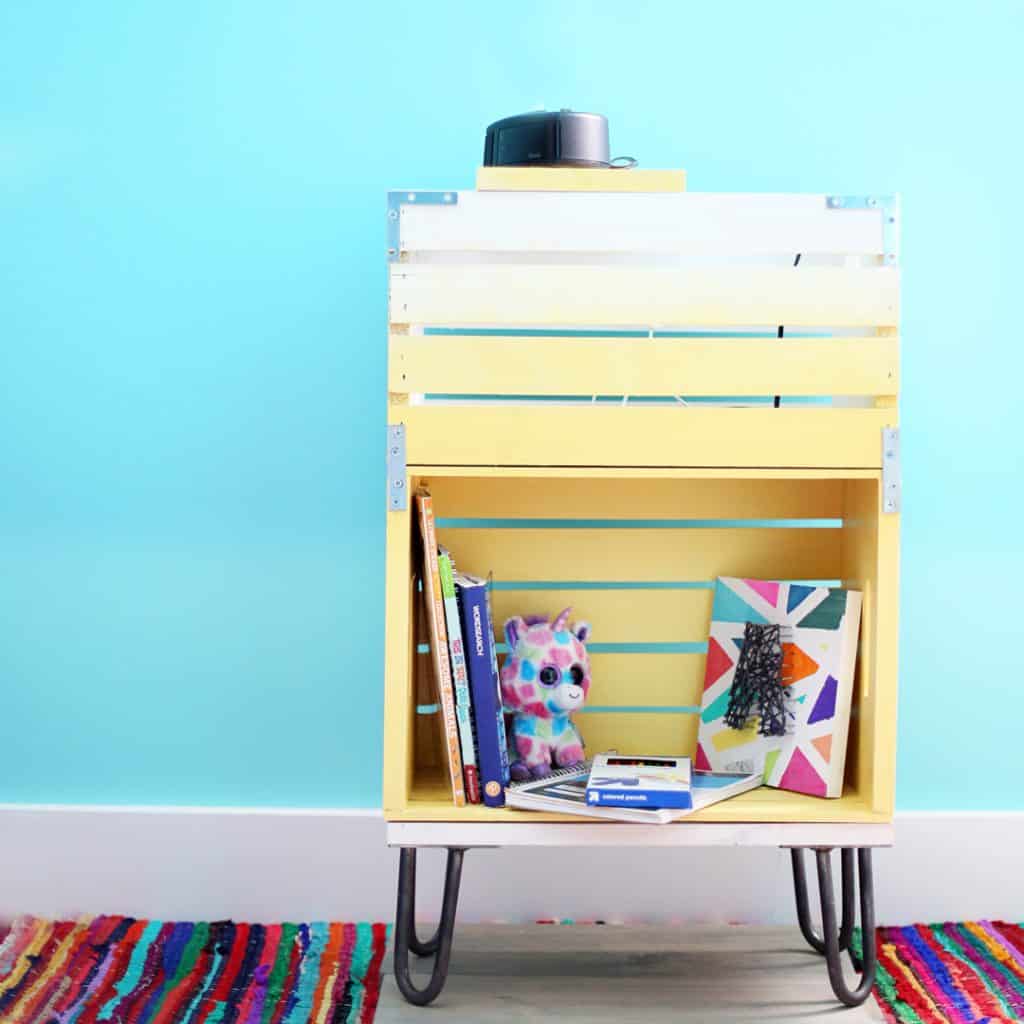 DIY Crate Nightstand by Sugar Bee Crafts
OK, so this has to be the easiest DIY project I've come across in a while – and the result is amazing! Zero tools or DIY experience is needed to knock this stunning bedside table together in minutes. Elegant, stylish, and oh-so-easy, this marble side table is sure to be a winner!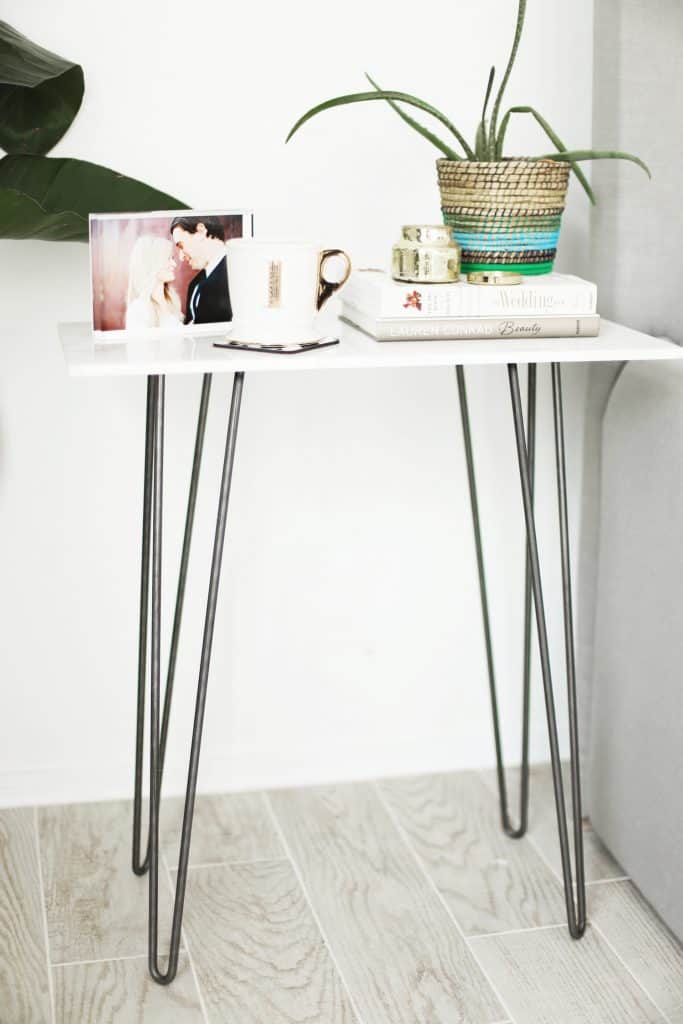 DIY Marble Side Table by Kristi Murphy
This plywood bedside table looks so chic, I might just have to give this DIY tutorial a go myself! The end result is something that wouldn't look out of place in a high-end design store, and yet it'll only cost you a fraction of the price to make yourself.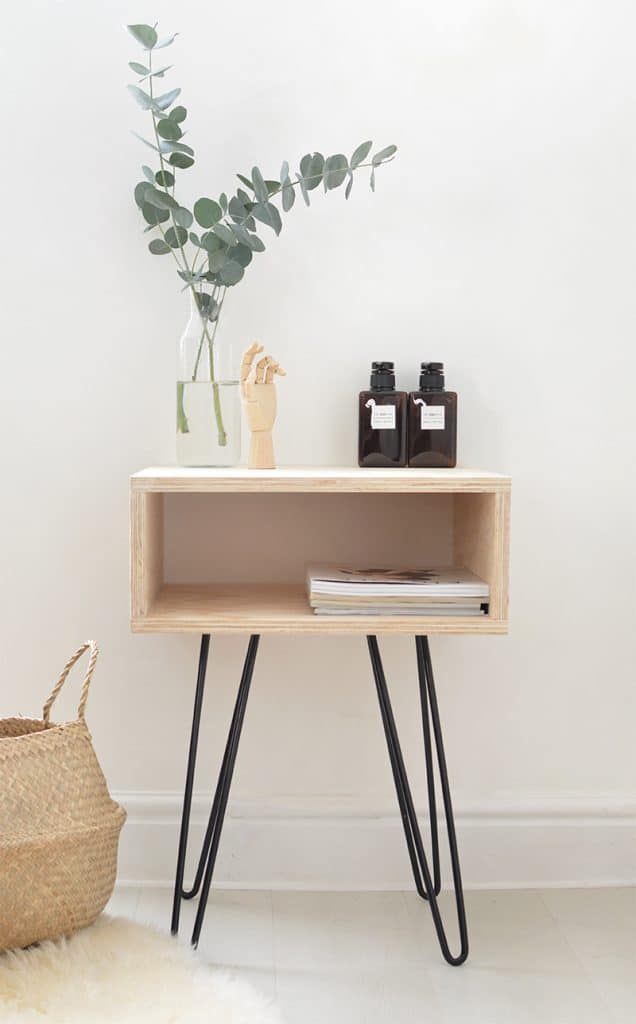 DIY Nightstand by Burkatron
If you're looking for an easy upcycling project, these bedside tables have you sorted. Whether you want to upgrade your existing bedside tables, or you're looking for a way to furnish your bedroom on a budget – this is an easy DIY tutorial that will leave you with expensive looking bedside tables at a fraction of the cost!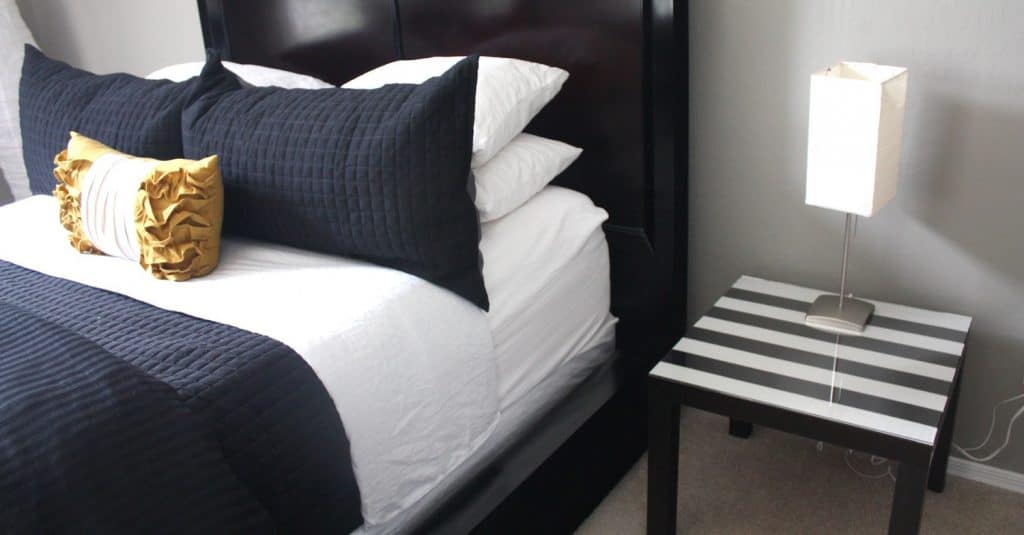 DIY Bedside Table by Kristi Murphy
If you're a fan of vintage wine crates, then this is the DIY tutorial for you. What better way to upcycle a wine crate than to turn it into a bedside table with a unique character? This one has been made for a teenage boy's bedroom, but it'd look just as good in the master, and you can change the interior wrapping paper design to fit with your existing decor.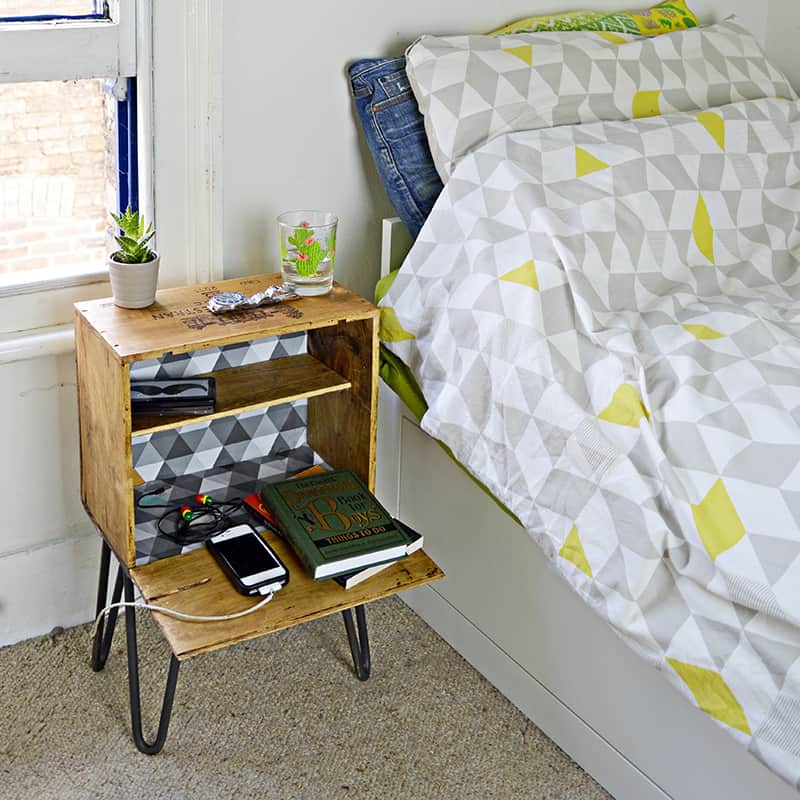 Wine Crate DIY by Pillar Box Blue
How many times have you seen a great little table at a yard sale and thought it'd make a great upcycling project? Well, with this tutorial you no longer have any excuses not to give it a try! See how easy it is to transform a boring or dated piece of furniture into something you will adore!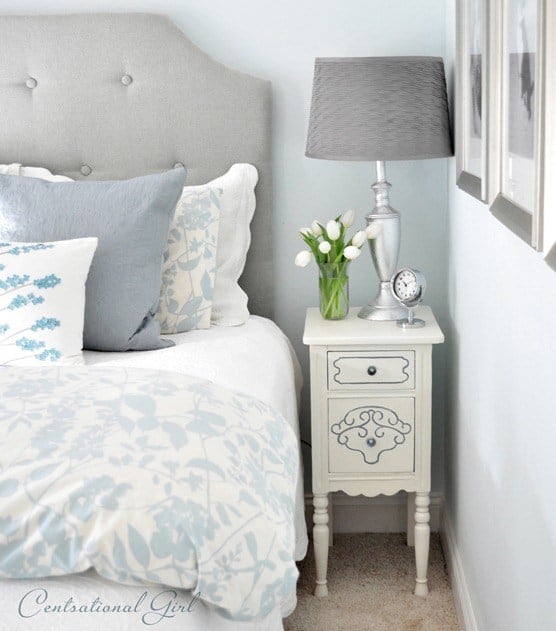 Painted Nightstand by Centsational Style
I love the rustic look of this bedside table. And as it's super versatile, it'd look just as amazing in a country-style house as it would in an upmarket apartment. Put your DIY skills to good use to create this sturdy and durable bedside table at a fraction of what it would cost to buy brand new.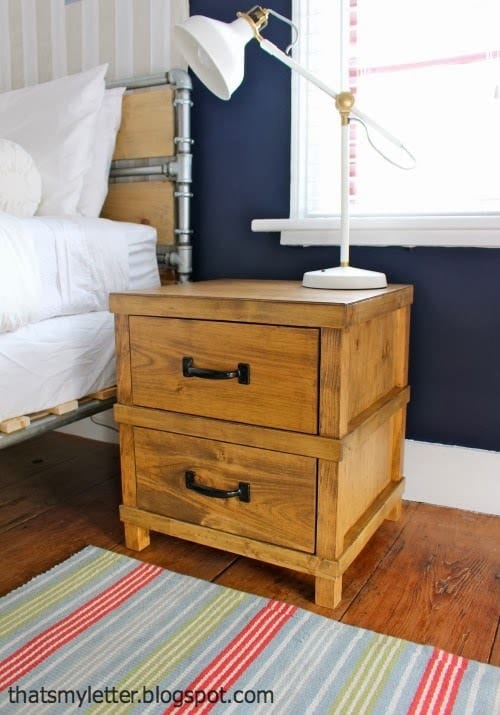 DIY Bedside Table by Jaime Costiglio
Another great option for those who are short on space in their bedroom, this parsons nightstand manages to look effortlessly chic while holding all your essentials. Easy to create, you could paint this DIY nightstand in any color to blend in with your existing color scheme. Or keep it white for the understated look!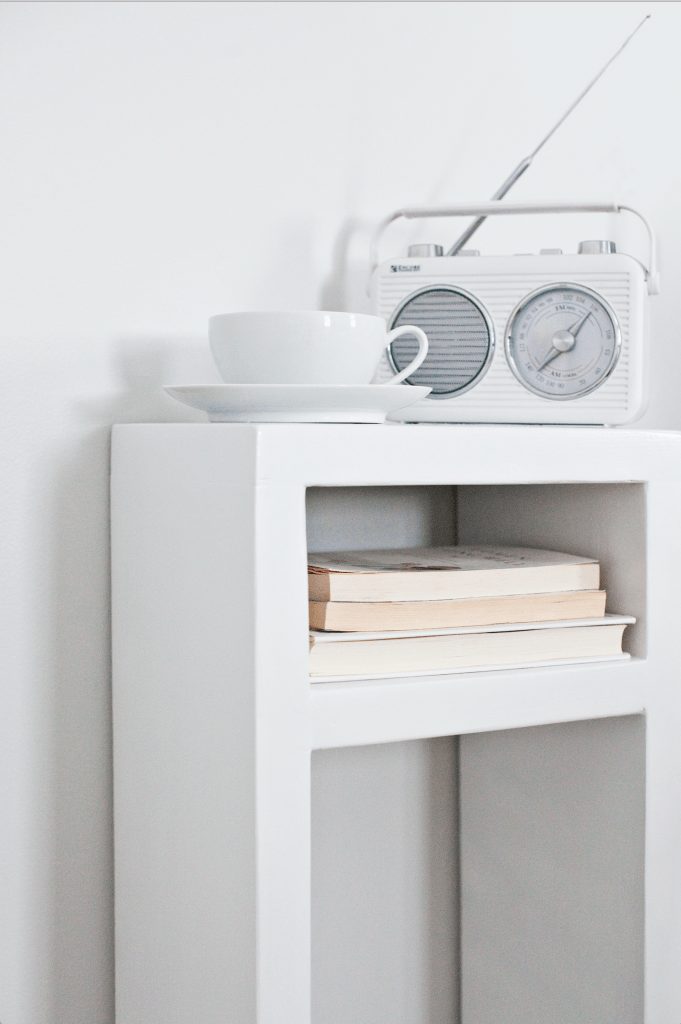 DIY Parsons Nightstand by A Beautiful Mess
This look has been created with a brand new pair of nightstands, but I'd bet it'd look just as great (if not better) using vintage furniture! So get yourself to your nearest yard sale, or onto craigslist and hunt down some bedside tables to try out this funky design on. They don't even have to be matching, as the finished product will tie the design together nicely.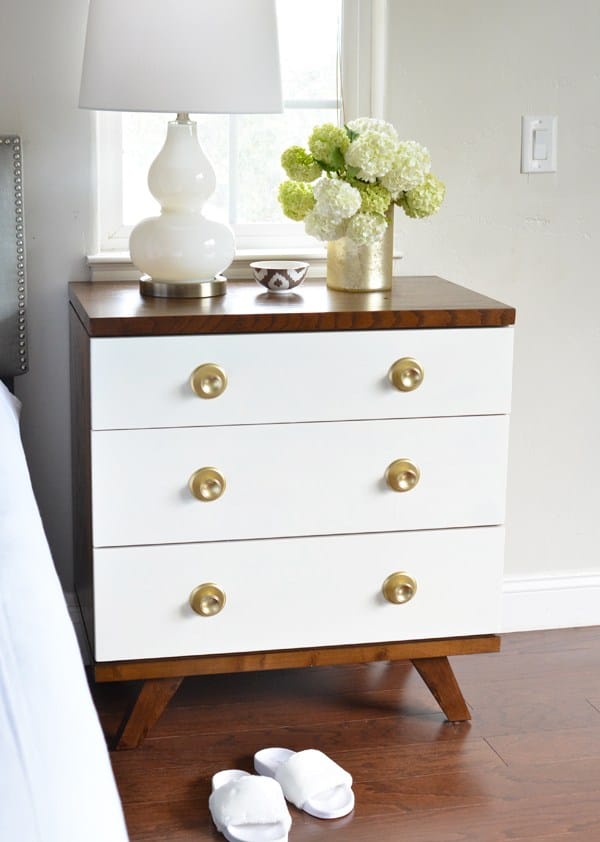 DIY Nightstand by Centsational Style
Simple, functional, and stylish. That's what this side table is all about and it pulls it off magically! It's a fairly easy design that you could pop together in an afternoon, and yet it looks like it could have come from some swanky design shop. Winning!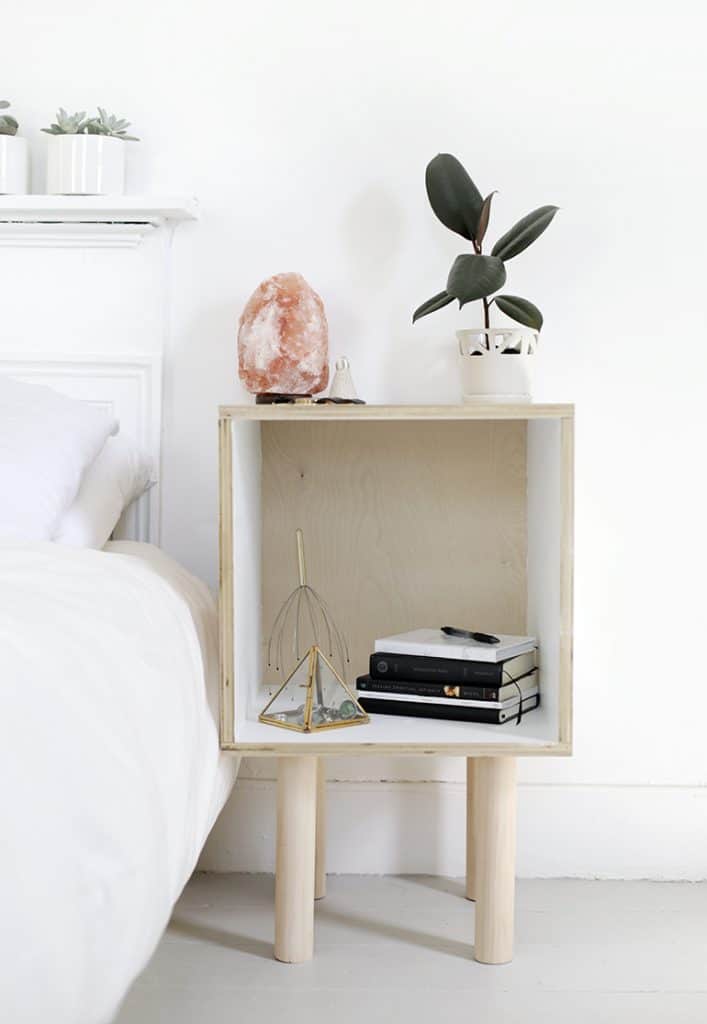 DIY Plywood Side Table by The Merry Thought
Another Pottery Barn knock-off, this DIY bedside table idea is genius! While it's not super affordable to make, it will save you a bunch on buying the real thing… And you'll get a real feeling of achievement through building something so beautiful. You might want to enlist some help on this one if you're new to DIY'ing though.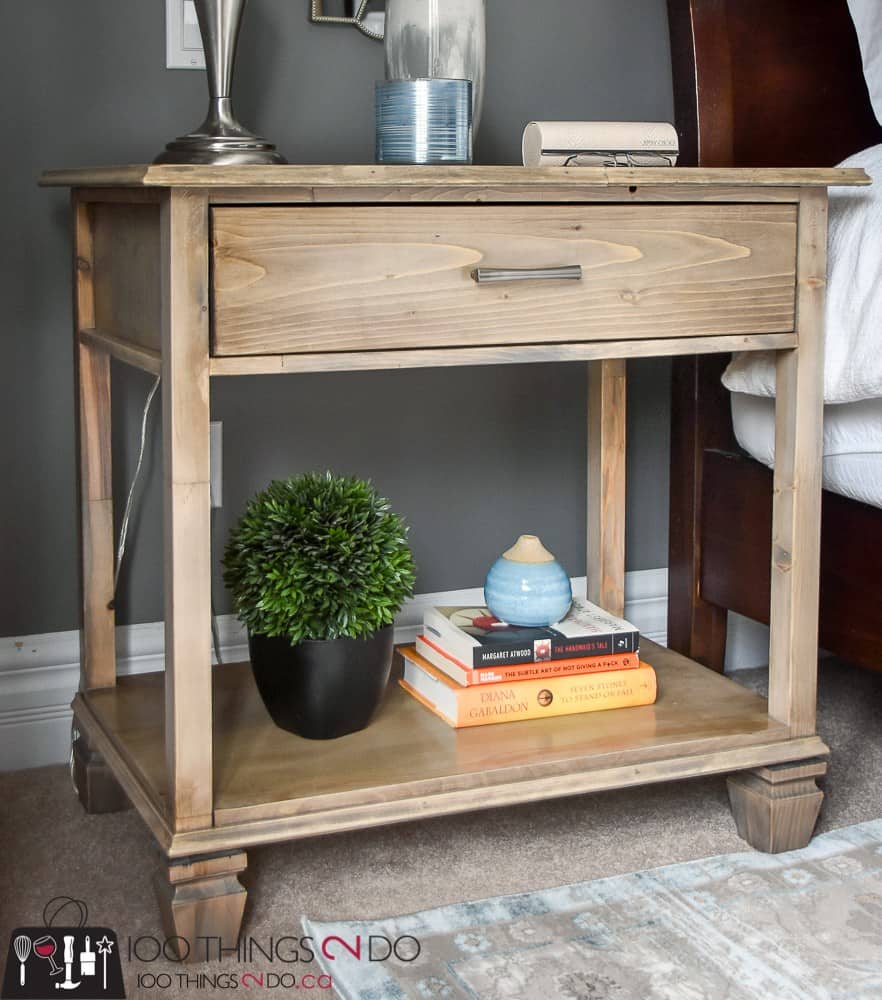 DIY Bedside Table by 100 Things 2 Do
These DIY nightstands not only look great, but they're also super functional and come with a secret weapon.. The pull-out ledge allows for extra space just where and when you need it! These have been created for a girls' bedroom, but I think they'd look great in any room in your house. The end result is super polished and professional looking – no one will guess they're DIY!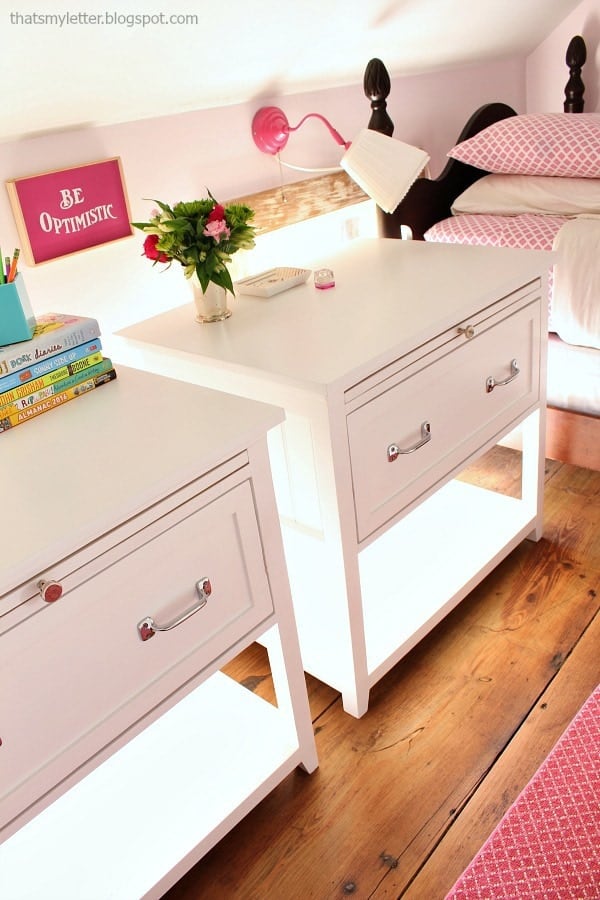 DIY Nightstand with Pull-Out Ledge by Jaime Costiglio
X-leg tables add a modern edge to your decor and this DIY table design is no exception. Paint it in a funky color, and you've got yourself a showstopper piece of furniture! This is one design that's not so simple to put together though, so make sure you follow the directions to avoid a wonky footing.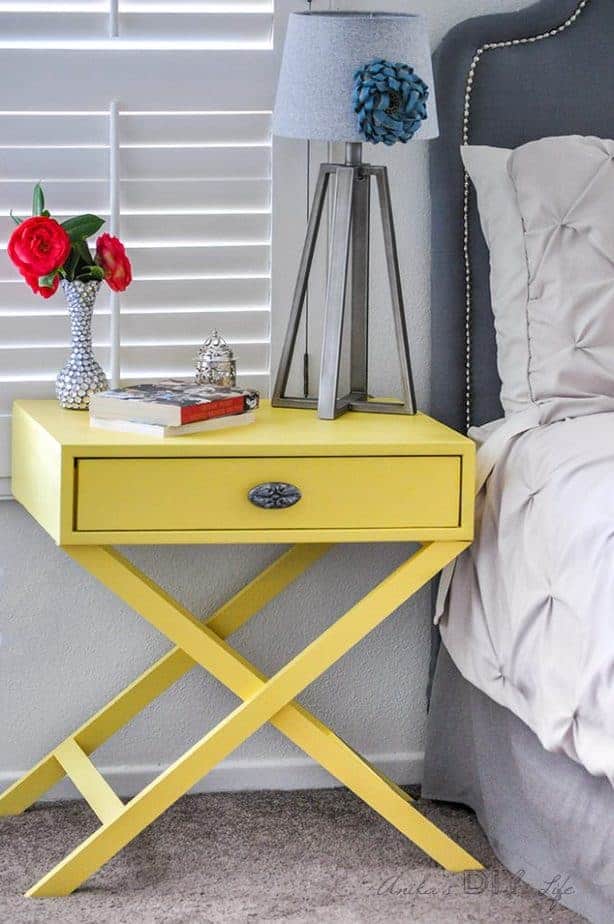 X-Leg Accent Table by Anikas DIY Life
A different take on a traditional nightstand is this taller version by Sincerely Sara D. Just take any old 3 shelf unit from your home (or buy one cheaply!) and transform it into this gorgeous-looking bedside table. Not only does it provide loads of extra book storage, it's a great height for anyone with a higher-than-normal bed.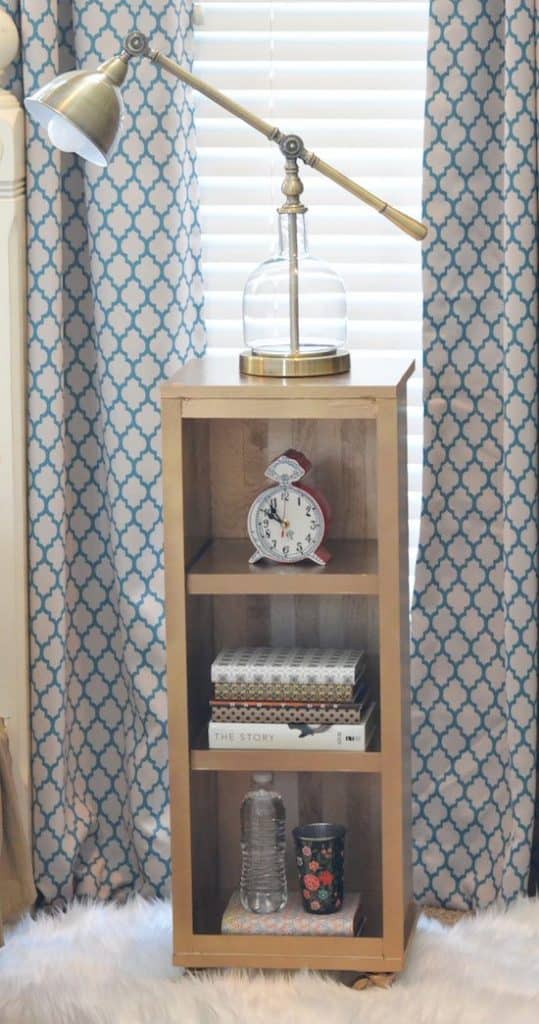 DIY Nightstand by Sincerely Sara D
Another non-traditional nightstand, this design won't be for everyone. But if you're into farmhouse style, it'll be right up your street. Personally, I love the rustic charm and simple design and I can't wait to make one for myself. Luckily, it's easy enough to do!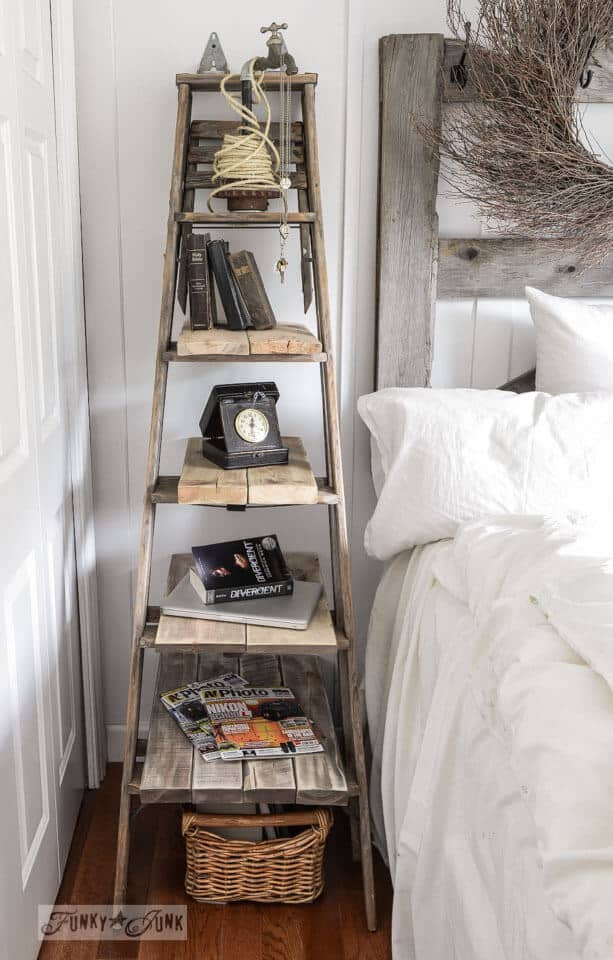 DIY Ladder Bedside Table by Twelve on Main