Bullet journals are the biggest trend in life organization for a reason. I'm not going to bury the lead on this one, bullet journals are a beautiful and productive time management technique that many also use as a stress reliever and creative outlet. A bullet journal is unique to the person using it. You can design each page to suit your needs and personal design tastes. Use these tips to get started on your first journal or polish up your spreads for future journals.
---
Top Ten Bullet Journal Hacks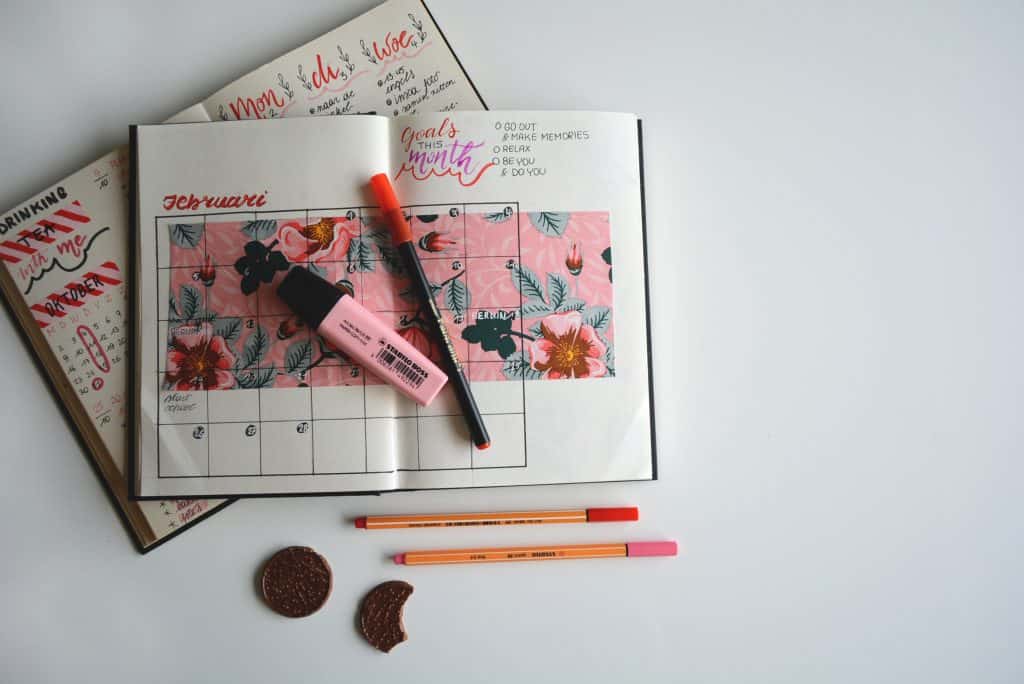 #1 Use a Weekly Theme to Switch up your Spreads
This adorable Dr Seuss theme is the perfect energy for an elementary school teacher during school. You can use the holidays, weekly events, or even just something you enjoy for your weekly themes. The diversity keeps it fun.
#2 Stencils Keep Things Consistent
Some people use bullet journals to channel their creative energies and others use them as a practical tool to stay on task. Either way, keeping organized is a huge part. Adding a bunch of cute stencils to your journaling kit is a fun way to cut down on time and to keep your layouts consistent. I also use my stencil as a straightedge and a ruler to space things out evenly.
#3 Washi Tapes Are Great for Blocking Out Space
Keeping washi tape in a variety of colors and patterns is both practical and aesthetically pleasing. I like to use a color theme for each spread. I also really love the days of the week washi tapes to help cut down the time when I'm setting up my spreads.
#4 Use Tabs or Flags
If you have spreads that you turn to consistently, use a system of tabs or flags on the edge of your journal to help keep track of your important pages. If you color code them or label them it makes it even easier to find what you're looking for in a hurry.
#5 Use Stickers to Decorate and Label
Etsy has a million different varieties of stickers to use for your journal. I like the practical stickers like these date heading stickers for weekly spreads and calendars. This monthly calendar sticker is also great for the corner of your weekly spreads. Of course, there are tons of stickers for adding to your aesthetics, like these adorable succulents and cactus stickers or these passports stamps for your travels.
#6 Create a Barn Door.
I like to have trackers alongside my weekly spreads but run out of space for some of them. To keep everything cohesive I use three pages for my weekly spread and cut the middle one in half and remove the upper portion. It creates a barn door effect so you can still see the top of the third page and the middle page can be used for additional trackers or notes.
#7 Post It Page
Use the last page of your journal to layer multi-colored post-it notes. They're great for jotting quick notes down when you don't have time to make it pretty enough to fit your theme. I also like to tape in an envelope to hold stickers, paper clips, and other small odds and ends.
#8 Download Printable Layouts
If you're not artistically inclined but still want a beautiful journal you can download journal pages and tape them into your journal. The fitness spreads from Scattered Printables or the Books I've Read layouts are great ways to get started without worrying about your drawing skills.
#9 Use Multiple Notebooks Within a Cover
Some people like to use multiple thin notebooks and hold them together with a travelers cover with strings to hold each individual notebook inside the cover. Using multiple notebooks allows you to separate work, hobbies, and personal information. Maybe one is for tracking your work goals and tasks, another could be for your blog, and the third is mostly a journal. However you divide it, the cover is a great way to keep them together.
#10 Colored Ink Pens For Organizing
Colored ink pens are both fun to work with and great for easily identifying different spreads of your journal. You can use them to label your index and create an additional categorization system. Plus, they make your spreads look more beautiful!
Pin this for later!